"In the hands of these profoundly gifted artists,
"In the hands of these profoundly gifted artists, the power of story, dance and beauty rise and fall in movement. Thank you for believing that the arts can move hearts."
- Dr Estevan Rael-Galvez, Creative Strategist of Creative Strategies.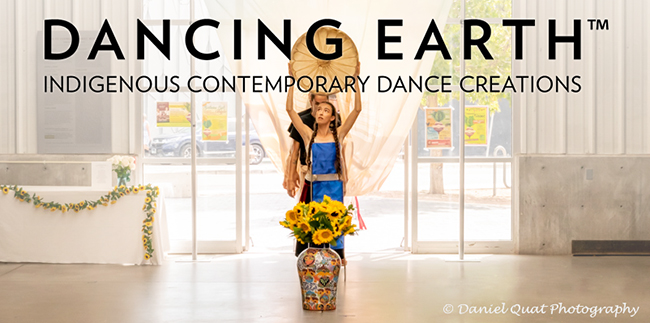 A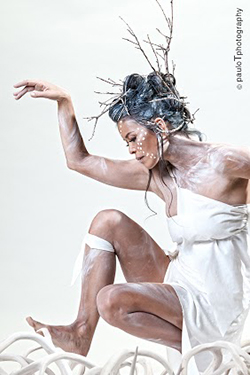 t this sacred solstice time of year,
dark skies glitter with stars as light returns …
We look back at an extraordinary year, with so many memorable moments of engagement, inspiration, innovation, empowerment, and community joy that made for healing medicine throughout other realities of pain, suffering, confusion and chaos. Through this work our communities transcend together through the catharsis of communal dance-making.
In December, we're excited for:

Dec 1-5 in Minneapolis
: Meeting extraordinary cohort of National Theater Project production award, amazing companies who were awarded alongside Dancing Earth to make new work, plus wonderful staff who acknowledged Dakota land and included local Ojibwe art leaders whose youth actors for Indigenous Peoples Task Force thrilled us with performance. Check out NTP upcoming projects here!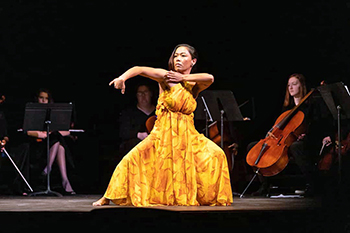 Dec 2: Anne Pesata as guest soloist in Dancing Earth's first collaboration with Santa Fe Youth Symphony.

"It was really so inspiring to be surrounded by so many talented young people."

- Anne Pesata





photo courtesy of Santa Fe Youth Symphony Association Performing w/ the Flute Quartet. photo © Peter Norby



Dec 10-12 in Sacramento with California Arts Council meeting amazing arts leaders, focused on real change, including Create CA: Education reform movement that views arts education as an essential part of the solution to the problems facing California schools.

Dec 22 Solstice Movement for Movement Building workshop in Ogaa Pogeh (Santa Fe), information here, and the final winter series workshop will be Jan 19!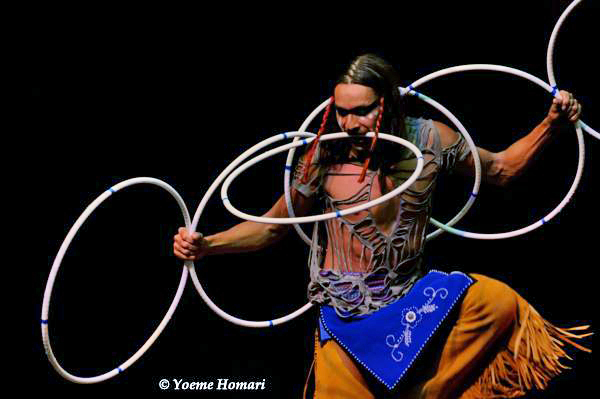 "Ever since my mother introduced me to the world of dance, she has always kept "feeding" that hunger that she saw in me. Once, she was a member of a production involving an entire cast of indigenous dancers, telling indigenous stories, and utilizing various modern medium to tell stories to audiences abroad. I was inspired by every one of those individuals (each of whom are masters in their crafts) and since then, Rulan Tangen has created an entirely indigenous dance company of her own: Dancing Earth. Words alone cannot express the feelings of fulfilment and gratitude I have for her and this company, and everyone involved, including the communities we reach. Perhaps, my dance can...Please support this fundraising effort to bring this company's messages to MORE communities so you can witness their expressive stories yourself!!"
- Lumhe Micco Sampson
We are so grateful for the donations we have received this year,
and any amount is so appreciated because we can s-t-r-e-t-c-h each dollar to transform it into amazing youth classes, cultural exchange, costumes, music tracks for new production and more. We also welcome donations for services, and that has sustained us and built strong community relationships during our hardest times.

We have raised $3100 towards our $5,000 goal, give now and help us surpass that goal. A great way to start 2019! Please consider making a year-end tax deductible gift to Dancing Earth. Your support is vital to keeping Dancing Earth healthy and whole. Please click the link below to make your donation with our fiscal sponsor, Intersection for the Arts.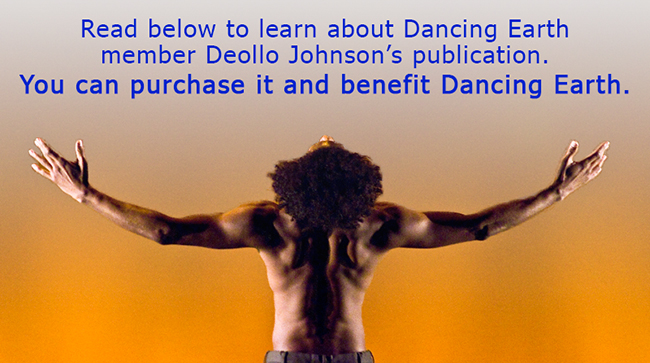 So, from now until 12/31,
purchase womb words for $30,
and read gentle, loving communications for developing humans in utero, written by our very own, long-time core company member, Deollo Johnson.
Part of the proceeds will benefit Dancing Earth.
"womb words focuses on one of the most - if not the most - powerful time in a human's development: the time of gestation. It provides a gently structured program which guides the reader to direct specific, positive energies toward the developing human to enhance the energetic, emotional, and psychic environment during that time."



"No longer in the womb?…

This program can also be used by those who are "ex utero" as well. In other words, by anyone. Anyone who is looking for exponential growth, healing, self-love, and evolution. We can give ourselves the focused, loving attention - which most of us didn't get while in the womb - in the the Here and Now. At the same time we can assist the evolution of the human collective, because as any one of us heals, grows, evolves, expands we add to the healing, growth, evolution and expansion of all."
We know the words in this book will uplift you during this holiday season - and possibly take care of some of your shopping, too. This fundraiser is only going on until the end of the year so for more info CLICK HERE.
Or to go straight for purchase of $30 for bundle of book and tapes HERE.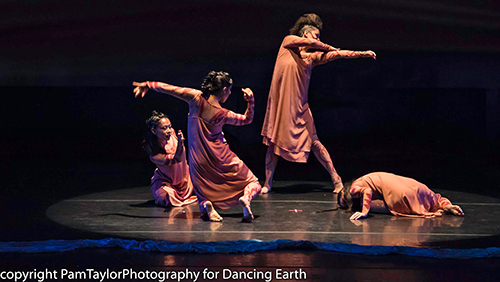 Special thanks to Glenn Robinson and Pam Taylor for early-release purchase of Deollo's book in support of Dancing Earth. We know they will enjoy the uplifting words from Deollo!

Pam also became involved with Dancing Earth as a photographer!



(photo © Pam Taylor from ASU Gammage for 2016 version of SEEDS RE GENERATION with Anne Pestaa, Lupita Salazar, Natalie Benally and Rulan Tangen L to R)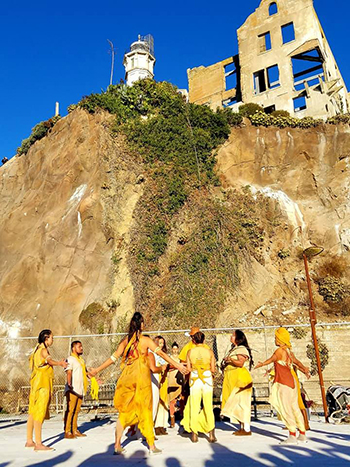 In 2019 we are excited to look forward to
some highlights in the first half of the year:
JAN workshops and winter meetings with artists, cultural advisors and staff for our strategic vision and plan for the next few years, including an exciting announcement in the new year!

JAN 25 Natalie Benally represents Dancing Earth at PLATFORM, a dynamic evening of art, education, and conversation around gender equality and wellness in NM and beyond, at SFAI.

FEB next phase creative development of Michif Medicines, a collaboration with Vni Dansi.

FEB-MARCH at UC Berkeley's Zellerbach Playhouse: Celebrating the 50th anniversary of the founding of TDPS's dance program, Berkeley Dance Project features Rulan's choreography with students in GROUNDWORKS HUICHIN, Feb 21-23 & Feb 28-March 2 at 8pm.

FEB 22 Dancing Earth soloist will present a solo at Mountain West Seed Summit, NM

FEB 28 MICHIF MEDICINES to be performed at Talking Stick Festival, Vancouver BC, unceded territories of the Coast Salish.
MARCH 2 Lupita Salazar performs at the Indigenous Farming Conference in Montana.
APRIL-MAY National Dance Week, and touring of our epic eco-production SEEDS RE GENERATION to Kennedy Center DC and Artspire in Maryland (with touring support from NDP).

SUMMER special alumna Summer Institute in New Mexico. So honored for seed money support from Patagonia!
Dancing Earth will lead movement offerings in the Bay Area, Point Arena, Durango, New Mexico
, and other locations for
APRIL's National Dance Week
, and
JUNE's Global Water Dances
!
And, after several years research and exploration we move into creation of a new work BETWEEN UNDERGROUND AND SKYWORLD, which considers humans as water-filled conduits between roots and stars, envisioning and embodying an Indigenous centered Futurity. Emerging from several years of research that led us on a path to reflect on climate change and renewable energy (what is renewable, what is energy?), eco-sustainability, treaties, and the fundamental groundwork of sustaining and deepening relations with the original peoples of all the lands we visit.

We are so blessed for support from National Theater Project, Map Fund, Kenneth Rainin Foundation, and Gerbode Foundation!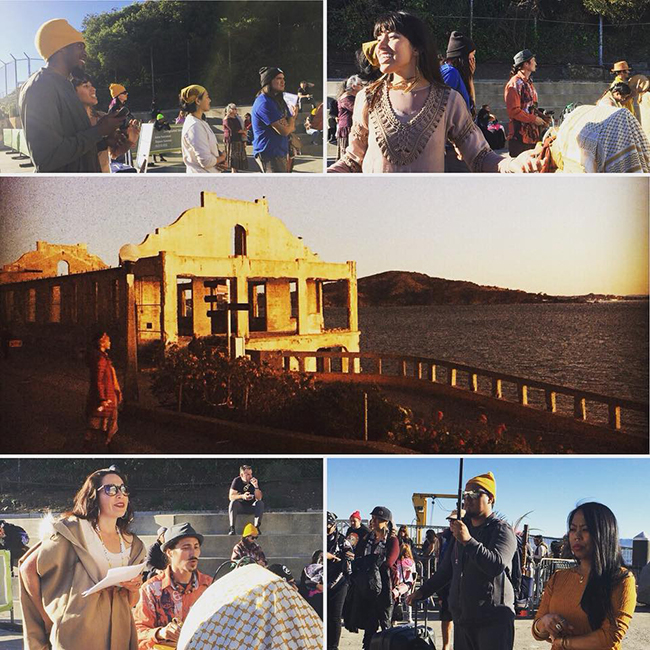 Your support -

financial, communal, creative, emotional, logistical, nutritional :
helps us to make indigenous art and culture visible.
AND it helps us know that our vision is important to you, as it is made with you, for you, by you!
We have had big dreams, and managed to make many of them happen thanks to your generosity.
2018 was an amazing year with Dancing Earth across the continent to homelands of Lenape,
Abenaki, Coast Salis
h
,
T'Souke, Tewa, Tiwa, Towa, Abaachi, Piscataway, Cahui
lla,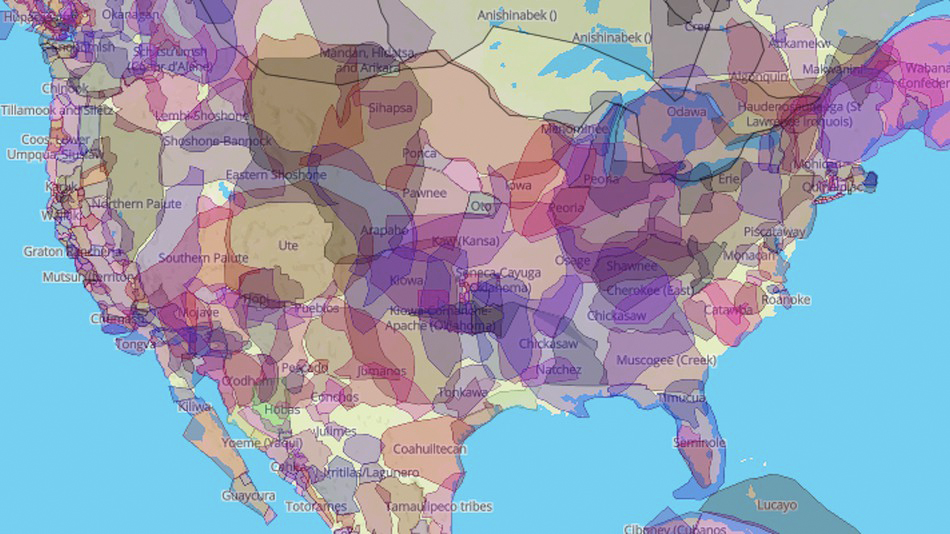 Tongva, Pomo, Wappo, Miwok, Dakota, Ojibwe, Nisenan, Me-Wuk, Metis.
Please visit our web page NEWS for exciting past year highlights - an overview of the amazing mosaic - in motion - of places, peoples, projects, performances of 2018!
---
Most important,
how does all this powerful dancework impact our diasporic community?


​
photo banner © Ursula Carrascal, of Summer Institute engagement with Abbachi peoples on Jicarilla Apache reservation, NM

"May the universe fill your life with love, your steps, your feelings. Being part of the Dancing Earth Institute is the answer to my visions about my reason for being. I can say in honesty, that the Earth has put us together for a profound transformation in the awakening of humanity. Now, I am using many of the teachings and wisdoms shared throughout the three weeks in my workshops and my connection to the ocean. I am still in the process of healing my leg, but it is not a learning process. Dancing Earth allowed me to learn to discover the energy that dances within me. To dance from the purity of the heart. Today, I am enjoying the possibilities of the present, the signs of the stars that in the beautiful Santa Fe I learned to understand from my soul." - Ursula Carrascal, Director of EcoDanza, Peru

"New Energy Economy sends our deepest appreciation to the artists of Dancing Earth and Rulan Tangen, artistic director, for creating a beautiful vibrant space in Santa Fe during our Sol for All fundraiser. All of the proceeds from this event have been designated for the solarization of the Centro de Amistad senior center, Village of Santa Clara, Grant County, New Mexico."


- Mariel Nanasi, Director of New Energy Economy



"ur steadfast movement n continuation of the beautiful n necessary work"

- Sammay Dizon, Director of Urban X Indigenous Festival, San Francisco





"You made all of us, at all our different levels of dance expertise, feel welcomed, respected, safe, and heard. I LOVE your process: contemporary dance movement infused with spirit, tradition, breathwork, creative somatics -- and a focus on recognizing, and actually physically and emotionally touching the other dancers. For me, the experience was a deeply resonant, uplifting, exuberant and healing blend of elemental rhythms and movements, intention, gratitude and joy. Absolutely perfect. A week later, I am still feeling the glow! THANK YOU, Rulan!!"

- Kathryn Machi, screenwriter of "Firebird", San Francisco

"It was incalculable: the importance of space, of breathing, of sound in nature and in others. All these elements build important movements, following the movements of the exercises in relation to the environment: one does not do something just to do it. The elements and their relationship within the movements. Very important to the achievement of desirable goals is this connection. This is already very valuable. Indescriptible elements came into my life to make me move like leaves on the trees, by the river, like the rain, air, fire, and mother earth."

- Fidel Tohil Bernal, Ixil Maya
"People loved the evening and your performances mesmerized."
- Miles Conway, New Mexico
"The connections are so fascinating, aren't they? The mother (earth) holds us together despite the unfortunate efforts (by some) to tear us apart. Dance, and seeds, are such beautiful and powerful ways to rekindle the connections."
- Lee-Ann Hill, Rocky Mountain Seed Alliance
"It was beautiful. Bad ass. And impressive. Teaching and expressive. Conveying multiple layers"
- Kanyon Sayers-Roods, on Indian Canyon, Mutsun Ohlone
"I was so utterly moved, inspired and changed by your workshop at Culture/Shift. THANK YOU! It was the highlight of the conference for me."
- Jeannene Bragg, Community Engagement Oganizer of Curious Theater, Colorado
"I want to make sure you hear me praise you for the amazing solidarity work you have done for me and my communities. You inspire me. You are doing the real work to center people of color. Your ability to support and empower people has a huge impact."
- Quote from Jean Paul Weaver (a dancer who donated his earnings from Santa Fe Opera production to sponsor an LGTB safe house in Haiti).
A Very Special Thanks to:



Jessica and Tim Harjo of Indigenous Arts Institute who have been wonderful fiscal sponsors. We are excited for their upcoming projects, including the continued growth of NativeFlix: Stories for the Generations. Please check out a wide range of films with Native content and Native creative teams: http://www.nativeflix.com/
HEARTFELT THANKS to Year End Donation Drive Donors:
Aaron Stern
Lynne Normandia
Susanna Carlisle and Bruce Hamilton
Lee Ann Hill of Rocky Mountain Seed Exchange
Leny Strobel
Susan Foster of UCLA
Glenn Robinson
Dorothy Bowers Wu for kind donation in support of collaboration with Santa Fe Youth Symphony
Ju Pong Lin
Mary Jo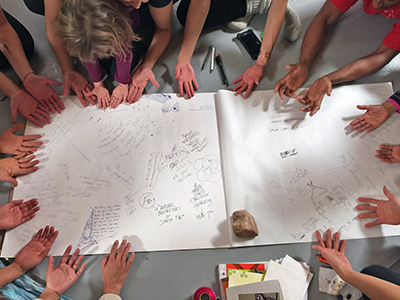 Sincere Appreciation to our Funders & Supporters:
Utmost appreciation to private donor advised fund via Santa Fe Community Foundation, for support this year for our work on behalf of women and girls, and the intersection of arts and ecology in New Mexico!
And to Ian Garrett, Teni Brant and Sophie Traub for ToasterLab collaborative support of GROUNDWORKS cultural creative development and performance (through Canada Arts Council and York University).

---


Thank you to support from the Kenneth Rainin Foundation whose mission is to enhance quality of life by championing the arts, promoting early childhood literacy, and supporting research to cure chronic disease.
Hundreds of individuals have participated in Invoking The Pause. They come from a broad range of fields with expertise in arts, science, communication, media, education, energy, agriculture, theatre, permaculture, impacts, resilience, social justice, policy, systems thinking, conservation, social enterprise, technology, water and more. As a result of their involvement, networks have expanded, partnerships formed, and new climate challenge strategies have been put in place.



Thank you to the California Arts Council whose mission is to advance California through the arts and creativity.The Local Impact program fosters equity, access, and opportunity by providing project and partnership support for small arts organizations reaching underserved communities.



Thank you to the San Francisco Arts Commission, the City agency that champions the arts as essential to daily life by investing in a vibrant arts community, enlivening the urban environment and shaping innovative cultural policy.
The N7 Fund is committed to inspiring and enabling participation in sport for Native American and Aboriginal populations in North America. N7 is inspired by Native American wisdom of the Seven Generations: In every deliberation we must consider the impact of our decisions on the seventh generation.

The MAP Fund is founded on the principle that exploration drives human progress, no less in art than in science or medicine. MAP supports original live performance projects that embody a spirit of deep inquiry.