season of gratitude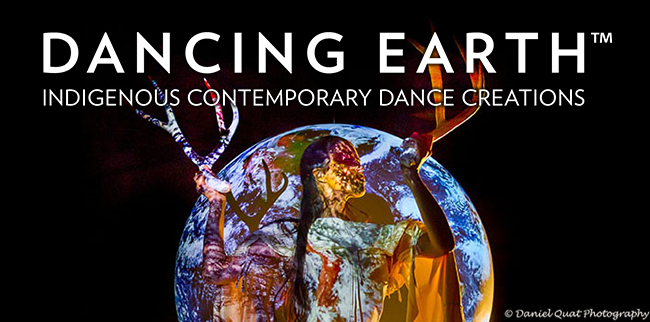 November marks National Native American History Month, and we are so proud of our recent work in Bay Area with California Native artists, evolving from over a year of in-depth cultural work with Pomo, Wappo, Ohlone communities, youth, elders, artists and leaders.
"We, you, us- our ever growing circle of Dancing Earth,
is looking ahead as our movements embody our vision for the future through
the vital ritual of dance theater. This is the re-story-ing of bodies, waters, land.
JOIN US"
- Rulan Tangen, Founding Director and Choreographer, Dancing Earth Creations
From groundbreaking performances on Alcatraz
as part of San Francisco's FIRST Indigenous Peoples Day,
to our Director Rulan Tangen's receiving the 2018 Kennedy Center Citizen Artist Award,
to our associate training program of Cuicacalli in their first tour to Tewa land

(New Mexico)

,
to our GROUNDWORKS project with Northern California First Nations,
to participation in San Francisco's Climate Change Summit,
2018 has been a very exciting year!
To support Indigenous dance and related arts,
to encourage and revitalize awareness of bio-cultural diversity
through artistic expression
for the education and wellness of all peoples.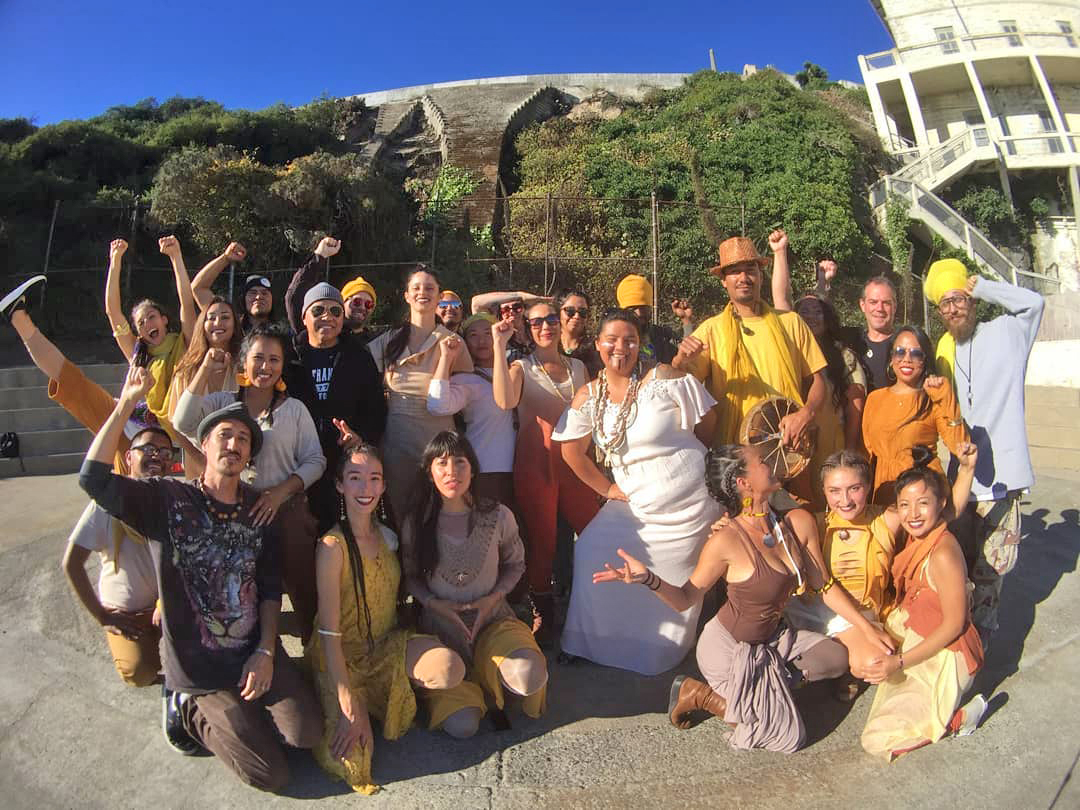 GROUNDWORKS has been a powerful unfolding of workshops, residencies and performances from Ohlone lands of Yelamu and Huichin (San Francisco and Berkeley) to Indian Canyon to the NEST in Pomo lands in Forestville and Pomo territories in Mendocino County. Performed with original music produced by Ras K'dee and Esmé Olivia with vocals by Kanyon Sayers-Roods Bernadette Antoinette Smith and Desirae Harp with music contributions by Ciera Budge. The performance at the Sunrise Ceremony on Alcatraz Island on Indigenous People's Day was highlight in the process of creating Groundworks.

This project evolved from seasonal community engagements throughout Northern California for over a year of in-depth work with the Pomo, Wappo and Ohlone communities in California. Through work with Native story carriers, medicine people, spiritual leaders, language and song keepers, traditional dancers, and brilliant cultural mentors including Gregg Castro, Anne Marie Sayers, Tek Tek, Loren Smith, Clarence Carillo and L. Frank Manriquez, and Indigenous youth, we created this collaborative work of our stories told through dance.

This collaboration of California Native perspectives and
performing art was beautifully realized by dancers Esmé Olivia Ciera Budge, Natalie Aceves-Ghezzi, Sammay Dizon, Fernando Miguel, Bernadette Antoinette Smith and Julia Sam. Spoken word and poetry by Tazbah Rose Chavez, song by Ras K'dee. media and film by Ian Garrett and Teni Brant of Toasterlab. Sound production by Teao Sense. Tiśina T. Parker as production manager and
costume designer. Production assistance from Scott Jeffrey Territo and Samuel Bautista Lazo. Flash mob dancers Naomi Yoshida, Rita Pantaleon, Andreina Maldonado, Terrence Alexander, and Joana Cruz. So grateful for so many community collaborators from the Bay that ste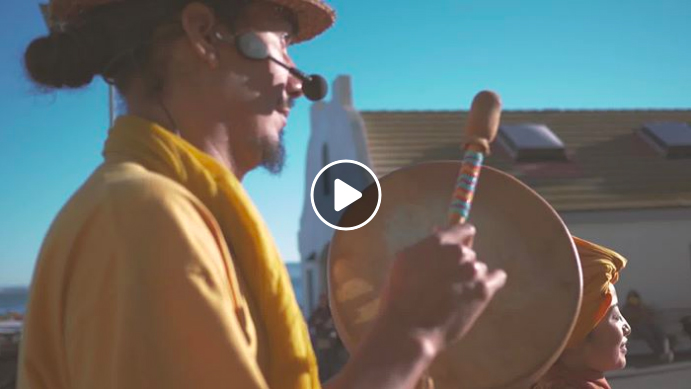 pped in to be an integral part of making this
performance happen.
We thank the MAP Fund, California Arts Council, Kenneth Rainin Foundation, International Indian Treaty Council's Morning Star Gali, and original Alcatraz occupier, our hero, Eloy Martinez for the cultural, logistical, historical and funding support to manifest this phase of a multi-year project.
---
Dance Workshops in Tewa territory of Ogaa Pogeh
(Santa Fe)
Join Dancing Earth in a visceral experience of undoing and becoming, exploring practices of how to be in better relationship to Tewa land and peoples by considering how we introduce ourselves and our heritage and our intentions for being here. Experience breath and sound as a force of creation, find group energy through rhythm, express individuality on behalf of the whole. Together, lets reimagine and embody a collective future!
winter series
Nov. 17, 12-2 pm


@ Pomegranate Studios


(thanks to those who joined!)

Dec. 22, 12-2pm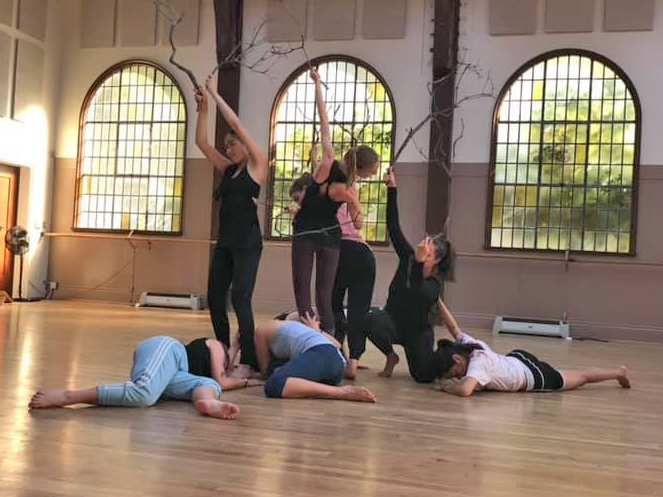 Rulan working with UC Berkeley students: we spent time in Strawberry Creek, and are now bringing the visceral memory into studio.
OCTOBER, 2018

Our time at University of California at Berkeley was spent creating a performative response to the indigenous remapping of the campus as Ohlone land and water. The creek leads to a shell mound, an ancient structure defined by Ohlone leader and mentor Corrina Gould as "shell mounds are Ohlone ancestral burial grounds - older than the pyramids of Egypt ..." She cited newspaper articles that described settler families going on Sundays, to pick for bones and skulls - 'relic hunting.' With Corrina's guidance and our movement exploration, let's move collectively with respect and take on the responsibility to reimagine a better way to be our relationship with Ohlone people.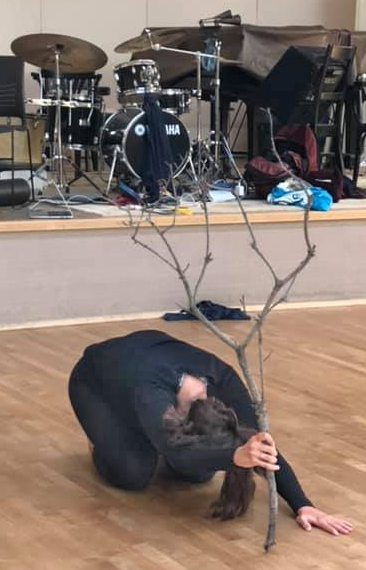 http://sogoreate-landtrust.com is one vision of an example of an alternative future!

Beneath the ground, on the campus of UC Berkeley, are the bones of THOUSANDS of ancestors, some of them direct relatives of our project mentor Corrina Gould. Learn more at www.shellmound.org

Students of UCB will perform this work in late February, 2019 as part of the UC Berkeley Dance Department concert, stay tuned for details.
To see our progress in Berkeley, visit
https://www.facebook.com/groups/711729212517114/
September & October in San Francisco Bay Area
Dancing Earth Participated in: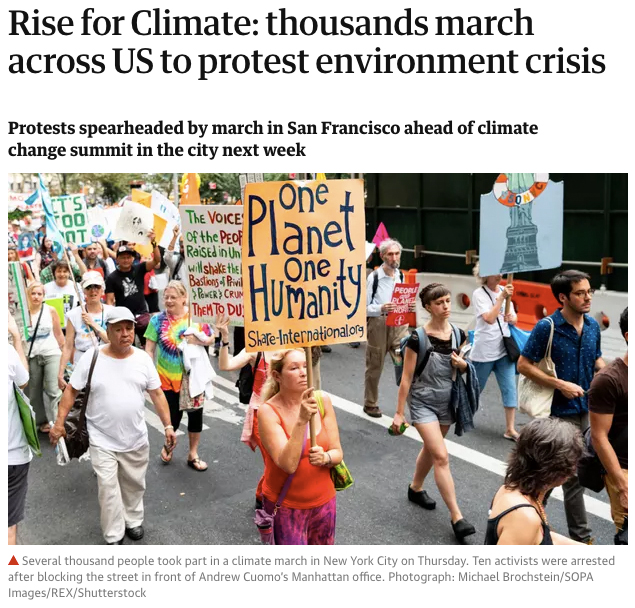 San Francisco Climate Change March

, Sept. 18, 2018
Performance at Sol2Sol Climate Change stage

, Sept. 11, 2018
Performance at San Francisco City Hall Rotunda

, Oct. 5, 2018
Our performance as part of the Dance Rotunda series was the first performance at City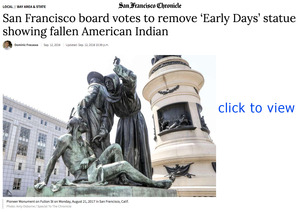 Hall following the removal of a statue insensitive to indigenous people from city property. Activists and community members who have been working to remove the statue for more than 30 years testified passionately at the Arts Commission hearing that finally resulted in its removal. It was a perfect moment to celebrate a victory of resistance with a performance in City Hall of GROUNDWORKS.
Youth Performance, Gualala, California

, Oct. 27, 2018
Bernadette Antoinette Smith created a dance-theater performance for the Native Showcase at the Gualala Art Center in Pt. Area. Performed by Pomo youth, with artistic support by Esme Oliva and Rulan, this work centered on the importance of the acorn in Pomo culture, past and present.
---
and
Recently in New Mexico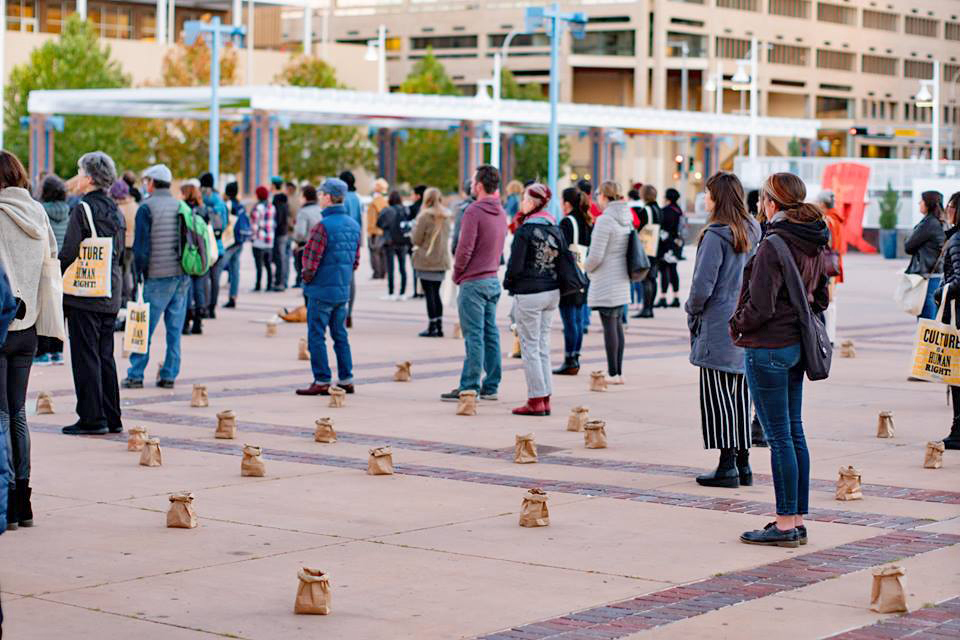 Rulan and other Dancing Earth company members participated in CULTURE/SHIFT 2018 organized by United States Department of Arts and Culture. In Albuquerque, Rulan taught a movement building workshop.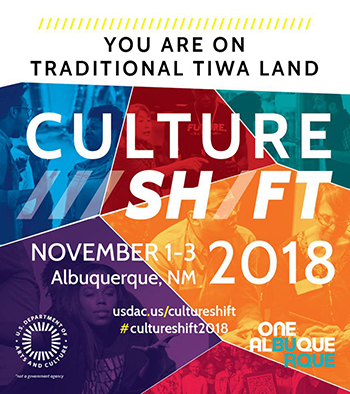 From USDAC's Facebook post "more than 400 folks gathered on traditional Tiwa land for CULTURE/SHIFT 2018, a national convening of artists, organizers, and allies inciting creativity and social imagination to shape a culture of empathy, equity, and belonging. Hosted by the people-powered U.S. Department of Arts and Culture in partnership with the City of Albuquerque Cultural Services Department. #cultureshift2018."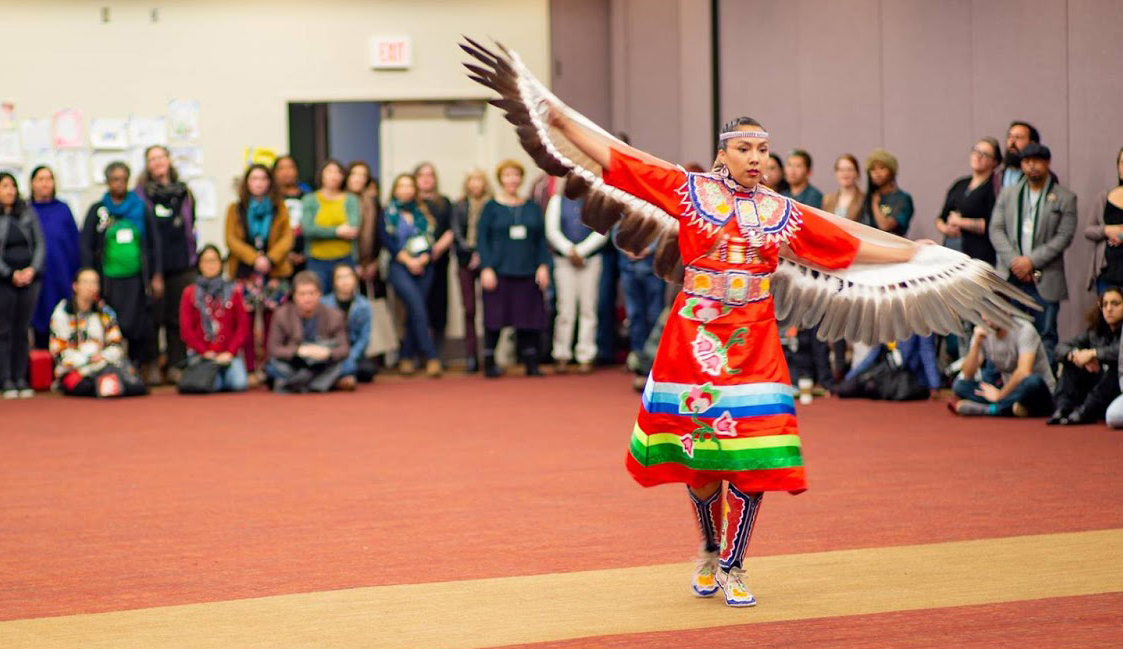 Here is Dancing Earth company member Ria Thundercloud performing her Eagle solo in the closing ceremony.
photo courtesy of
Culture/Shift 2018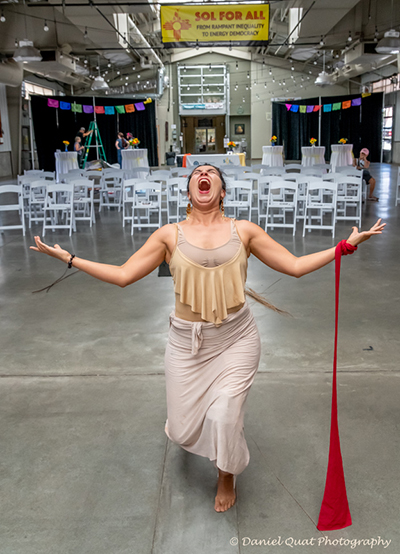 August 2018, Summer Institute
For the annual Summer Institute, we gathered artists for cultural and artistic collaborations. Together we explored our indigenous heritage, relationship to the planet and resistance in this chaotic time. We were invited to spend some time living in tipis learning traditional skills such as plant harvesting and preparations for basketry, leatherwork, archery, and firemaking. We prepared sheep for sustenance and other traditional Abaachi food. We created a land dance at Ghost Ranch, one of our wonderful hosts.
Summer Institute participants performed for New Energy Economy's Sol4All and with the Creative Confluence at Railyard Park.
Looking Towards 2019, Dancing Earth Is Excited About:
Winter Collaboration With V'ni Dansi, 'Michif Medicine' to be Previewed at
Talking Stick Festival In Vancouver In February.
Spring Tour To Kennedy Center. performance and participation in
2019 Citizen Artist Summit, followed by performance Artspire In Maryland.
We will let you know about how you can be involved next year as we evolve a NEW eco-production in December in O'odham/Maricopa territory at Gammage Hall at ASU in Tempe, Arizona!!
---
Grateful to All For Your Commitment & Support:
Aaron Stern, Glenn Robinson, and in kind support of Joana Cruz of Sol2Sol Climate Change Stage, Tisina Parker for incredible project management in California, San Francisco City Hall, Daniel Quat Photography, Michelle Lynch Reynolds and Wayne Hazzard at Dancer's Group, Sonia Pina and Julie Mushet at World Arts West, Libby, Kathleen, Mitra and all of our wonderful meal makers for Summer Institute, Randle Charles at the Academy for Love and Learning, the amazing Presata family for hosting the Summer Institute in tipis, Stephan Picha at Ghost Ranch, Antonio M in the Bay Area, and Ian, Sophie and Teni of ToasterLab for extraordinary collaborative media support of GROUNDWORKS, thanks to Canada Arts Council and York University.



GROUNDWORKS GRATITUDE


Diana Scott - Frog Song accommodation
Jennifer Massey - Gualala Dance Studio
Frederika Keefer and Stella Adelman - Dance Mission
Samuel Bautista Lazo - Crew assistant
Christina Domingues - Crew assistant
Liz Cameron - Crew assistant
Scott Jeffrey Territo - Crew assistant
Morning Star Gali - International Indian Treaty Council
Eloy Martinez - representative of original Alcatraz Occupation
Janeen Antoine - Native Contemporary Arts
Nicole Yanes - International Indian Treaty Council
Julia Miller Vasquez - Costume Fitting host
Teao Sense - Sound
Keep Yah Joy - Video
Joana Cruz - Flashmob dancer
Rita Pantaleon - Flashmob dancer
Terrence Alexander - Flashmob dancer
Andreina Maldonado - Flashmob dancer

Thank you to Emily Johnson/Catalyst Dance for her support of the Pomo Acorn duet,
created and performed by Bernadette Antoinette Smith and Shirley Carillo.
Special Thanks to Indigenous Arts for all their work on our behalf.
Sincere Appreciation to our Funders & Supporters.


Thank you to support from the Kenneth Rainin Foundation whose mission is to enhance quality of life by championing the arts, promoting early childhood literacy, and supporting research to cure chronic disease.
Hundreds of individuals have participated in Invoking The Pause. They come from a broad range of fields with expertise in arts, science, communication, media, education, energy, agriculture, theatre, permaculture, impacts, resilience, social justice, policy, systems thinking, conservation, social enterprise, technology, water and more. As a result of their involvement, networks have expanded, partnerships formed, and new climate challenge strategies have been put in place.



Thank you to the California Arts Council whose mission is to advance California through the arts and creativity.The Local Impact program fosters equity, access, and opportunity by providing project and partnership support for small arts organizations reaching underserved communities.



Thank you to the San Francisco Arts Commission, the City agency that champions the arts as essential to daily life by investing in a vibrant arts community, enlivening the urban environment and shaping innovative cultural policy.
The N7 Fund is committed to inspiring and enabling participation in sport for Native American and Aboriginal populations in North America. N7 is inspired by Native American wisdom of the Seven Generations: In every deliberation we must consider the impact of our decisions on the seventh generation.

The MAP Fund is founded on the principle that exploration drives human progress, no less in art than in science or medicine. MAP supports original live performance projects that embody a spirit of deep inquiry.