PLEASE JOIN US for


"500 YEARS OF RESISTANCE"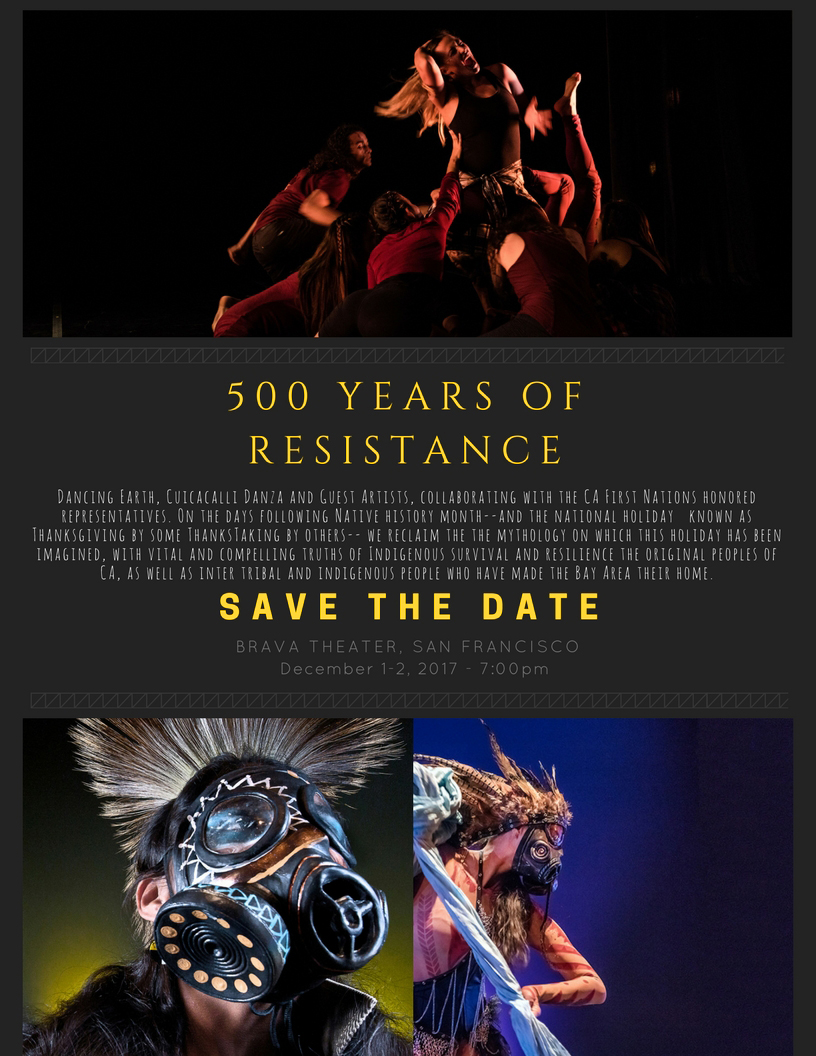 WHO
Dancing Earth, Cuicacalli Dance Company and guest artists
including local California First Nations honored representatives
WHAT
"500 Years of Resistance" Festival, for tenth anniversary of Tradicion, Movimiento, Y Pasion ...
WHEN
Program A, Dec. 1 , 2017
Program B, Dec. 2, 2017
TIME
7pm
On the days following Native history month - and the national holiday known as Thanksgiving by some, ThanksTaking by others - we reclaim the the mythology on which this holiday has been imagined with vital and compelling truths of Indigenous survival and resilience the original peoples of CA as well as intertribal and indigenous people who have made the Bay Area their home.
We honor and embody local and hemispheric Resistance efforts protecting Indigenous eco-cultural rights to exist with vibrant rituals of contemporary Indigenous dance that celebrates our continuance and welcomes community to gather in solidarity and unity.
The Opening Night concert on December 1st will focus on contemporary indigenous choreographies with themes honoring Native land and water rights and honoring of treaties; the scars of migration; the renewal of ancestral ties though memory and dreaming; the spiritual, cultural and practical exploration of notions of Renewable Energy; and resistance prayers and protests tied to local issues advised by our CA First Nations consultants.
The Closing Night concert of December 2nd

features the brilliant large scale dances, footwork and authentic regalia of folkloric dances of Cuicacalli Danza, as created and coached by Jacoh Cortes, former soloist with Ballet Folklorico de Mexico, as well as select contemporary indigenous choreographies.
$30 - General Tickets / $25 - Advance Tickets
$20 - for Students with ID, Seniors and Youth under 10 yrs old
Ticket covers cost of Performance and helps support scholarships for
deserving low income students of Cuicacalli Danza.

Tickets available at Brava Box Office,
Online HERE and via phone 415-641-7657 x 1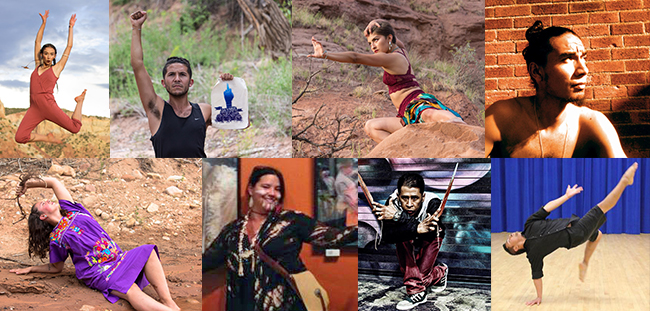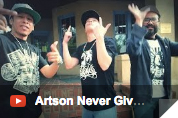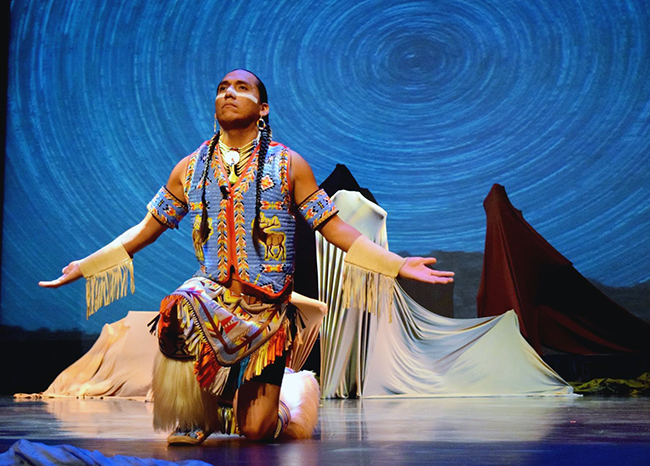 Dancing Earth experienced a whirlwind fall harvest season, sharing our SEEDS RE GENERATION performance and related community engagement interactivities of seed exchanges, land dance sessions, reciprocity message banners, potlucks in September at Mesa Art Center and nearby Community Garden, Two Waters Salt River Pima Maricopa Community, Arizona State University, Zuni Pueblo, Moving Arts Espanola at Okhay Owingeh Pueblo, and the Native American Community Academy of Albuquerque! With special guest artists Uqualla and hoop dancer Tony Duncan!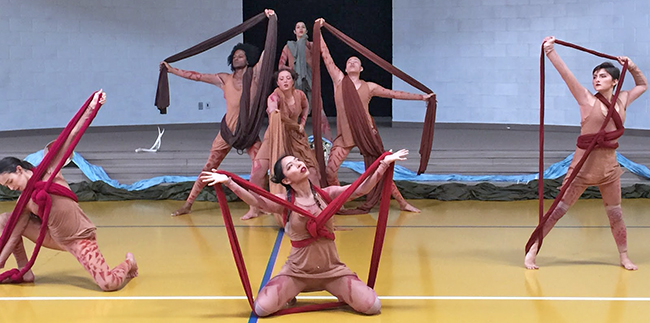 ---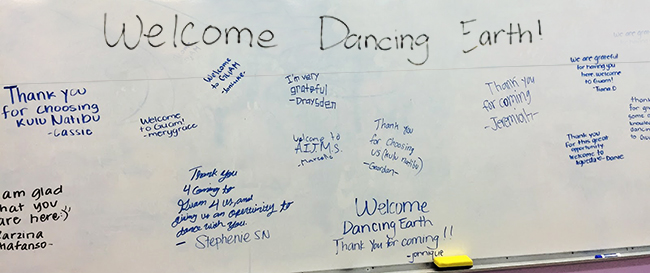 To the Western Pacific Island of GUAHAN where we carried handwritten notes of love and solidarity from Native youth and community members of the Southwest.
Upon arrival we offered cultural protocols to the representatives of the Chamorro peoples, connecting hearts and minds. We were honored
to offer many workshops and
performances, graciously received by University of
G
uam performance, Guam Museum, Macheche Center
Master Class,
Body Arts Studio Master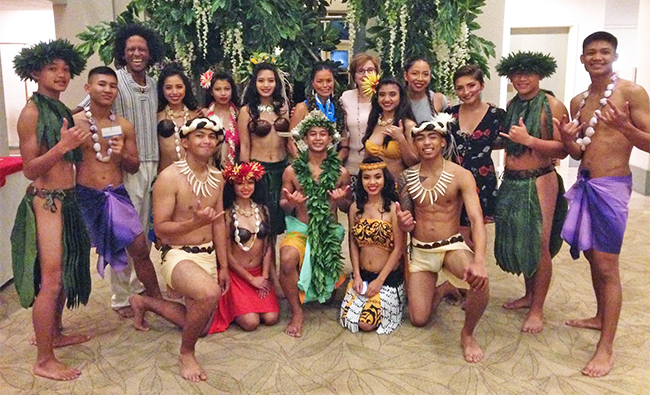 Class, Oceanview Middle School Workshop, A
gueda Johnston Middle School Workshop, Tiyan
High School Workshop, and Humanities Guåhan Benefit Dinner!
We were extremely impressed by the disciplined grace and strength of local dancers, who exuded tremendous musical and dance talent in every school we visited. We were led by the female leaders of the Independence Guahan movement to honor sacred sites where they spoke of the challenges with US militarization threatening their traditional lands and waters

"I really liked it. It was like contemporary dance but I loved that it had stories and a meaning behind it like our dances do." - Cultural Dancer from Tiyan High School

Articles featuring DANCING EARTH




"To say my experience of touring as a cultural ambassador with Dancing Earth was incredible is an understatement. Every trail we attentively explored was rich with culture and history. One of my favorite parts of this tour was meeting the natives of the land and being guided through sacred nature with beautiful historical narratives that filled with Chamoru memoirs, language, and teachings."
- Ciera Budge
"It was beautiful to experience the transformation of our dances... from the desert, to the mountains, down to the islands. To have our stories become their stories. To be influenced by their environments, the music we heard, the people we met. To hear how they understood what we were trying to say through their worldview, and to still see the message that we bring of hope, renewal, and connection."
- Lupita Salazar
"The community outreach that we as Dancing Earth participated in within these Native communities was wonderfully gratifying. Healing through movement and dance is such good medicine for everyone involved."
- Olivia Camfield
"The hospitality, openness and welcoming from the people of Guahan was heart-warming and genuine to me and added a special quality to our time on the island."
- Deollo Johnson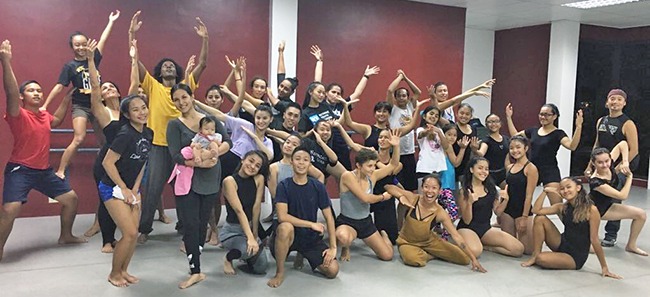 ---

The rest of fall has us between East and West Coast... In Yelamu/San Francisco at Dance Mission on Oct. 26th, Dancing Earth facilitated 3 events featuring the voices of CA First Nations 'elders in training' as spurred by the HONOR NATIVE LANDS Initiative which encourages all people, groups, institutions, events, and programs to take a pledge to honor the original peoples of each region by making a simple statement. This is a first step in restoring truth and moving towards better relationship building through de-colonizing lens. To learn more, CLICK HERE.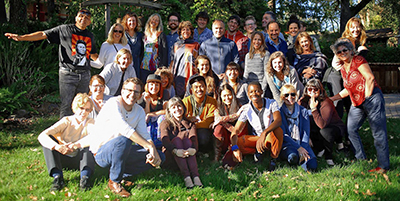 Also in Bay Area, a powerful performance at Bioneers on the Coastal Miwok land of San Rafael, Rulan's guest teaching at Sonoma State University (Dancing Earth joined her to offer a session of healing and hope for fire survivors), and then to Chochenyo and Ramaytush Ohlone lands of UC Berkeley and Stanford's Institute of Diversity in the Arts, where Rulan was joined by Talavai to attend a gathering of INVOKING THE PAUSE: Trailblazers for Climate Change on the Pomo lands of Sonoma.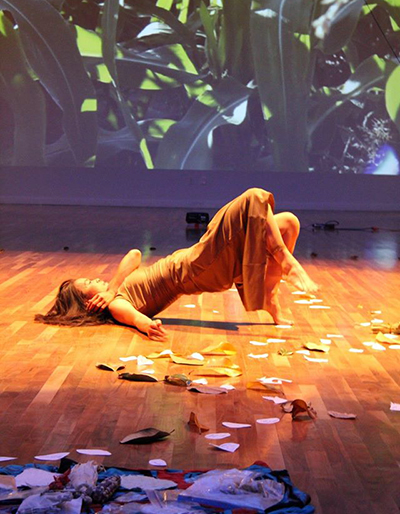 Then, Rulan headed to the East Coast for a project in Abenaki territory with Middlebury College's Dance Department as led by Christal Brown and performed a rare solo at the A Blade of Grass Fellowship gala in Lanepehoking/Manahatta also known as NYC.

At La Pena in Berkeley on November 18th, a day of art and culture celebrating Indigenous resilience, Thangs Taken: Rethinking Thanksgiving. This annual cultural arts event brings artists, activists and communities together to explore the complex history of Thanksgiving and to acknowledge the legacy of U.S. colonialism, and to celebrate Indigenous resilience.
On November 20th, we join the 48th anniversary of the Occupation of Alcatraz with
powwow dancers in a dance to Honor Indigenous Women.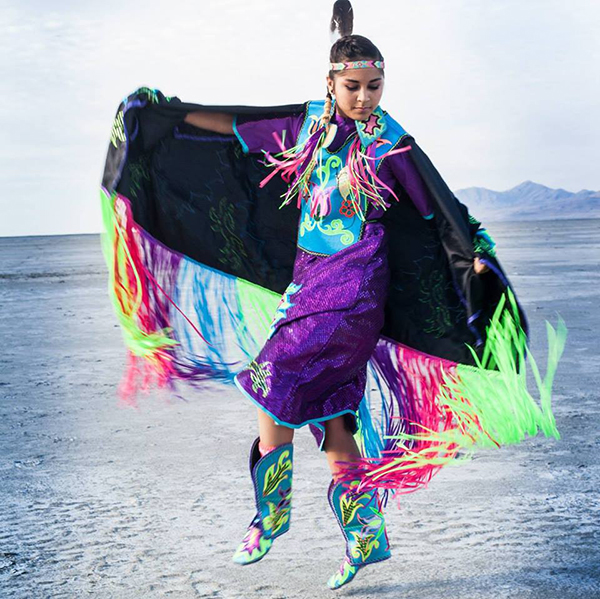 W
e are proud to dance alongside Kainai relative Eva Lopez, Henrietta McGurk and her daughters Celeste Osife and Noralene Scalplock, Ria Thundercloud, Anecita Hernandez, and singer Jake MIller!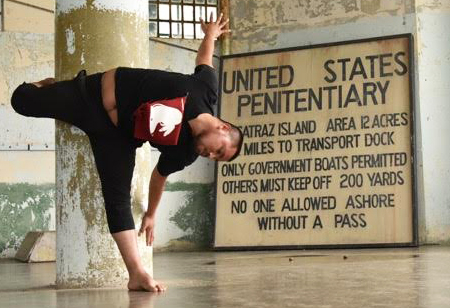 a
nd November 25th

,

we join the Seventh Native American Generation magazine release party and Indigenous marketplace at the Intertribal Friendship House…
left photo by @Elizabeth Opalenik for @Dancing Earth
---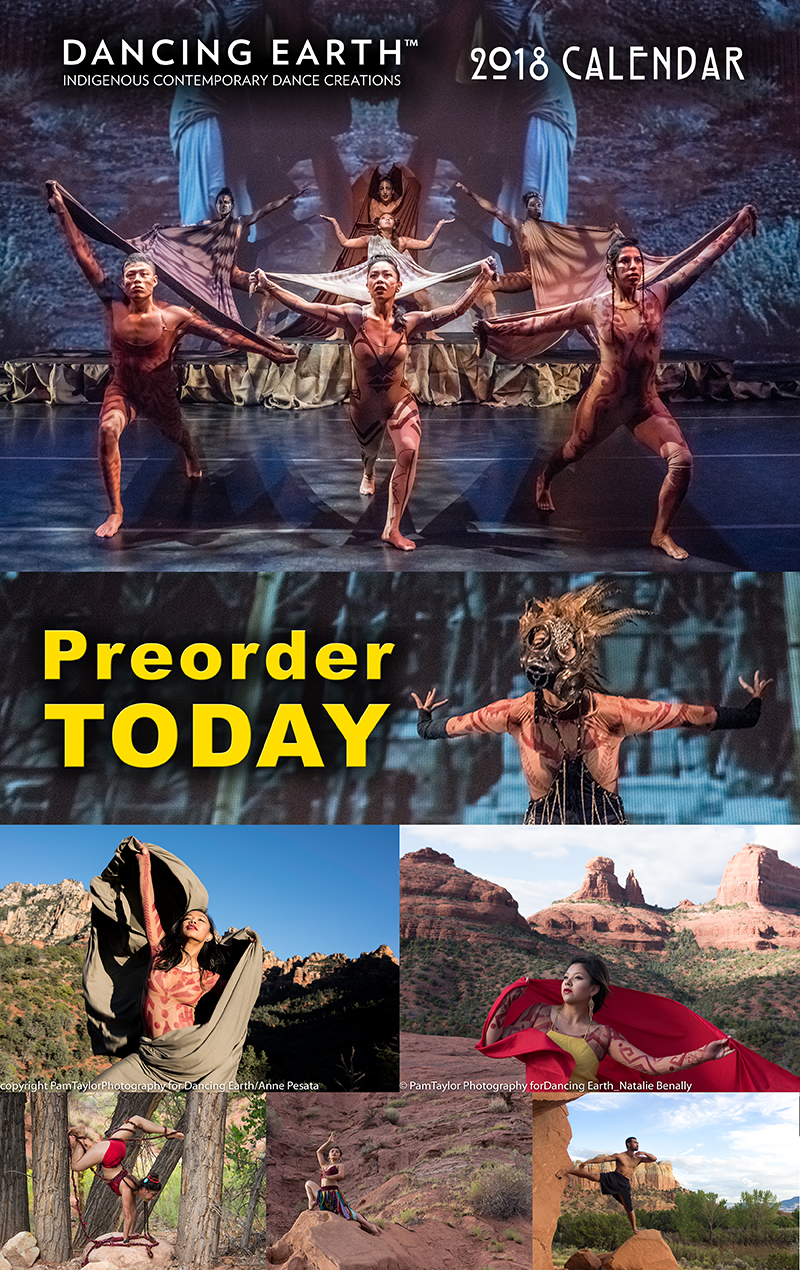 2018 Wall Calendar
MANY of you a have expressed how
much inspiration you get from our images, so we are making a new wall calendar available! We are accepting pre-orders and need a minimum of 50 pre orders in order to print. These will be mailed in time for the holidays for only $25 + shipping, payable through below options...
As we near Winter Solstice, we reflect on the gifts we give and receive, generosity, and reciprocity. Dancing Earth is cultivating our dream seeds for the next year of powerful, inspiring, and transformational eco-cultural work.

We have made it through thick and thin times thanks to the compassion and passion of our communities who show us the strong desire from our circles that we continue this work, for all our relations and for this beautiful planet we all call home.

Please consider making an end of the year donation to Dancing Earth! Supporters who contribute $100 will receive a special copy of our yearly calendar signed by Rulan! Donations can be made via a secure Paypal link HERE or mail payments to:
Please include memo on check: "Dancing Earth"
---

With GRATITUDE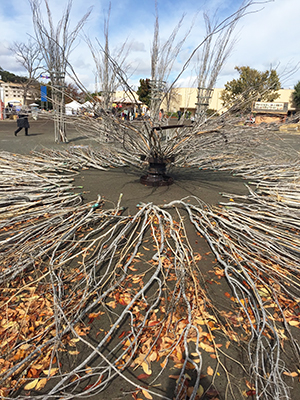 Thank you to Humanities Guahan's entire team especially Kimberlee and Cathy and our beloved tech team, Monaeka Flores, Professor Benji Santiago and the Natibu dancers, Victoria, HJila'an and Francesca.
And thank you Leslie Arbogast for support with Guahan tour!
In the Southwest, we thank Randall and Cindy at Mesa Arts Center, our super fantastic superwoman TD Jenissa and the amazing crew, Liz Lerman and Michael at ASU, Janet Johnson and Julian Rivers at Two Waters in the Salt River Pima Maricopa Community.
Thanks to Roger Montoya, Sal Ruiz, and Jessica Molla of Moving Arts Española, Mrs. Katherine Salazar and Mrs. Claudia Sena of Okay Owingeh Elementary School, Lea and Hayes Lewis and the A:shiwi College staff.
For Bioneers support, we thank Polina Smith, Valeria Sat Nam, Nina Simons and Cara Mumford for vision, and additional support from Tom Pinkson and Beth Forsman!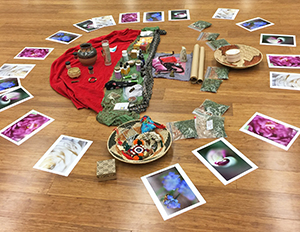 Thanks to Karla, Joana, Teahonna, and Teri for helping keeping everything running smoothly!
Awesome home hosts Daniel Arizmendi and Morgan in East Bay, in NM Sarah Jane and Joaquin, Mitra Lujan, Natalie Benally, Olivia's mom, and Esme's parents.
Thanks to Jo Dean for being TD Superhero, Micah Valdez for your enthusiasm, and our growing Bay Area circle, including: New Resource Bank, Christine Cali, Leny Strobel, Maggie Kaplan, Antonio M, David K, Aurora Mamea, Eva Lopez, and RedBoy Productions
Special guest stars Natibu dancers, Uqualla, and Tony Duncan!
And, the fierce-loving vision of Maggie Kaplan for uplifting the veil and recognizing those on the margins, with support for alternative strategies to Invoke the Pause and blaze against Climate Change!
---
THANK YOU SUPPORTERS SO MUCH
GRATITUDE TO ALL OUR 2017 FUNDERS!