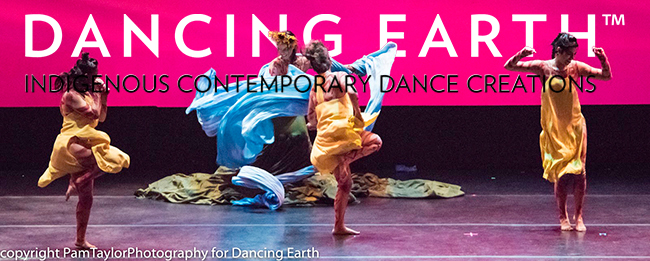 COMING UP, Summer Solstice!
Last fall we came together to learn more about the Honor Native Lands initiative from perspective of local Native culture carriers.
This spring DANCING EARTH begins a new project working closely with California Native cultural artists. This project will be shown as a work in progress to be shared at Alcatraz on October 8- Indigenous Peoples Day! To warm the ground, we invite you to gather, roll, shake, stomp, and activate imagination, intuition, and instinct in a spring dance workshop led by DANCING EARTH's Artistic Director Rulan Tangen. All dancers and movers are welcome- from never danced before to advanced dancers.
Learn about upcoming opportunities for open calls for Indigenous Community Dancers to perform with Dancing Earth at Alcatraz Sunrise Ceremony October 8, 2018.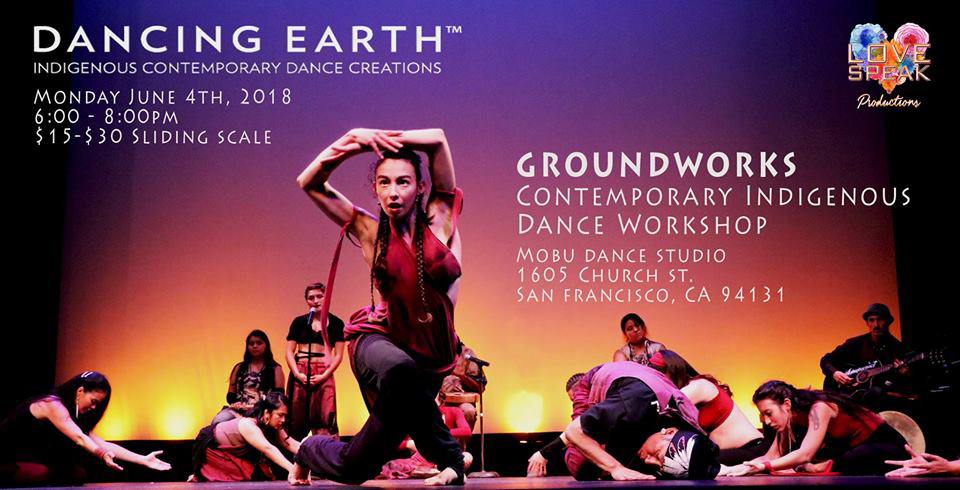 JOIN US! M.O.M.B. the movement of Movement building!
Indigenous contemporary dance workshop!
All Levels W
elcome
1605 Church Street
San Francisco, CA 94131
5:45 - 8pm / $15 - $30
Sliding Scale
---
Yerba Buena Gardens, In Yelamu (aka San Francisco)



Dancing Earth is performing as part of the beloved Father's Day tradition celebrating the creativity of North America's indigenous peoples celebrating the 21st anniversary of this incredible Festival. We will present early explorations of GROUNDWORKS: THE RE STORYING, centering California Native artists creativity. Pomo Nation Bernadette Smith and Ras K Dee, Costanoan Ohlone Kanyon Sayers Roods, and Wappo Nation Desirae Harp will be supported in solidarity with Dancing Earth's intertribal artists. These early explorations will feature interpretive movements stemming from ideas sourced through community engaged sessions on Wappo, Ohlone, and Pomo lands via seasonal creative sessions. SNEAK PEAK: Get ready to see the first public showing of the Acorn Dance in collaboration with Bernadette Smith of the Pomo Nation!
---
Rulan Tangen Named Citizen Artist By Kennedy Center!
"The problems of the world cannot possibly be solved by skeptics or cynics whose horizons are limited by the obvious realities. We need [people] who can dream of things that never were and ask 'why not?'"

- President John F. Kennedy
On April 16, 2018 Rulan was recognized as a Citizen Artist Fellow for 2018-19 by the Kennedy Center in Washington, DC for her artmaking with Dancing Earth and its cultural significance. Participants in the day's panels and discussions included futurists, artists, engineers and policy makers. Focusing on themes of education, health and finite resources,
t
he summit addressed the connections between social justice and the arts.
Rulan describes this groundbreaking experience:
"So proud and humbled to join the cadre of Kennedy Center Citizen Artist Fellows, selected because their work embodies ideals of service, freedom, justice, courage, and gratitude. Before the award ceremony began, I stood the edge of the woods to ask for sanctioned entry from the Piscataway and Powhatan host First Nations who gifted me with tobacco and a song. Then - for the first time for that area - they were able to publicly welcome all the artists, staff, and attendees. So absolutely powerful! Gabrielle Tayac of Piscataway First Nation said that I "
helped things to be seen that were unseen, helped things be heard that had been unheard, helped things to be voiced that had been silenced."
The two days unfolded with one wonder after the next. I am in a state of grace and appreciation for the gathering of brilliant changemakers who are reimagining the culture of this country."
---
SF STOCK AWARD 2018 - WE WON!
Dancing Earth's Groundworks project is honored to have be awarded community funds from this year's San Francisco STOCK awards in partnership with Intersection of the Arts. This year's project, Groundworks, presented by Dancing Earth's Program Coordinator

Tiśina

Parker, competed with five amazing Bay Area creative projects from film to theatre productions to win $1375. This award, which was voted on by community supporters of Bay Area arts, will go towards producing Native roots cultural engagement projects for the summer. Even more importantly, the presentation of the Groundworks project was an invaluable chance to share with other artmakers and art supporters the importance of including California Native perspectives in the contemporary California art and performance realm. Dancing Earth would like to extend a special thanks to Tisina Parker for her heroic presentation and to Liz Cameron, Ian Garrett, and Teri Storrs for their collaborative efforts on preparing and supporting the award winning presentation.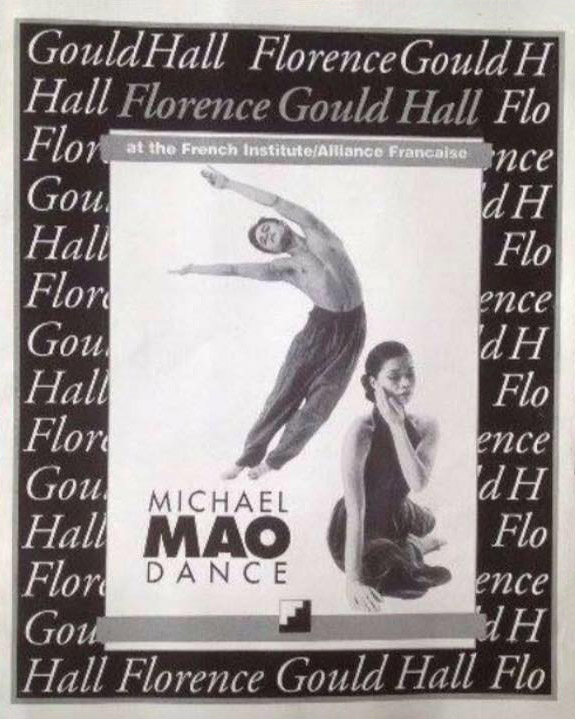 Michael Mao Dance Reunites in New York
Rulan's mentor, friend, and choreographer, Michael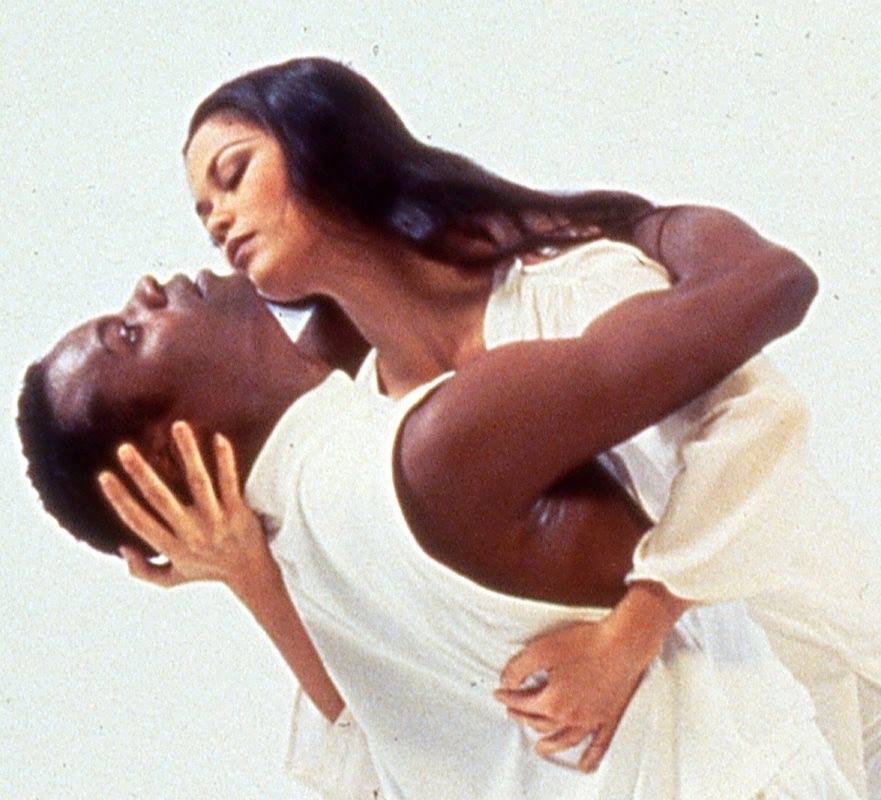 Mao celebrated his dance company's 25th anniversary with a company reunion in New York. Mao's dancers came together for an evening of performance and memories in April. His current company performed and his former dancers joined in one of the works. They participated in the
"walking" section of STILL NIGHT with a
mesmerizing score by Arvo Part.
Vintage poster, featuring Rulan!
---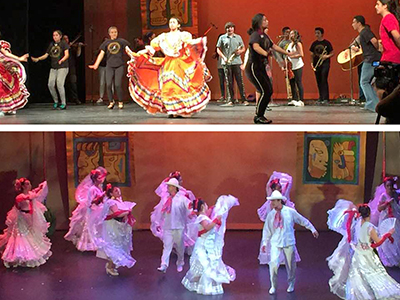 Cuicacalli, our associate dance training program from San Francisco, visited Santa Fe in March. 39 teenage mariachi musicians and folklorico dancers with 8 parent chaperones, music director Ariane Cortes, and dance director Jesus "Jacoh" Cortes

spent months fundraising in the Bay Area in order to make their dream of a first tour become a reality!

Cuicacalli joined Santa Fe's Moving Arts Espanola (MAE) for performances at the

Northern New Mexico College

. MAE provides performing arts training for at risk youth in the Santa Fe area.





Hosted by Roger Montoya and Sal Ruiz of MAE, the Cuicacalli students were welcomed by Talavai Denipah Cook of Ohkay Owingeh. The young people performed in 7 rural schools during the day along with visits to local museums and epic hike to Tent Rocks National Monument.





The tour culminated with a standing room only performance at Northern New Mexico College Theater which consisted of several dance companies, including Dancing Earth. The audience was treated to a colorful and vibrant mini festival of folklorico, flamenco, mariachi, and contemporary Azteca music and dance.
In April, during a spring blessing of rain, San Francisco Bay Area friends of Dancing Earth got together to celebrate Dancing Earth and Rulan's upcoming Kennedy Center award. Hosted by Kat Steele and Alexis Tartarsky at the Woodlands Institute in Fairfax, we met to hear more about GROUNDWORKS, Dancing Earth's next production, and the celebrate Rulan prior to receiving her fellowship at the Kennedy Center. It was a great evening to re-connect and to spread the word about all of the meaningful work coming from Dancing Earth.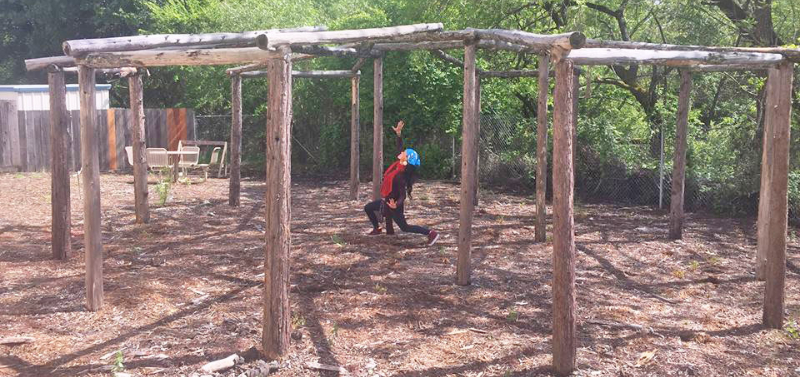 Source Material Gathering For GROUNDWORKS in Northern CA
Notes so far from GROUNDWORKS, Dancing Earth's next production that addresses the ideas of sustainability and renewable energy:
We supported Desirae Harp to experience deepening of her Wappo cultural knowledge as shared by her mom, TekTek. This cultural knowledge included preparing Tule twisted twine, preparing dogbane, manzanita tea, and cleavers tea. The next day we visited a sacred geyser and Desirae met the current owner to get permission for all Wappo to be able to come to the monument and offer their prayer songs. We offered our song and the geyser danced higher as the songs were sung! Then we went on a 10 mile hike up the sacred mountain of Ka Ne Ma To. We were hosted by the kind and generous Eric James in cabins in Guerneville with amazing dinners at the end of our active days.
Next we took a long, beautiful drive up the coast to Point Arena to support Ras K Dee another lead cultural artist to reconnect with his Kashaya Pomo mentors and community and visited with healer Loren Smith.
Commissioned with support from Emily Johnson/Catalyst Dance, Rulan worked with Bernadette and young dancer Shirley on a new acorn dance that interprets their dreaming and envisioning of the revival and
re-imagining of their traditional Acorn Dance.
---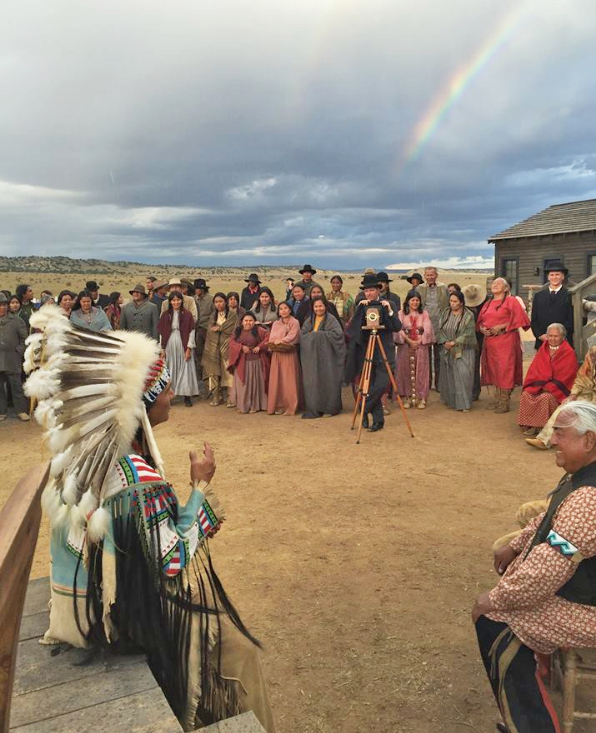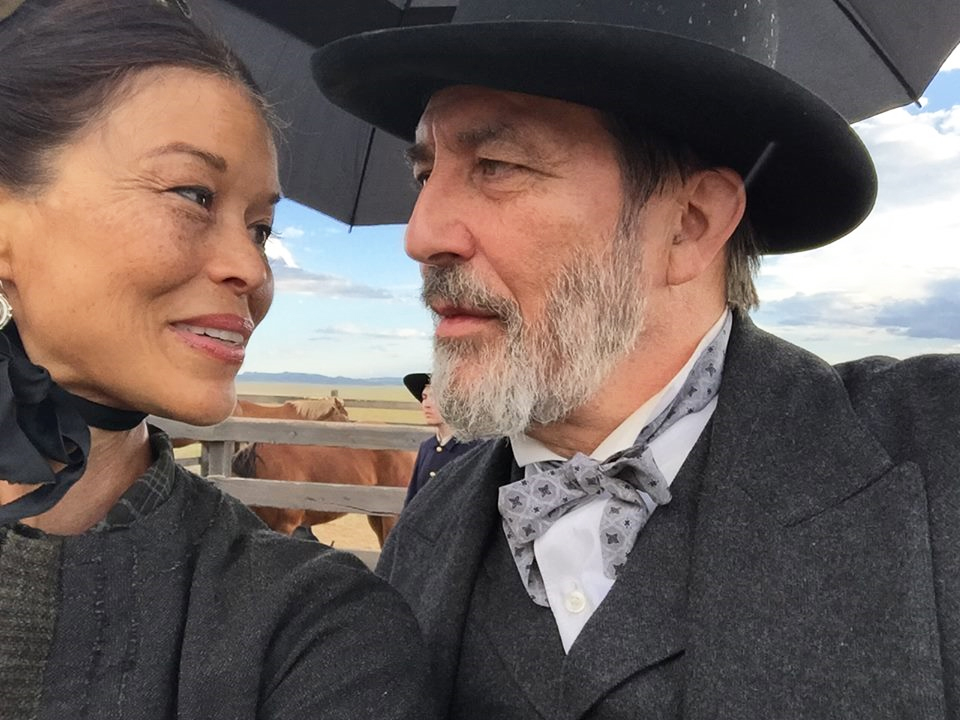 Directed by Susanna White, this is story of a female artist who visits North Dakota to paint Sitting Bull's portrait, featuring Jessica Chastain, Sam Rockwell, Ciarán Hinds, and Michael Greyeyes.
The film has been screened at the Tribeca Film Festival and previously at the Toronto International Film Festival.
---
Donations:
Tom Pinkson, in honor of his mother and father who raised him, his birth father Fred Soloway, Ray Pinkson, and uncle Irving Podolsky. Gracious support for Acorn Dance, commissioned in part by Emily Johnson/Catalyst with funds from the Doris Duke Performing Artist Award.
Friends of Dancing Earth:
Kat Steele and Alexis Tatarsky, Leny Strobel, Liz Cameron, Mark Perez, Beth Forsman, Michael Mao, and all our amazing friends who participated / helped organize the Mao Reunion- including Donna Schoenherr, Antonio Fini and the wonderful apprentices from Italia, Penelope Freeh, and alumna and current Michael Mao company dancers!