Churchill Swim and Dive Stars at Metros
After winning Montgomery County's Division 1 championship for the third straight year, the Churchill girls finished second to Sherwood High School at the Washington Metropolitan Interscholastic championships, the nationally renowned meet known as Metros. The girls then claimed the Maryland 4A/3A West Region championship for the third straight year. The Churchill Boys performed well in championship season. They finished 4th at Metros, behind only Gonzaga, Georgetown Prep and Richard Montgomery. The Bulldogs were 3rd at the regional meet, behind Richard Montgomery and Bethesda-Chevy Chase. More information and photos at the Swim and Dive Metros post. Reporting by Dave Lindsey with Yolanda Faerber. Photo above: The team cheers during the Metros meet. Photo by Deb Lindsey.

---
11 Bulldogs Qualified for MD States Indoor Track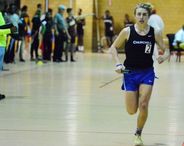 On February 4, 2016, the Churchill Indoor Track and Field Team braved difficult running conditions at the Maryland 4A regional championships held at the over 100 year-old Fifth Regiment Armory in Baltimore. The Bulldogs had much success at 4A Regionals.
In total, 11 Bulldogs placed high enough at Maryland 4A Regionals to qualify for the Maryland 4A state championships scheduled for February 16, 2016 in Landover, Maryland. See the names of the qualifiers with their events in the Indoor Track post. Photo above: Senior Mitch Welter at the 4 X 800 finish. Photo from MD.Milesplit.com.

---
Varsity Wrestling Competes for Post-season Wins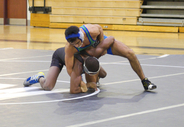 The February 19-20 County Competition resulted in Eight CHS wrestlers qualifying for the Regional Tournament. The Regionals were held February 26th & 27th at Sherwood HS where two wrestlers qualified for States: Jack Connolly placed 2nd and JJ Bravo finished third. 5th place finishers were Chris Ervin, Liam Lehr and Andrew Welch who also serve as State alternates. Lucas Young grabbed a 6th place at the event. States will be held on March 4th & 5th at Showplace Arena in Upper Marlboro. See more photos and information about their regular season record on the Varsity Wrestling post. Reported by Kathleen Ervin. Photos by Patrick Connolly. Photo above: Senior Captain JJ Bravo goes for the win on Senior Night. Photo by Patrick Connolly.
---
Basketball in Post-season Play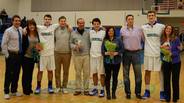 The Girls Varsity Basketball team finished with a regular season record of 17-5 and started the post-season with a big home game win against Northwood HS, 75-13 on February 26. The girls play at home against B-CC on March 1 for the 4A West/Section 1 Championship.
The Boys Varsity Basketball team wrapped up their regular season with a 12-10 record. They concluded their run in the post-season with a tough first round loss to Blair. See more photos and a report on the Wootton game in the Basketball post. Photo above: Senior Boys Varsity Basketball players Danny Silver, Jonathan Wilson, and Nathan Gertler celebrate Senior Night on February 12 with their parents and Coach Bean. Photo by Natacha Myers.

---
Churchill Crew Club Medals at Indoor Regatta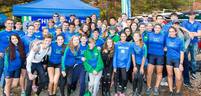 In late January, Churchill's Crew club team joined teams from around the country to participate in the Mid-Atlantic Erg Sprints, the largest east coast indoor regatta.
On the 30th anniversary of this prestigious event, Churchill Crew took home three medals from over 2,000 entries. More than 100 Crew teams and clubs participated. Go to the Crew post for more information on the regatta and the team. Reported by Barrie Berger. Photo above: Churchill Crew 2015-16. Photo by Caroline Sailer.

---
Ice Hockey MSHL Champs!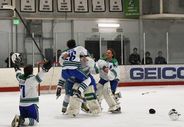 For the third time in four years, Churchill's Varsity 1 ice hockey team won the Maryland Scholastic Hockey League Championship, defeating Annapolis/Old Mill 11-0. Churchill outscored its opponents 57-3 in the playoffs, with goalies Markus Hurd and Kendall Wong recording shutouts in the semi-finals and finals. In the championship game on February 26, captain Phil Satin, the MSHL's all-time leading scorer (195 career points), had 10 assists and Andrew Kurapov scored 7 goals, both MSHL records. Read the
Washington Post article.
More photos and reporting in our
Ice Hockey post
. Reporting by Paige Taylor.
Photo above: Captain Phil Satin (26) celebrates the championship with teammates. Photo by Paige Taylor.