Booster News, October 2013
It's

HOMECOMING

and school spirit is at a seasonal high! Senior girls snatched victory from Junior girls, 14-7, in a lively PowderPuff flag football matchup to be the first class in 15 years to capture bragging rights two years in a row! The boys

wowed the crowd as they cheered on their teams with a great choreographed half-time show. Homecoming week activities include:
Coin War between grades for Leukemia research runs through Friday, Oct 11. Monday: Pajama Day and Monday Night Madness Game (7-8 pm auditorium). Tuesday: Sports Jersey Day (games in the main gym at 11 am). Wednesday: Wacky Day. Thursday: Theme Day – each grade has a decade. Friday: Churchill Spirit Day, Pep Rally, Football Stadium at 1:05 pm. Friday Night: 5:30 pm Floats and Dance Competition; 6:30 pm Football Game. (All students asked to wear a white Churchill t-shirt.) Saturday Night: Homecoming Dance 8-11 pm
Parents, bring your children from all Churchill feeder schools for free admission to the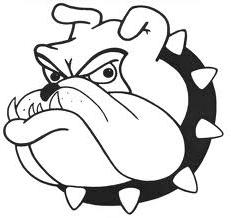 football game against Springbrook on Fri., Oct. 25 at 6:30 pm! Free CHS baseball caps and ½ price t-shirts to feeder school students while supplies last! Link HERE for flyer. We want the Bulldogs to be your home team! GO BULLDOGS!
Click for a Timely Message from Booster Club President Larry Tanenbaum
Churchill's New Athletic Director Scott Rivinius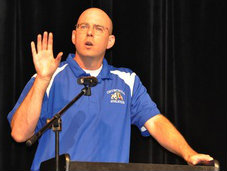 Churchill has enthusiastically welcomed a new Athletic Director this year, Scott Rivinius, who is new to the position but not to the school or the everyday operations of team sports. Rivinius has taught in the CHS Social Studies Department for the past three years as well as served as the assistant varsity boys basketball coach during that time. Prior to becoming the head of the Bulldog program, Rivinius coached both football and boys basketball at a Houston,TX high school. He is a Massachusetts native who has also coached high school football and basketball in Topsfield, MA for four years, starting in 2004. Rivinius graduated from Elon College with a degree in History/Education after which he worked briefly for the Athletic Department of Ohio University. Rivinius is married and the father of a one-year-old son.
Rivinius, above, addressed parents at Fall Sports Night. Photo by Mary Ellen Mengucci.
Fall Teams Rack up Mid-Season Successes

Girls Soccer
is scoring its way to an impressive season. Currently ranked #9 by the Washington Post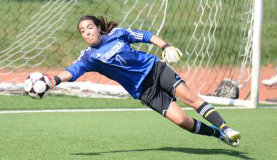 and #3 by the Gazette, the team is a contender for the state championship. One key component of the team's success has been goaltender Senior Tania Mamdouhi, shown at right at a pre-season scrimmage against St. Andrews. Photos by Buck Phillips.

Congratulations to CHS Boys Soccer for becoming the first fall sport teams to achieve 100% membership in the CHS Booster Club! The Junior Varsity team (shown below at the start of its 2013 season) reached this milestone on the last day of September. Just four days later, the Boys Varsity team secured 100% Churchill Booster Club membership, as well.


Both Bulldog teams are enjoying successful seasons on the field, too. Junior Varsity, led by first-year Head Coach Eric Cava (above, standing far right), holds a solid 3-1-2 record. Varsity, led by Head Coach Arnold Tarzy (standing front left in the photo at the annual Boys Soccer car wash fundraiser in August), boasts an impressive 6-2-1 record. Photos by Lisa Drexler (above) and Doug Lee (below).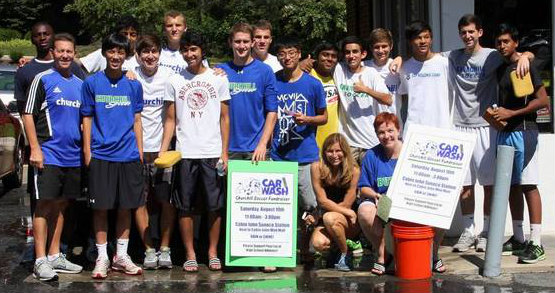 ---
Varsity Field Hockey is having huge success with an excellent 7-2 record going into its last game,


against Blair, this week. Season highlights include senior Clare Nolan's game-winning goal in overtime recently against Poolesville. Junior Varsity Field Hockey is enjoying an impressive 6-2 season, including a 4-0 shutout last weekend against Paint Branch. A team defensive standout has been goalie sophomore Jenny Robinson, who saved four shots during regulation play and three shots in overtime during a recent outing against B-CC. On offense, sophomores Maggie Nardi and Madison Kanstoroom, as well as frosh Lauren Lipson, Joanna Kramer and Sydney Weinstein, have scored in various match-ups for the Bulldogs.
---
Crew had an outstanding showing at the recent Scullers Head of the Potomac Regatta—one of the
region's largest regattas—with all three entries for the co-ed club team setting team records in their races. The Men's Youth 8+ placed 10th out of 21 entries for the 2.8 mile course, finishing in 15:51.9 and outperforming boats from B-CC, Walter Johnson and Woodrow Wilson, among others. The hundreds gathered at Thompson Boat Center and Washington Harbor in Georgetown also saw Churchill's Women's Youth 8+ come in with a time of 19:07.7, outpacing Walter Johnson, Woodrow Wilson and St. John's College High School, among others. The WCHS Women's Youth 4+ crossed the finish in 22:47.8, ahead of entries from the Institute of Notre Dame and Woodrow Wilson. For more information on this parent-run, self-supported club team, visit www.ChurchillCrew.org or email churchillcrewteam@gmail.com.
---
Stadium Sign Sponsorships Support Bulldogs and Businesses
Attention All Churchill Sports Teams:
The Booster Club will give each sports team $100 in its team account if a team secures a new sponsor and payment is received for the stadium sign by October 20, 2013.
Advertise with the Bulldogs:
We are offering two levels of advertising this year "JV" and "Varsity" with a host of benefits at each level. Visit www.churchillboosterclub.org/advertising.html to review the options and sign up. Questions – Allyson Bergman: bergmanhome@verizon.net
Seasonal and Annual Sport Passes For Sale Online NOW!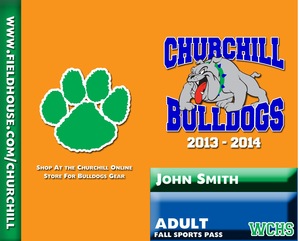 Save time and money! Buy seasonal or annual Churchill Bulldog sport passes for students and/or adults, sold only online.
Just follow the easy instructions at the

Booster Club's Online Spiritwear Store

. The passes will be mailed directly to your home. If you attend a game before your ordered pass arrives, bring your receipt or a driver's license to the stadium for verification. Click

here

to order passes and all your WCHS spiritwear!
Be a Bulldog
Volunteer;
Wear Your Spirit!
CHS invites you to buy
spiritwear at
the school store, located on the first
Booster Club Calendar of Upcoming Events
October 9 (Wed.): Booster Club Meeting, 7 pm, WCHS room 126
October 21 (Mon.): Booster Club-sponsored lunch for Fall Team Captains, 1 pm, WCHS room 126
October 25 (Fri.): Community Night at CHS. Kick-off at 6:30 pm. See details above
Bulldog Team Competition This Week
For a list of future Bulldog matchups, please
click here
. Then go out and cheer on our student-athletes!
Booster Club Email Address, Website & Social Media
Please help us get Churchill Booster Club News out to all Bulldog supporters. Know a Booster fan who should be receiving our news? Need an email address added to our mailing list? Interested in sharing news about Churchill student-athletes and teams? Contact: info@churchillboosterclub.org
Bookmark the Booster website

www.churchillboosterclub.org

for helpful information, scores, membership registration, sponsors, directions to away-game locations, online spiritwear store & more!
The Booster Club proudly supports the Churchill PTSA. Our organizations work cooperatively on behalf of WCHS students, parents, staff and the greater Churchill community. Link to the

PTSA website

to receive important PTSA news & membership information.