Congratulations to the Churchill student-athletes selected to play on one of the many 2012 spring sports teams! Practices are underway and games will begin shortly. We look forward to seeing the parents of these athletes at the upcoming Spring Sports Night Meeting, scheduled for Monday, March 19 at 7 p.m., in the Churchill Auditorium.

We also hope to see you at our Annual Spring Gala, happening on Friday, April 13 at Bowlmor Lanes in Bethesda. This
fun and casual event is like nothing we've done before! Read more about this fundraiser and other Booster Club activities below.
Finally, don't miss our upcoming monthly meeting, happening this Wednesday night, March 14 at 7 p.m. in Room 126. As always, we welcome new volunteers.

Wayne Cohen
President,
Churchill Booster Club
1. You Are Invited! Spring Gala Sports Night is Friday, April 13
T

he Winston Churchill High School Booster Club will hold its annual Spring Gala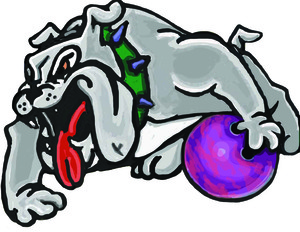 Fundraiser on Friday, April 13. Don
'
t miss your chance to "Bowl A Strike for Churchill," at Bowlmor Lanes in Bethesda. Link here for the Invitation.
Please join us for an adults-only evening filled with food, music, unlimited bowling and both live and silent auctions. It's Churchill's largest social event of the year! All proceeds support WCHS Athletics.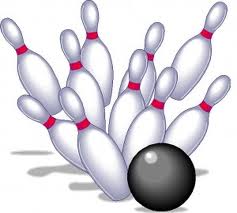 Link here for Details
Link here for Ticket Purchases
Link here for Gala Sponsorship Opportunities
2. Spring Sports Night Meeting: Monday, March 19 at 7 p.m.
Parents of student-athletes participating in a spring sport at Churchill are asked to attend the Spring Sports Night Meeting on Monday, March 19 at 7 p.m. in the WCHS Auditorium. Athletic Director David Kelley will speak to parents about various school and county policies that pertain to our athletes and teams. Coaches will then hold separate meetings with the parents of the players on their teams.

The Booster Club will also be on hand encouraging families to "Join the Club" and purchase Churchill
spiritwear
and spring stadium passes. We look forward to seeing many of you that night.

Looking for spiritwear or passes but won't be at this meeting? Check out our online spiritwear store
—
known as Bulldog Central—for an extensive line of Churchill apparel and accessories, available in numerous customizable colors, styles and sizes. The Online Store is also
your source for ordering season sport passes. Follow the easy instructions at the
Online Spiritwear Store
and the passes will be delivered directly to your home.
3. Girls' Tennis Fundraiser at California Pizza Kitchen March 19-21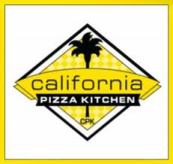 Come on out to support the Winston Churchill High School Girls
'
Tennis Team! Stop by California Pizza Kitchen in Montgomery Mall on March 19, 20, and 21. Link here to Print CPK Flier, bring it with you to the restaurant and 20% of your check total (dine-in, take-out, catering and all beverages) will to go towards Girls
'
Tennis.
4. Varsity Corollary Sports Program Begins Softball Tryouts March 19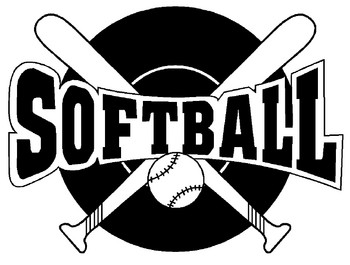 Montgomery County Public Schools runs a corollary sports program in county high schools to give students with 504 plans and/or IEPs the opportunity to compete in varsity sports. The corollary sports teams require 50% of the team members are students with 504 and/or IEP accommodations. The remainder of the team will be composed of our regular student population. Students must try out for these teams.
The spring softball season tryouts begin March 19. For further information about tryouts, watch for news and more information in the BLIPS and on the Booster Club Website. If you have any questions, or are interested in participating, please contact Churchill
'
s Athletic Director, David Kelley at David_S_Kelley@mcpsmd.org
Still
need to join or renew your annual Booster Club membership? It
'
s easier than

ever! Link here to our online membership registration form.
A big thanks to the many families and Churchill fans who have already "joined the club" this year. Your membership dues play a critical role in supporting our student-athletes and Churchill teams, especially now when athletic department budgets across MCPS are seeing significant cutbacks. Your due helps us keep Bulldog sports strong!
6. Boys' Lacrosse Hosts Pre-Season Skills Clinics for Area Youth
The Churchill Boys' Lacrosse program hosted a skills clinic at WCHS over two Saturday afternoons in February. Nearly 50 area boys, ages 6-14, participated. Members of last year's Varsity team and the Churchill lacrosse coaches ran the clinic, with instruction for beginners through experienced players. The Boys' Lacrosse program will use proceeds from the skills clinics to offset travel costs for upcoming tournaments and training activities.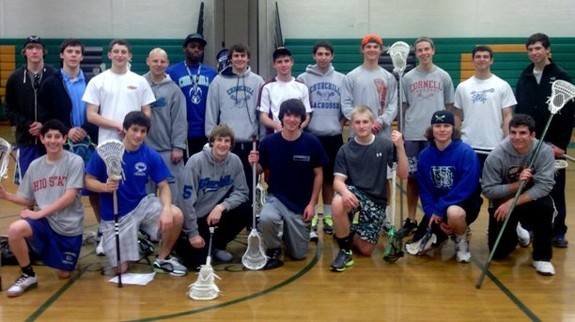 7. Churchill Sports in the News
A number of Churchill teams and athletes won county, regional, metro and state titles in February and early March. Below are just a few recent highlights. Don't forget to read about all of our teams' successes by linking to the Booster Website.
Boys' Varsity Basketball: The Bulldogs had an historic winning season, making it to the Varsity Regional Finals for the first time in 33 years. Although the team suffered a heartbreaking defeat to Magruder at the Regional Finals, the Bulldogs played a stellar season. See highlights, player accomplishments and records, photos and news coverage on the Booster Club Website.
Photo:
The Bulldogs after the Regional Semi-Final win vs. Gaithersburg.
---
Varsity Wrestling: Hunter Sutton, Sophomore Wrestler at Winston Churchill High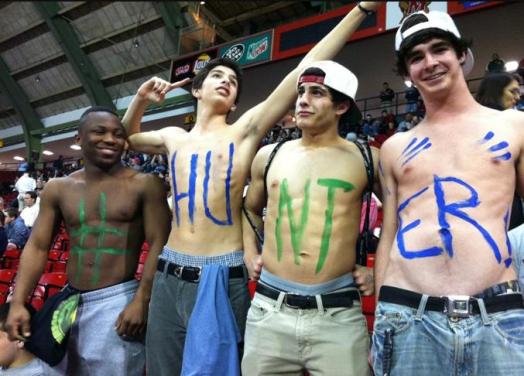 School, won his second Maryland State Public School Championship at Cole Field House at the University of Maryland on March 3 in the 138-pound weight class. Sutton, who entered the Tournament with a 34-2 record this year, has tied the record for the second most state championships by an individual wrestler.
Photo: Shirtless fans of Churchill's State Champion Wrestler Hunter Sutton were on hand to cheer for the sophomore stand-out at the tournament on March 3. For more photos and information on Churchill Wrestling and Sutton's season, link to the Churchill Booster Club Website.
---
Indoor Track: Four Churchill students competed at the MD State 4A Indoor Track Championship Meet held on February 12: Senior boys Will Conway, Zach Weinstein, Nadim Elhage and freshman girl Lucy Srour. Out of 5 individual state champions from Montgomery County, 3 were from Churchill. Will Conway won the boys' 1600m for the second consecutive year; Nadim Elhage was first in boys' shotput; and Lucy Srour won the girls' 1600. Additionally, Zach Weinstein was fourth in the boys' 3200 and Will Conway was second in the 800. The three Churchill Boys placed third Maryland team overall at that meet.
---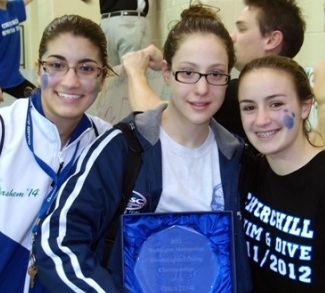 Varsity Swim & Dive: Senior Tim Faerber and Freshman Kali Becker were named Maryland Diving State Champions in late February. Faerber clinched the state title after placing 1st at both the Division 1 and Regional 4A/3A Championships. Becker, who won every meet of the post-season, earned her state title with a score higher than the University of Maryland's pool record, where the state championships were held. Natalya Ares was the State Champion in the 100 Fly. Odin Soevik, Sammy Lee, Harrison Gu and Austin Cole set a Meet Record in the 200 Free Relay on their way to being State Champions. For more details on the State meet and the successful seasons of both Boys' and Girls' Swim & Dive teams, along with the stellar achievements of Faerber and Becker, see the Winston Churchill High School Booster Club Website.
Photo:
Divers Kali Becker, Mashel Hashem and Swimming Captain Natalya Ares hold the
Churchill Girls' Swim & Dive Team
Metros Championship trophy, which they won on February 11, prior to the Maryland state meet.
---
Varsity Crew:
Churchill Junior Matt Reback (shown at right with Coach Brad Smith) came in 1st place in the High School Men's Novice Lightweight Class (1000 meters) at the indoor National Capital Erg Invitational in Washington, D.C., on February 12. And senior Tori Hoffman came in 1st place in the High School Varsity Women's Lightweight Class (1500 meters).

Churchill Crew also swept the men's and women's 2000-meter team relays. Julia Taladay, Brenna Means, Alisa Dan and Deepika Chandra won the women's relay with a time of 07:57.3. The Churchill men's Dream Team of Matthew Reback, Charlie Morris, Will Mulhern and Charlie Wathieu won their event with a time of 6:23:7. See the Booster Website for more coverage on the Varsity Co-ed Crew Team. Photo: by Ian Reagan.

Need a way to promote your business, support Churchill athletes, or both? The Winston Churchill High School Booster Club has all sorts of options for you. Check out our new and expanded corporate banner sponsorship packages. Put us to work and we'll publicize your business in the stadium, on our sports programs, through the public address system, in our website, on our banners and more!

For details on our new Booster Club Sponsorship Packages, please click here. For special opportunities to sponsor our Annual Spring Sports Night Gala, link here. For a full list of our Generous Sponsors, click here.
March 14 (Wed.): Booster Club Monthly Meeting, 7 p.m., Room 126
March 19 (Mon.): Spring Sports Night Meeting, 7 p.m., Churchill Auditorium

March 19 (Mon.): Corollary Sports Softball Tryouts Begin
March 19-21 (Mon-Wed.): Girls' Varsity Tennis Fundraiser at California Pizza Kitchen, Montgomery Mall. See info above.

April 11 (Wed.): Booster Club Monthly Meeting, 7 p.m., Room 126

April 13 (Fri.): Booster Club Annual Spring Gala from 8-11 p.m. at Bowlmor Lanes, Bethesda. Link here for invitation. Link here for ticket purchases
Booster Club E-mail Address & Website
Please help us get Churchill Booster Club News out to all Bulldog supporters. Know a Booster fan who should be receiving our news? Need an e-mail address added to our mailing list? Interested in sharing news about Churchill student-athletes and teams? Contact us at at: info@churchillboosterclub.org

Bookmark our website www.churchillboosterclub.org for helpful information, scores and related links. See current and upcoming Booster Club activities, find updates and media coverage on Bulldog teams and athletes, check out our generous sponsors, or get directions to away-game locations.