Booster News, October 2011
Dear Booster Friends,

Hearty congratulations to the WCHS fall sports teams, many of whom are experiencing outstanding seasons with few or no losses. Off the fields, we're happy to report similar success with our Fall Booster Club Membership Drive. Three fall teams—Girls' Tennis, Varsity Field Hockey, and Golf—have already achieved 100% membership participation in the Booster Club and several more teams are very close to reaching full participation. A big thank you to those Churchill families who have already committed. Joining or renewing your annual Booster Club membership is critical to the success of the Booster Club, which provides significant supplemental funding to our Churchill teams.

Still need to join? Take advantage of our brand new, easy-to-use online registration process by clicking here. A link to "Join the Club" is also available on our new website: www.churchillboosterclub.org. The site—packed with helpful information and related links—is the go-to spot for all-things Booster Club. See current and upcoming Booster Club activities, find updates and media coverage on Bulldog teams and athletes, check out our generous sponsors, or get directions to away game locations. Bookmark www.churchillboosterclub.org today!

You can stay current with our dynamic and growing organization in other ways, too. Attend our upcoming monthly Booster Club meeting, happening this Wednesday, October 12 at 7 p.m. in Room 126. Please get involved in Booster activities, support our fundraisers, read our e-newsletters, and receive timely Booster Club posts when you "Like" us on Facebook.

Wayne Cohen
President, Churchill Booster Club

The Girls' Varsity Tennis Team was treated to a pizza party for becoming the first Churchill team of the 2011-2012 school year to reach 100% Booster Club membership! A significant portion of our budget comes directly from the generous membership commitments of WCHS families who have student-athletes playing sports at Churchill.

The Varsity Field Hockey and Golf Teams quickly followed the Girls' Tennis Team in attaining 100% membership. Stay tuned for announcements about other fall teams nearing full team membership, too.
Still n
ee
d to join or renew your Churchill Booster Club membership? Check out our NEW online Booster Membership registration process. It doesn't get easier than this! Start
by clicking here. Next, log on and create a new account. Then select Winston Churchill High School, select Booster Club and click preview items available. Follow a few simple prompts and your membership is all set. No envelopes or stamps necessary!
2. Booster Club Supports Pink Homecoming Activities
The Booster Club, in cooperation with Winston Churchill High School, is pleased to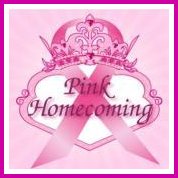 support the National Foundation for Cancer Research (NFCR) by hosting

Pink Homecoming

events this week (Monday, October 10 - Friday, October 14). Each fall sport team will be supporting NFCR by raising funds and awareness for life-saving cancer research. Come out and cheer on the Bulldogs during Homecoming Week, while supporting the National Foundation for Cancer Research. For more details click here: Pink Homecoming.

In addition, a selection of Pink Homecoming water bottles are being sold throughout this week to help raise funds for cancer research. Just think PINK and follow this link to sign up. Students, staff, parents, and alumni are encouraged to purchase PINK Homecoming water bottles to show support for this worthy cause.
3. Booster Club Hosts Pampered Chef Cooking Show Fundraiser

Please join the Churchill Booster Club for a Pampered Chef cooking show at the home of Wayne and Jill Cohen, 9719 Avenel Farm Drive, on Thursday, November 3 at 7 p.m. Learn how to make easy, delicious recipes and see what's new for holiday cooking and entertaining.
The event, open to the entire Churchill community, is a great way for all Booster supporters (male and female alike!) to enjoy a night out, purchase early holiday gifts and support the increasingly important role the Booster Club plays in supplementing Churchill's athletic department budget. All profits will go directly to the Booster Club. Please RSVP to Lynn Grody at legrody1chef@yahoo.com or (301) 983-6824.
Can't make the Pampered Chef cooking show date? You can still place an online order and support the Booster Club:
1. Go to www.pamperedchef.biz/lynngrody
2. Click on "Shop Online" in the bottom left corner
3. Under #1 "Already invited to a show…" enter Churchill Booster Club under organization and click on search.
4. Click on "Shop Catalog" (You can view an interactive catalog online by clicking the picture of the catalog.)

Please place your order by Friday November 4th. Contact Lynn Grody, at legrody1chef@yahoo.com or (301) 983-6824 if you have any questions or you prefer to order by phone/email.
4. Fall Captains Honored at Booster Club Luncheon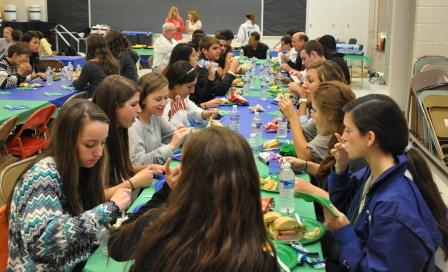 The Booster Club hosted the first of three seasonal Captains' Luncheons on October 5 at WCHS. In all, 48 of the 54 Fall Varsity and JV team captains and
6 coaches
were able to attend. The event pays tribute to Churchill's hardworking student-athletes. WCHS Coach and English teacher Haroot Hakopian spoke to the captains about their important roles as leaders among their peers.
5. Shout-Out to Dedicated Booster Volunteers
It's no easy task these days keeping pace with the dozens of activities or the
army of parents, coaches, students, staff and community members who
make the Churchill Booster Club what it is: a dynamic organization in perpetual motion! A huge shout-out to all of our incredibly devoted volunteers who keep our wheels moving at break-neck speed.

Here are just some some of the reasons you won't see any moss growing when it comes to the Booster Club's 2011-2012 programs and initiatives: concessions, corporate sponsorships, fundraising, sports clinics, SGA partnership, membership drives, school store, super fan events, pink homecoming, online spiritwear store, season passes, captains' luncheons, gala planning, online membership registration, team fundraisers, budgeting and allocations of funds, Booster team liasons, PTSA partnership, new website, Bulldog cookbook, e-newsletter, Facebook posts, sports nights, golf outing, player physicals, club/team policy, by-laws . . . and the list goes on and on!

Thank you to all of the Churchill families who support the Booster Club's programs and initiatives and BIG Props to our hardworking and growing number of volunteers, utility players, and board members. Go Bulldogs!

Attend our upcoming meeting and catch the momentum, too!
We Want You!
Please Join Us:
Churchill Booster Club
Monthly Meeting Schedule 2011-2012
Held at WCHS in Room 126, beginning at 7 p.m.
October 12th (Wednesday)
November 9th (Wednesday)
December 5th (Monday)
January 11th (Wednesday)
February 15th (Wednesday)
March 14th (Wednesday)
April 11th (Wednesday)
May 11th (Wednesday)
June Meeting (TBA)
6. Online Spiritwear Store & Season Sport Passes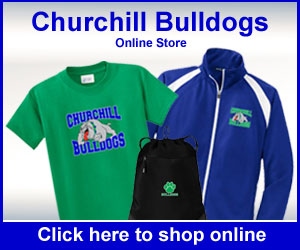 Our new Online Spiritwear Store is Bulldog Central for an extensive line of Churchill apparel and accessories, available in numerous customizable colors, styles and sizes! The Online Store offers items for men, women, youth—even toddlers and babies. Churchill teams also receive discounts for bulk orders on practice jerseys, warm-ups, socks or other items.

And that's not all: the Spiritwear Store is also your source for ordering season sport passes. Follow the easy instructions at the new Online Spiritwear Store and the passes will be delivered directly to your home.
Need a way to promote yo
ur business, supp
ort Church
ill athletes, or both? The Churchill Booster Club has ju
st the answer:
advertise your business with a
sponsorship banner prominently displayed in our stadium or baseball field. Let us help you score the goals and homeruns your business needs.
For a full list of our generous sponsors, along with details on our sponsorship opportunities, please click here.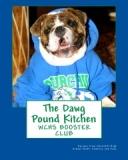 Bulldog Boosters are really cookin' now! Join the fun and place your order for the WCHS Booster Club Cookbook. Filled with fabulous family recipes, local restaurant recipes (including Normandie Farm's popovers), and recipes from farmers at the Potomac Village Farmer's Market, "The Dawg Pound Kitchen" cookbook makes a great gift for recent graduates, WCHS alumni
, Churchill parents, staff and more.
Cookbooks sell for $20 each and they will be available at the Booster Club's Pampered Chef Cooking Show fundraiser on November 3. Or, click here for an order form and make checks out to: SSI (the company publishing the book).
Invite your friends and family to get cookin' t
oo.



(For out-of-town family and friends, the cookbook can be purchased online at:

https://www.createspace.com/3365402 or

at

Amazon.com

. Please note, however, the Booster Club receives less profit from online sales. If you do need to order online, the Create Space website provides Booster Club with more profit than

Amazon).
9. CHS Cheerleaders in the News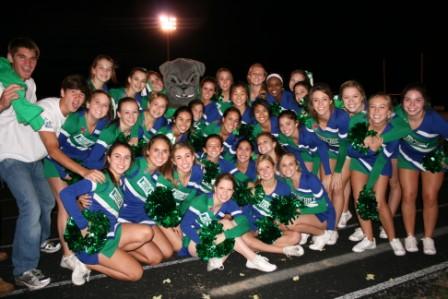 The Varsity Cheerleaders celebrate with the Bulldog mascot and friends at the big Varsity home football victory against BCC in September. The Bulldogs won 47-7! For more information on the Varsity and JV Cheer team seasons and activities, click here. For details on the Varsity Football Team, click here.
10. Churchill Crew Team Seeking Coaches
Churchill Crew, the year-old community rowing team, is seeking a head coach and assistant coaches for the upcoming school year and beyond. The team is asking
parents and teachers to help sp
read the word to their friends and colleagues who have rowing experience or have coached crew at the high school level. Click here for additional information.
11. Booster Club has a New E-mail Address
Please help us get Churchill Booster News out to all Bulldog supporters. Know a Booster fan who should be receiving our news? Need an e-mail address added to our mailing list? Interested in sharing news about Churchill student-athletes? Contact us at our new email address: info@churchillboosterclub.org
12. Booster Club Calendar of Upcoming Events
October 10-14 (Mon-Fri): Pink Homecoming Events all week
October 11 (Tues): Girls' Softball Pre-season Meeting (Varsity and JV) during lunch in Room 253 to discuss winter clinics.

October 12 (Wed): Booster Club Monthly Meeting, Room 126 @ 7p.m.

October 14 (Fri): Spirit Day and Homecoming Football Game (Wear Blue and Green; 1 p.m. Pep Rally and float competition; 5:30 performances and parade of floats, 6:30 p.m. game)

November 3 (Thurs): Booster Club Pampered Chef Cooking Show Fundraiser, 7 p.m. at the home of Wayne & Jill Cohen.

November 4 (Fri): Varsity Football Senior Night. Ceremonies at 6 p.m., game at 6:30 p.m. Senior cheerleaders, poms and band members recognized as well.

November 9 (Wed): Booster Club Monthly Meeting, Room 126 @ 7p.m
---
For timely Booster posts, click here to "Like" us on Facebook.