Message from the President
Dear Booster Friends
- The Falls Sports Season is well underway and our teams are doing extremely well on the field and on the court. Our Athletic Director, Jesse Smith, highlights all our teams successes and scores at
http://churchillathletics.com
. Don't forget to bookmark this website to see weekly scores, photos and more.
Thank you to all the families who have joined the Booster Club. Our work to support Churchill Athletics is ongoing and we appreciate every contribution. Your annual dues have enabled us to add a new Bermuda Grass practice field, purchase new Banners for the WCHS gym so all team's successes can be highlighted (not just state titles), add new equipment to the weight room, which is available for all student athletes, rent fan buses to help support WCHS student spirit, and so much more.
Still need to join? Please see our easy-to-use registration link below. Also, please join us for our next Booster Club meeting on Wed., Oct., 4 at 7 pm in room 114. Don't stand on the sidelines, come get involved! We can always use your input and help.
Go Bulldogs!
Leslie Janis
WCHS Booster Club President
---
In This Issue
What to Know....
1. Important Fall Dates
2. Community Night
3. Hurricane Relief Collection Drive
4. Booster Club Membership
5. Tribute to Coach Chuck Steven's
6. Football News
7. Booster Club Sponsorship Opportunities
8. School Store
9. Paver Fundraiser
10. Athletic Department Website
11. Weight Room Equipment Needed
12. Where Do Your Donations Go
---
1. Important Fall Dates


*Sept. 27: Pom's Fundraiser at Cal Tort 5-9 pm
*
Sept. 28: Community Night at Home Football game
*Sept. 28: Hurricane Relief Donation Drive- Bring donations to home football game
*Oct. 4: Booster Club Meeting
*Oct. 13: Homecoming against Blake
*Oct. 17: Community Night at Home Soccer Game- Boys and Girls Varsity Soccer Game
*Oct. 28: Senior Night and Celebration of 1976 and 1977 Football State Championship teams at Home Football Game
---
2. Community Night- Thur. Sept. 28
Calling all Families to the WCHS Home Football game on Thursday, Sept. 28.
Free Admission for all Churchill Cluster Middle and Elementary Schools, plus free giveaways and Dawg Pound t-shirts on sale (Middle School students should bring their student ID's for free admission)
Meet and take photos with Football Players, Poms Cheerleaders, WCHS Mascot- Fun begins at 6 pm.
SGA Cookout begins 5:30 pm in the Stadium. All Churchill students are welcome
---
3. Hurricane Relief Collection Drive
THUR. SEPTEMBER 28 STADIUM PARKING LOT (TRUCK PARKED AFTER SCHOOL THROUGH END OF FOOTBALL GAME)
Moyer and Sons Moving & Storage will be collecting items and filling up 2 tractor trailers to be delivered to Texas and Florida. ALL DONATIONS will be distributed to local donation centers and food banks in the affected areas from the Hurricanes. Please help with donations.
Items needed: bottled water, non perishable foods, toiletries, bug spray, baby products, cleaning supples, school supplies

Any questions please contact William Ferry at William@moyerandsons.com


---
4. Booster Club Membership
Please Join Now!
Show your support of Churchill Athletics by joining or renewing your Booster Membership for the upcoming 2017-18 school year.
100% of the money
raised supports your student athletes and the WCHS sports programs. Click the link below for easy-on-line registration.
Teams which reach 100% membership receive $250 back to their team.
Congratulations to the JV Field Hockey Team which hit 100% membership status first! Girl's Varsity Soccer also joined in the 100% membership status!

Please Join here:
Membership Levels & Gifts
$40 – Friends of Bulldog – New Bulldog Car Magnet
$100 – Silver Bulldog – Insulated drawstring bag + Car Magnet
$200 – Gold Bulldog – Bulldog fleece blanket + insulated drawstring bag + Car Magnet
$500 –
Platinum Bulldog – Best deal yet-- ALL the above gifts +
an
ALL SEASON SPORTS PASS
(valued at over $100) for all regular season home games +
PREFERRED STADIUM PARKING
at home football games + a canvas sideline chair. Also receive a free hot dog and drink at each home game where concessions are served!
All Platinum Members who join before 10/1 will have their names displayed in the WCHS Stadium.
---
5. Chuck Stevens Field
Type Title Here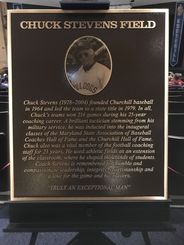 On Friday, Sept. 15 the WCHS Baseball Field was renamed after legendary baseball Coach Chuck Stevens. The naming event featured a ceremony in the auditorium before the home football game with former players sharing stories of their experiences with Coach Stevens, followed by a cookout, video of Coach Stevens and a halftime celebration dedicating the field in his honor. The next day, alumni participated in a baseball game against our current baseball team. Thank you to Scott Sorkin, Chris Nazarian, Kathy Patterson and so many others who worked hard to make this event extremely meaningful and special.
---
6. Football News
What's happening: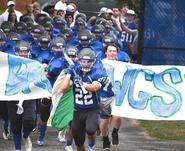 1. Community Night this Thur. Football game
2. Hurricane Relief Donation Drive this Thur.
Home Games:
9/28 against BCC
10/13 against Blake (Homecoming)
10/27 against Frederick
Volunteer at Friday Night Football Games!
Concession Stand Volunteers Needed:
Interested in grilling at the football games? Or helping sell food in the snack bar? It's a great way to share in the Friday night school spirit and it is a lot of fun. Contact Debbie Jacobs at Debrajacobs@comcast.net,
Sell WCHS Fan Wear:
Interested in selling Churchill Bulldog fan wear at the Friday night games? We could use your help. Contact Tamara Greenspan at Tamaragreenspan07@gmail.com or sign up at:
---
7. Sponsorship Opportunities
Stadium Banner Advertisement
Need a way to promote your business, support Churchill athletes, or both? Advertise your business with a sponsorship banner prominently displayed in the Stadium. The Stadium is open to the public all day and night and what better way to promote your business. Help your athlete's team as well- your team receives $150 for each banner the team secures. Contact jrosen922@aol.com or go to
www.churchillboosterclub.org/advertising
for more information.
---
8. School Store
Buy your Spiritwear!
Looking for a hoodie, baseball cap, t-shirt, pair of shorts or more sporting the Churchill logo? Our new Bulldog spirit wear is available.
Store days & hours: Tuesdays, Thursdays and Fridays between 11:10 am - noon/once school begins

Available at Friday night home football games
Where does the money go: 100% of profits go to the Booster Club
Please Volunteer in the School Store!

Support the Booster Club, meet new people, and get a glimpse of the students during the school day by working in the Churchill Fan Store. New volunteers are always welcome! All our new clothes with the new LOGO are in stock and ready to sell!
---
9. Order a Paver Today
Leave a mark permanently at WCHS with a concrete Paver!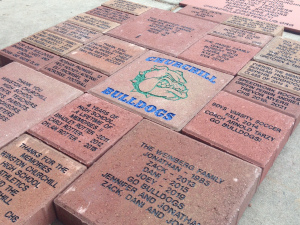 Purchase an engraved paver with your student's name, sport, graduation date, family alumni or more.
---
10. Athletic Department Website


Remember to visit the Athletic Department's new website for all our Bulldog teams! You'll find news, schedules, scores, forms, photos and much more at
www.churchillathletics.com
.
---
11. Weight Room Equipment Needed
Please donate if you have.....gently used treadmills, ellipticals, bikes and weights.
The Booster Club is helping to improve the WCHS weight room. The weight room is open to all students and used by many of our student athletes and teams. We are looking for:
treadmills, ellipticals, bikes and weights. We will pick up from your home. Please contact Brian Arnold at Badesignbuild@gmail.com or (202) 415-2147

---
12. Where Does the Booster Club Money Go....
Check out our list....
Click below to see the Booster Club list of "Where Does Your Money Go" and see all the ways that your generous donations help support WCHS athletes and sports programs.
---