Booster News, October 2012
Greetings, friends of the WCHS Booster Club!

We're into the second week of October and Churchill's sports teams are shining. The golf team has already gained a spot in the state tournament and several of our other fall teams are positioned to advance well into the state playoffs.
Your Booster Club is also working hard to advance the cause of Churchill athletics and our student-athletes. Read below to learn more about our upcoming Bulldog Golf Classic (yes, just 10 days away!) and our first Captains' Lunch of the school year, held last week. Our student-athletes are also taking time out this month to raise cancer awareness during October. Also check out the progress being made to makeover the school's main gym floor!
Finally, I want to thank everyone for your hard work in the first weeks of the school year to make Churchill's student-athletes as successful as they can be. We sometimes forget what makes our organization tick: our volunteers. Please read my expanded message on this subject.
It's a privilege and honor to serve as your president.

Jim Edwards,
President
Churchill Booster Club
The Countdown is On: Golf Classic Tees Up at Homecoming
The Golf Classic is in just a few days, part of the WCHS overall homecoming festivities.
Get signed up so you can tee up
Friday, October 19th
! The details are listed below and click here for more information on this great community event.

WHAT:
Churchill Booster Club Bulldog Golf Classic
(Open to the Entire Churchill Community)
WHEN:

Friday, October 19, 2012
7:00 a.m. Registration & Wake-Up Breakfast
8:30 a.m. Shotgun Start
WHERE: Whiskey Creek, Ijamsville, MD

INCLUDES:

18 holes of golf (shotgun start), Captain's Choice Scramble, breakfast, range balls, Bulldog Classic golf shirt, Bulldog Classic hat, beverages on the course, lunch and prizes! It will be a great outing for all!
COST:

$250 per player (special discounted rate of $175 for current students and recent graduates - limited to first 20 spots)



REGISTRATION:

To register

link here

for easy online options
CONTACT: For additional information about this event or to sponsor a coach or a foursome for the 9th Annual Golf Classic, please contact Churchill Booster Club Committee Golf Classic Chair Wayne Arden at waynearden@verizon.net.
Proceeds benefit the Brian K. Song Memorial Fund and the Winston Churchill Booster Club.
Link here for a virtual tour of the
Whiskey Creek Golf Course
.
Bulldogs Play and Fundraise to Fight Cancer Throughout Month
The Churchill Booster Club, in conjunction with the WCHS Athletic Department and
Student Government Association, is supporting Cancer Awareness Month throughout October. Watch for team fundraisers and pink spiritwear to support this national effort. For more information please contact the Booster Club, info@churchillboosterclub.org.
---
The Girls Varsity Soccer Team will participateing in its 3rd annual "Red Card Cancer" Games on Oct. 9 against BCC and Oct. 11 against Wootton. Each year, the girls have dedicated two home games during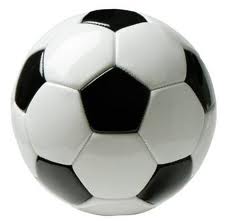 October to raise funds and increase cancer awareness in the community. This year, the team hopes to top last year's $1200 record. Red Card Cancer is a call to action to help defeat cancer by uniting the global game of soccer in the fight against the disease. RCC raises money and awareness for cancer research at Baltimore's Johns Hopkins Kimmel Cancer Center. Both of these games will be played at WCHS, each to be followed by a Boys Varsity Soccer match. The boys will support the cause by wearing pink socks and holding a raffle fundraiser.
---
WCHS Cheerleaders and Poms are the first in the state to have pink poms to represent spirit and support for breast cancer research. This Cheer initiative began last year with numerous written proposals and presentations during Booster Club meetings. In May the WCHS Athletic Department and Boosters agreed to the pink poms as a catalyst for support, spirit and fundraising for breast cancer research. Photo by Barb Brody
Golf Team Earns Berth to State Championship
WCHS Bulldog Golfers were among a record eight Montgomery County school teams to qualify for State Championships. In addition to securing the place for state play in the Districts Golf Championship, WCHS placed three golfers in the top 10 individually, including Freshmen Michael Brinkman and Luke Schaap, along with Senior Zach Satin.
(Left to Right) Junior Brandon Levenson, Freshman Michael Brinkman, Senior Zach Satin, Freshman Luke Schaap, Sophomore Jack Brinkman will represent WCHS at States, to be held Oct. 21-23.
Photos by Michael Fisher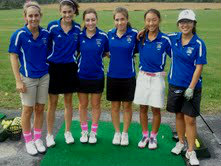 For the girls, sophomores Hanna Jia and Eunbbie Kim—among the top seven finishers at Districts— along with Senior Kathleen Gaultney are set to represent WCHS at the States later this month.
(Left to Right) Sophomore Christina Poerstal, Freshman Rebecca Bartko, Senior Camille Chetrit, Junior Melissa Maffeo, Sophomore Eunbbie Kim, Sophomore Hanna Jia. Kim and Jia, along with five boys, will represent WCHS at the Montgomery County Invitational on Oct. 12.
Varsity Cheer has Full Booster Club Membership:
That's the Spirit!
The Varsity Cheer squad has been busy on AND off the field. In addition to lending support to the mighty Bulldog Football team, Varsity Cheer is the first WCHS team to achieve 100 percent Booster Club Membership this year. This great accomplishment will continue to be announced at upcoming football games and the whole team will be treated to a pizza party. That's something to cheer about!
Photo submitted by Kelly Lavery
Join the Club! Online Membership Drive
We are well into the fall sports season and Booster Club membership has never been easier or more important! Click here for online Booster Club membership registration. Membership levels this year are:
$500 Platinum Bulldog (See Details Below)

$200 Gold Bulldog (Receive a Free Bulldog Cooler!)

$100 Silver Bulldog (Receive a Free Bulldog Umbrella!)

$40 Friends of Bulldog Sports (Receive a Free Decal!)
NEW FOR 2012-13! The new PLATINUM BULLDOG pulls out all the stops. You will be treated to ALL THE ABOVE FREE GIFTS, 2 Free Seat Cushions PLUS PREFERRED GAME SEATING & PARKING! If that's not enough, how about a free hot dog or slice of pizza and a beverage at each home game where concessions are served? We'll also take your picture with our official Bulldog Mascot, Freddie the Bulldog!
New Girls Lacrosse Coach Leads Team in Clinic for 2nd to 8th Graders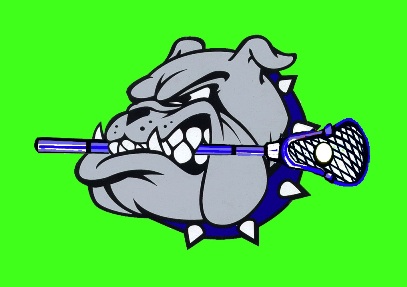 The CHS Girls Lacrosse Team is sponsoring a "Lovin' Lacrosse" clinic for girls grades 2 thru 8 on Nov. 10 at WCHS. New Girls Varsity Coach Jamie Frank, who has coached at the youth, high school and college levels, will run the clinic. No experience is needed. Grades 2 to 4 from 9 am to 11 am and Grades 5 to 8 from 12 to 2 pm. The cost is $30. A registration form will appear on the Booster Club Website and will be included in the email blasts from the elementary and middle schools. For any questions, please contact dragadu123@gmail.com.
Booster Club Honors Fall Sports Captains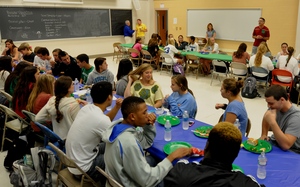 Nearly 70 team captains and coaches attended WCHS's Annual Fall Sport Captains Luncheon on Oct. 3. The event, sponsored by the Churchill Booster Club, is one of three such seasonal luncheons that recognizes WCHS student-athletes and their important team leadership roles. Jim Edwards, Booster Club President (standing in red shirt), congratulated the captains, who were treated to sandwiches and salads from Bethesda Bagels. Photo by Mary Ellen Mengucci
Churchill Graduate/U.S. Olympian Visits Crew Team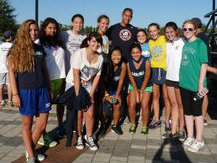 David Baker Banks (WCHS '01), began his rowing career at Stanford University and later joined the national US Rowing team that competed in the 2008 and 2012 Olympics. This year in London, Banks rowed on the Men's 8+ that missed a bronze medal by only three-tenths of a second.

Banks recently visited WCHS Crew, a club team now entering its third season at Bladensburg Waterfront Park. Before practice, Banks spoke to the 51-member, co-ed team about his rowing career.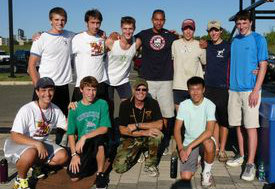 The sport has been great to me," he said. "I definitely wasn't a natural when I started but I enjoyed the training and starting dreaming a little bit bigger every day, every year."

"The best thing I enjoy about rowing is it really is a team sport," he continued. "It draws everybody together and forces everybody to work hard and get to a higher level. It takes everybody's effort to compete and do well." For more information on Churchill Crew, visit www.churchillcrew.org. Photos by Jackie Taladay
Gym Floor Gets Extreme Makeover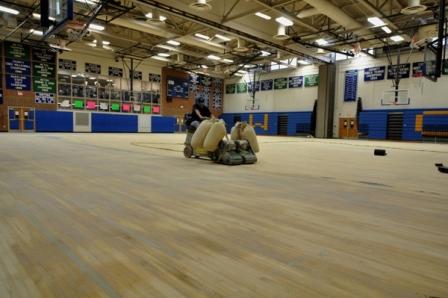 A worker sands the hardwood floor in Churchill's main gym last week. The refinishing project, paid in part by the WCHS Booster Club, is scheduled to be completed by the end of October. Photo by Mary Ellen Mengucci



Homecoming and Senior Night Volunteers Needed
The Booster Club needs volunteers at the concession stand AND the school store during the high times of school spirit: HOMECOMING Fri. Oct. 19 and SENIOR NIGHT Fri. Oct. 26! To sign up for concessions click here and to sign up for the school store click here.
Buy Football Tickets and Spiritwear at the School Store
The school store is the place to buy tickets for home football games, Fridays during the school lunch period 10:40-11:56 am. Beat the lines and encourage your students to purchase their tickets ahead of time. Parents are welcome to stop by as well: $5.00 for adults, $3.00 for students and $1.00 for kids under 10. Senior citizens are free. While you're there, check out the clothes.
Homeoming is the perfect time to stock up on Bulldog spiritwear. Can't find exactly what you need in the school store? No problem!

Spiritwear is now also available online!

Just click on the website
www.fieldhouse.com/churchill
.
Questions? Contact Allyson Bergman:
bergmanhome@verizon.net
Stadium Sign Team Challenge: Last Target Date for Team Cash
The Stadium Sign Team Challenge is an easy way for your team to get some extra cash. Just find a brand NEW Stadium Sign Sponsor by Nov. 1 and the Booster Club will give your team $150. It's that easy! Please read the attached flyer and spread the word. We appreciate all the support of our Athletes and their families! GO BULLDOGS! Questions? Allyson Bergman: bergmanhome@verizon.net
Check out the link to the Sponsors page on the Booster website for all the information regarding stadium signs.
Several WCHS teams, athletes, sports events and community initiatives have attracted positive community attention in September and October. Below are just a few recent highlights. Check the Booster Website periodically for updates on our Bulldog teams.
---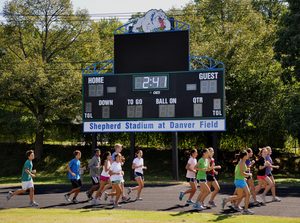 Members of the WCHS cross country team run by the new stadium scoreboard during a September practice. The purchase and installation of the new scoreboard, which features a digital screen that can display student-produced videos and advertising, was made possible with funding from the WCHS Booster Club
.
A

ttendees hope to see the "HOME" side lit up this Friday at the homecoming game against Springbrook.
Photo by Mary Ellen Mengucci
---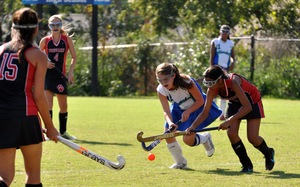 Sophomore field hockey midfielder and captain Dani Weinberg (in white) fights for and gains control of the ball in the WCHS home game against Quince Orchard on September 20. The game ended in a 1–1 tie in double overtime.
Photo by Mary Ellen Mengucci
Booster Club Calendar of Upcoming Events
October 10 (Wed.): Booster Club meeting, 7 pm, WCHS room 126
October 19 (Fri.): 9th Annual Bulldog Golf Classic, Ijamsville, MD., 8:30 am shotgun start
October 19 (Fri.): Homecoming Football Game vs. Springbrook, 6:30 pm
November 1 (Thur.): Stadium Team Sign Challenge Ends
November 10 (Wed.): Lacrosse Clinic for girls grades 2-4, 9 am; girls grades 5-8, 12 pm
November 14 (Wed.): Booster Club meeting, 7 pm, WCHS room 126
Booster Club Email Address, Website & Social Media