Three Wrestlers place at Maryland State Tournament!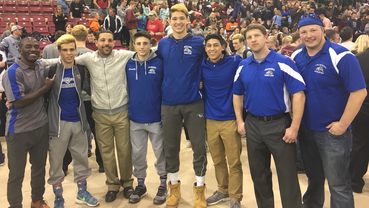 Three Wrestlers placed at the Maryland State Tournament March 3rd & 4th at Showplace Arena!
Lucas Young placed 2nd
Andrew Welch placed 5th
Jack Connolly placed 6th
Congrats to Wrestlers and Coaches!
---
Boys Lacrosse Fundraiser: Monday, April 3rd at Chipotle!

Save the Date:
Join Boys Lacrosse for a Fundraiser at Chipotle in Potomac Village on Monday, April 3rd between 4:30pm and 8:30pm! 50% of the proceeds will be donated to the WCHS Boys Lacrosse Program. Mark your calendars to eat out and avoid cooking in the kitchen!!
View flyer here!
---
WCHS Bulldog Football Youth Camp: June 19 - 23

Come out and learn from the best and meet Churchill's New Head Football Coach, NFL Steeler and Super Bowl Champion, Coach Willie Williams!
This camp is for students entering 5th - 9th grade and will take place June 19 - 23, from 9AM - 2PM. This is a perfect introduction to WCHS and the football team for players who want to play at the high school level. The Bulldog Youth Football Camp will help athletes develop discipline, focus, determination and commitment to help them perform to their maximum potential in football.
More information here!
---
Key Summer Soccer Dates

Tuesday, June 6 at 3:30 PM in the Cafeteria: Organization meeting
Monday, June 19 - Friday, June 23: Bulldog Soccer Camp (ages 7-14). View flyer here.
Wednesday, August 2 - Sunday, August 6: Pre-season Camp for incoming 9th - 12th graders
Tuesday, August 8 at 6:00 PM: Tryout Registration in the cafeteria
Wednesday, August 9 at 10:00 AM: Tryouts begin!
---
Booster Club Gala Was a Huge Success!
Many thanks again to all those who attended the Churchill Booster Club's Annual Gala at Bar Louie on February 11. Everyone -- from our planning committee, sponsors, advertisers, donors, team auction contributors, team parent reps, volunteers, and the 200+ plus gala attendees -- made this year's event a fun and successful evening. We raised over $22,000 for Churchill Athletics which directly benefits our student athletes!
Thank you to all our Booster Club members and the Churchill community for the continued and generous support!!
---
Athletics Department Website


Remember to visit the Athletics Department's new webpage for all our Bulldog teams! You'll find news, scores, forms, history and much more at
www.churchillathletics.com
.
---
Important Dates
April 3: Boys Lacrosse Fundraiser at Chipotle in Potomac Village
April 26: Booster Club Meeting

June 6: 2017 Soccer Organization meeting, 3:30 PM in the cafeteria

August 9: Fall Sports Tryouts

---
School Store - Spiritwear
Who can shop: Montgomery County parents & students
Location: On the first floor near the cafeteria

Store days & hours: Tuesdays, Thursdays and Fridays between 11:10 am - noon

Where does the money go: 100% of profits go to the Booster Club

What if I want to shop online: Go for it! Click here to shop online.

Parent Volunteers Needed

Support the Booster Club, meet new people, and get a glimpse of the students during the school day by working in the Churchill Fan Store. New volunteers are always welcome! Please review the open times in April and May. All our new clothes with the new LOGO are in stock and ready to sell!
Click here to sign up now
!
---
Team Schedules

---
Why join the Booster Club?


By joining Booster Club, you make the difference in providing the equipment and support needed by our Churchill student-athletes and teams! Your donation is needed in every aspect of Churchill athletics! To see where your money goes,
click here
. 100% Membership teams earn bonus money for their teams.
Congratulations to following teams for reaching 100% membership this year:
Boys Varsity & JV Soccer
,
Girls Varsity & JV Soccer
,
Poms
and
Girls Varsity & JV Volleyball
!!
Sign up online now!Membership Levels & Gifts $40
– Friends of Bulldog Sports – Bulldog Car Magnet
$100
– Silver Bulldog – Bulldog Stadium Seat Cushion + Car Magnet
$200
– Gold Bulldog – Bulldog Umbrella + Seat Cushion + Car Magnet
$500 –
Platinum Bulldog – Pulls out all the stops including ALL the above gifts + an ALL SEASON PASS for all regular season home games + PREFERRED PARKING at home football games + a Bulldog Stadium Blanket! Also receive a free hot dog and drink at each home game where concessions are served!