Varsity Field Hockey Leads 4A South with 12-0 Record

The Churchill Girls Field Hockey Team has risen to the challenge over the past few weeks on and off the field — finishing the regular season with an undefeated record, shutting out Richard Montgomery 3 - 0; shutting out Wooten 4 - 0; beating Clarksburg 2 -1; and shutting out Kennedy 6-0.
On the sidelines, the girls spent the week leading up to the RM game soliciting support to grant a wish to a child through Make-A-Wish Mid Atlantic. Silent auction items donated by area businesses and cash donations have raised over $6,000 to date, just short of the $7,500 required to fund a trip wish. Help support the team by making a donation
here
by 10/31!
Playoffs begin Oct 27 with a home game vs. Einstein at 5:15!
View more photos
here!
Photo credit: Melanie Twomey
---
Congrats to Varsity Football for Big Homecoming Win!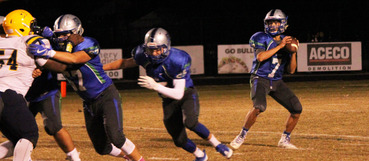 Down 19-0, Churchill rallied to score 29 unanswered points. Led by sophomore QB Michael Janis, senior co-captain Nino Tranquill, and freshman WR Gabe Moore, Churchill showed great resolve in a comeback victory. Thanks to an incredible defensive effort, led by senior co-captain Nicky Stanton and capped by Alex Ranck's 91-yard interception return for a touchdown, Churchill held on for an exciting Homecoming victory.
Congratulations to the team for an all-around superb effort!
Photo credit: John Dennis
---
Boys JV Soccer Finishes the Season Undefeated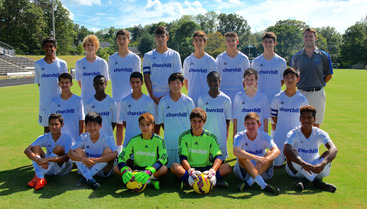 Boys JV Soccer finished the 2016 regular season undefeated and with a 9-0-1 record. Coach & Churchill alum Ryan Studner reports, "Coaching this group of young men was easy. They were disciplined in their approach, and extremely goal oriented from the start (pun fully intended). I have no doubt that this team will go on to win a state championship or two."
---
Strong 2016 Season for JV Football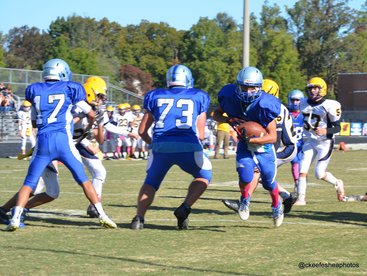 JV Football is having a strong season, beating Seneca Valley, Blair, Einstein, and BCC and sending Quince Orchard into over-time where the Bulldogs were first to score but were 1 point shy of victory.
A force to be reckoned with in the County, the Bulldog offense is led by QB-Captain Max Mantz, the defense by Middle Linebacker-Captain Jake Jacobs, and Captains on the O-Line and D-Line Joe Raab (Center and Long-Snapper) and Nick Wagman (Tackle).
View the rest of the article and photos
here
!
---
Cheerleaders Kick-off Homecoming Pep Rally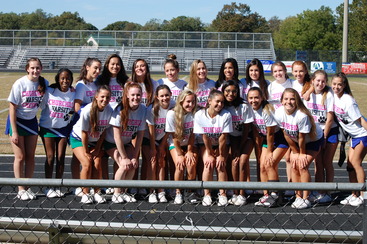 Following a spirited week featuring thematic dress days the Varsity Cheerleaders kicked off the Homecoming Pep Rally with a flawless performance that included dancing, stunting and tumbling. View more photos
here
!
The Varsity Cheerleaders are preparing for their county competition on November 12th at Blair High School. This Friday, October 28th will be the last home football game at Churchill for our senior cheerleaders. Join us for the festivities!
---
Volleyball Supports Dig Pink Side Out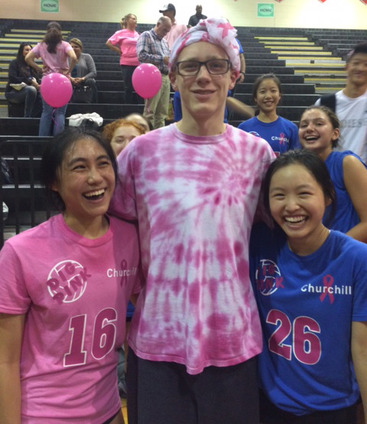 The Churchill Volleyball community joined together to Support the Dig Pink Side Out Foundation and to raise funds for breast cancer research! Thanks to the Jesse Smith for allowing us to have a community night where all students attended free. Students participated in raffles and competitions, and cheered both the Churchill JV and Varsity to victory over Richard Montgomery.
View more photos
here
!
---
Football, Cheerleader & Poms Senior Night 2016 on Oct 28

SAVE THE DATE: Friday, October 28, 2016 will be Senior Night!! Come to the Football Field at 5:45 PM for the pre-game ceremony to honor our graduating football players, cheerleaders and poms. Show your support to these athletes who have worked so hard to represent Churchill.

The game against Wootton HS will follow at 6:30 PM Bring your team spirit and celebrate with your Seniors!!

---
Important Dates & Home Games

Oct 27: Playoff Field Hockey game vs. Einstein, 5:15

Oct 27: Volleyball Varsity vs. Poolesville 6:00

Oct 27: Playoff Boys Varsity Soccer vs. Blair 6:00

Oct 28: Football Varsity vs. Wootton 6:30 & Football, Cheerleader & Poms Senior Night 5:45

Oct 29: Football JV vs. Wootton 10:00
Oct 29: Co-ed Volleyball Clinic for 4th - 8th graders, 9:00 - Noon, hosted by Girls Volleyball; details here

Nov 1: Playoff Girls Varsity Soccer vs. Whitman 6:00

Nov 7 & 8: No School
Nov 9: Booster Club Mtg 7:00
Nov 16: Wrestling fundraiser at Ledo Pizza on Westlake Drive; view flyer
Dec 20: Poms fundraiser at California Tortilla in Cabin John; details coming soon

---
Co-ed Volleyball Clinic: Sat, Oct 29th for 4th - 8th Graders

Girls Volleyball is hosting a volleyball clinic on Oct 29th for both boys and girls, 4th - 8th grades. No experience necessary! Participants will be grouped by skill level for training and match. $25 fee in advance or or $30 (cash only) at the door. Details
here
!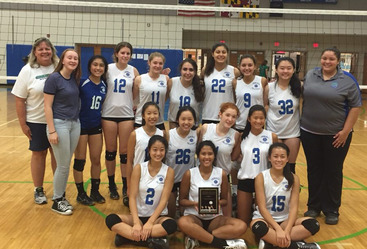 ---
Booster Club Gala


The Booster Club Gala Committee is finalizing the date and location for this year's Gala. If you would like to help with planning or contribute to the silent auction, please contact
Jeanine Resnick
. Stay tuned for details!
---
Team Schedules

---
School Store - Spiritwear
Who can shop:
Montgomery County parents & students
Location:
On the first floor near the cafeteria
Store days & hours:
Tuesdays, Thursdays and Fridays between 11:10 – 11:50 a.m.
Where does the money go:
100% of profits go to the Booster Club
What if I want to shop online:
Go for it!
Click here
to shop online.
Parent Volunteers Needed
Support the Booster Club, meet new people, and get a glimpse of the students during the school day by working in the Churchill Fan Store.

New volunteers are always welcome! Volunteers are needed Tuesday, Thursday & Friday during school lunch from 11:10 to Noon. Or volunteer during evening school events.
Click here to sign up now!
---
Why join the Booster Club?


By joining Booster Club, you make the difference in providing the equipment and support needed by our Churchill student-athletes and teams! Your donation is needed in every aspect of Churchill athletics! To see where your money goes,
click here
. As a reminder, 100% Membership teams earn bonus money for their teams. Congratulations to following teams for reaching 100% membership this year:
Boys JV & V Soccer
,
Girls JV & Varsity Soccer
and
Girls JV Volleyball
!!
Sign up online now!Membership Levels & Gifts $40
– Friends of Bulldog Sports – Bulldog Car Magnet
$100
– Silver Bulldog – Bulldog Stadium Seat Cushion + Car Magnet
$200
– Gold Bulldog – Bulldog Umbrella + Seat Cushion + Car Magnet
$500 –
Platinum Bulldog – Pulls out all the stops including ALL the above gifts + an ALL SEASON PASS for all regular season home games + PREFERRED PARKING at home football games + a Bulldog Stadium Blanket! Also receive a free hot dog and drink at each home game where concessions are served!