Dear Booster Friends,
So long, winter coats and gloves! The chill has finally given way to April warmth, short sleeves and sunscreen. Likewise, Churchill's spring sports season is also heating up. Read on to see what's going on with our Bulldogs so far this spring.
The warmer temperatures also marked the countdown to the Booster Club's annual Spring Sports Fundraiser Gala on Friday night, April 26. Details are below. We hope you can join the fun!
At this time of year the Booster Club also looks ahead to the next school year and the election of the new officers who will lead the organization and fulfill its mission of supporting and promoting Churchill athletics. We are eager to get all of the 2013-14 officers on board before this year is out. All of those interested in serving the organization as Booster Club president, vice president or secretary should contact me ASAP at info@churchillboosterclub.org. See you in the stands soon!
Go Bulldogs!

Jim Edwards,
President
Churchill Booster Club
Sports Gala: Only 17 Days Away! Get Tickets Today!
SPRING GALA Is Almost Here! Bid on Prime 2013-14 Student Parking Spots, Vacation Get-Aways, Spectacular Baskets & More!
It's Churchill

's

Largest

Social

Event

of

the

Year!
You are invited on Friday, April 26, 7-10 pm for the Booster Club's Annual Sports Night Gala Fundraiser at Bowlmor Lanes in Bethesda! Enjoy a fun

&

casual adults-only evening, filled with bowling, live

&

silent auctions, DJ, food, reduced price happy hour cash bar, desserts

&

more.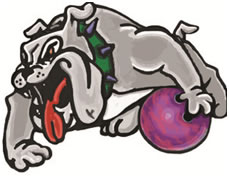 ♦

All Guests Must be Age 21 or Older
♦
All Proceeds Support
WCHS Sports
♦
♦
Fair Market Value of the Ticket is $60

♦
Spring Teams Get Off to a Great Start!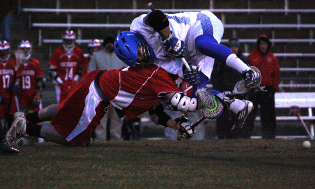 WCHS Boys Lacrosse has racked up four wins for a rousing start to the season and is now ranked #3 in the state by LaxPower. Senior Matt Leonard was awarded the 'team hat' after the game against Blake in which he scored his 171st point, breaking the Churchill school record. The team hat is an honor players vote on to recognize an individual's contribution in a specific game. Shown at left is junior Steven Stillwell (face-off middie), who was recognized with the team hat for his efforts on the field during the season opener against The Heights. Photo by Linda Rhodes
---
During their three months of winter conditioning, Churchill rowers won a total of 10 medals when competing at the indoor National Capital Erg Competition at Sidwell Friends School in February against many of the region's top high school teams.
Senior Matthew Reback won a silver medal (04:57.5) and senior Charlie Morris won a bronze (05:07.0) in the Varsity Boys 1500 M race. For the girls, junior Julia Taladay won a silver medal (06:08.6) in the Varsity Girls Lightweight 1500 M race. For the Boys Lightweight 1500 M race, junior Lancelot Wathieu won a silver medal (05:24.2) and senior Charles Wathieu, a bronze (05:31.2).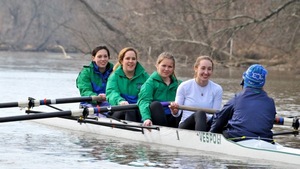 Churchill novices also placed in their races. Sophomore Thayjus Pancholi won a silver medal in the Novice Boys 1000 M (03:43.7) and junior Erik Roberts won gold in the Novice Boys Lightweight race (03:22.7). Junior Meredith Bratton won bronze in the Novice Girls 1000 M (04:01.0) and sophomore Jillian Goss-Holmes won silver in Novice Girls Lightweight 1000M (04:02.3). Varsity Girls also earned gold in the Open Costumed Relay, 1000 M (sophomores Michelle Dan and Jillian Goss-Holmes, junior Julia Taladay and senior Katie Smith). The WCHS crew team is back on the water, preparing for its upcoming season. Shown above, left to right, are: sophomore Cosette Melcher and juniors Caitlin Doherty, Meredith Bratton and Julia Taladay. WCHS 2012 grad and club co-founder Alisa Dan serves as coxswain for the group at a March practice at Bladensburg Waterfront Park. Photo by Chouchin and Wein Jiang
---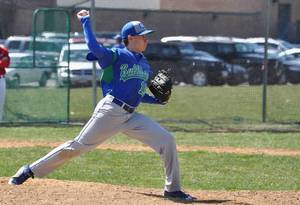 Churchill junior Ryan O'Carroll, shown at left, was one of two Varsity Baseball players to pitch in the April 6 game against Einstein High School, which the Bulldogs won easily, 10-0. Senior captain Michael Albers also pitched during the game. The Varsity squad has a 1-3 record and faces three opponents this week (B-CC, Whitman and Richard Montgomery). The JV Baseball team also played at Einstein last Saturday and captured a big 25-3 win. In addition, the Junior Varsity squad had already picked up a 9-8 win against Damascus. The overall JV record stands at 2-1. The younger team has three games this week as well, facing the JV opponents from the same schools as the Varsity squad. Photo by Wayne Cohen
Cheer Clinics and Spring Tryouts!
Do you have what it takes? WCHS Cheerleading identifies and develops potential in each squad member while holding each other to the highest standards. We welcome your interest in Montgomery County Maryland's premier high school cheerleading program. Save the dates for our three preparatory clinics and tryouts! Location: Winston Churchill High School MAIN GYM. Registration packets available on site.

CLINIC #1 Wednesday, May 22nd 5:30- 8:30 PM

CLINIC #2 Thursday, May 23rd 5:30- 8:30 PM
CLINIC #3 Wednesday, May 29th 5:30 - 8:30 PM
VARSITY AND JUNIOR VARSITY CHEERLEADING TEAM TRYOUTS WILL BE HELD: Thursday, May 30, 2013 2:30 - 8:30 PM 2013.

For more information see Sports News on our Booster Website and also contact: Coach Blalock, WCHS Cheerleading churchillcoach@gmail.com 240-271-7160.
May 1 Deadline for Stadium Sign Challenge
If your team needs extra cash for team expenses, check out the Stadium Sign Team Challenge! Just find a NEW Stadium Sign Sponsor by May 1 and the Booster Club will give your team account cash.
Secure a new sign sponsor and payment by May 1
and the team earns $250.
Additional news on advertising opportunities coming soon. Questions – Allyson Bergman bergmanhome@verizon.net
School Store Looking for Volunteers
The school spirit store is a great way to volunteer and the time commitment is small. Please consider helping out! We are open during school lunch Tuesdays, Thursdays and Fridays and open for certain special sporting or school events. Log into

www.signupgenius.com

and
"
Search for a Signup.
"
U
se this email address to log on or if you have questions:
bergmanhome@verizon.net
.
Get New Spring Spiritwear at Online Store
Head straight to the Churchill school store for spring to get all you need to show your spirit as spring sports get underway! I

f you can't find what you need there, please take a moment to visit our online spirit store at

www.fieldhouse.com/churchill

for all your spiritwear needs. We have a wide selection for kids, juniors and adults, including outerwear, novelties and t-shirts. All orders are custom designed and are shipped directly to you. A portion of the sales supports the Booster Club. Show your support, wear your spirit! Questions? Contact Allyson Bergman at
bergmanhome@verizon.net
Several WCHS teams, athletes, sports events and community initiatives have garnered positive community attention. Take a look at our Sports News page on the Booster Website to see what teams and athletes have been making news during March and April.
Booster Club Calendar of Upcoming Events
April 10 (Wed.): Booster Club meeting, 7 pm, WCHS Room 126
April 23 (Tues.): Lunch honoring Spring Sports Coaches and Captains, Lunch hour, Room 126
April 26 (Fri.): Sports Gala, BowlMor Lanes, Bethesda, MD, 7-10 pm
Bulldog Team Competition This Week
April 9 (Tues.): Baseball v. Bethesda-Chevy Chase JV 3:30 pm
April 9 (Tues.): Baseball @ Bethesda-Chevy Chase V 3:30 pm
April 9 (Tues.): Boys Lacrosse v. Paint Branch V 7 pm/JV 5:15 pm
April 10 (Wed.): Softball @ Whitman JV 3:30 pm
April 10 (Wed.): Softball v. Whitman V 3:30 pm
April 10 (Wed.): Volleyball @ Blake Coed 3:30 pm/Boys 5:15 pm
April 11 (Thur.): Baseball @ Whitman JV 3:30 pm
April 11 (Thur.): Baseball v. Whitman V 3:30 pm
April 11 (Thur.): Boys Lacrosse @Walter Johnson V 7 pm/JV 5:15 pm
April 11 (Thur.): Girls Lacrosse v. Walter Johnson V 7 pm/JV 5:30 pm
April 12 (Fri.): Softball v. Richard Montgomery JV 3:30 pm
April 12 (Fri.): Softball @ Richard Montgomery V 3:30 pm
April 12 (Fri.): Boys Tennis @ Bethesda-Chevy Chase 3:30 pm
April 12 (Fri.): Outdoor Track v. Wootton 5:30 pm
April 12 (Fri.): Volleyball v Rockville Coed 5:15 pm/Boys 7 pm
April 13 (Sat.): Baseball v Richard Montgomery JV 10:00 am
April 13 (Sat.): Baseball @ Richard Montgomery V 2:30 pm
April 15 (Mon.): Boys Lacrosse v. Whitman V 7 pm/JV 5:15 pm
April 15 (Mon.): Girls Lacrosse @ Whitman V 7 pm/JV 5:30 pm
April 15 (Mon.): Softball @ Wheaton JV 3:30 pm
April 15 (Mon.): Volleyball @ Paint Branch Boys 5:15 pm/Coed 7 pm
For a list of future Bulldog matchups, please click here. Then go out and cheer on our student-athletes!
Booster Club Email Address, Website & Social Media