Message from the President
Dear Booster Friends-
We wanted to start out this year by thanking our wonderful Churchill community. We are fortunate to be surrounded by so many Churchill families who are generous with their time and financial donations. The Churchill Athletic program relies heavily on your donations and we are very appreciative of all of your support. Thank you!
We have exciting events this year and we look forward to sharing them with you. Each month our Newsletter will provide you with information about upcoming events and important dates. Please send us any information you want published to info@churchillboosterclub.org
For team schedules, scores, updates, rosters, photos and more, please check out the new Churchill Athletic Website at
www.churchillathletics.com
. All your team highlights will be visible there.
With sports and school starting soon, the Booster Club is busy getting ready for the fall sports season and we look forward to seeing many of you at the WCHS Fall Sports Night on August 21. Enjoy the rest of your summer.
Leslie Janis
WCHS Booster Club President
---
In This Issue
What to Know....
1. Booster Club Membership
2. Fall Sports Night August 21
3. Chuck Stevens Field Naming September 15
4. Important Fall Dates
5. Team Photos
6. Football News
7. Booster Club Sponsorship Opportunities
8. School Store
9. Paver Fundraiser
10. Athletic Department Website
11. Weight Room Equipment Needed
12. Where Do Your Donations Go
13. Team Fundraisers
14. Forms For Team Try-outs
---
1. Booster Club Membership
Please Join Now!
It's Booster Membership time of year! Show your support of Churchill Athletics by joining or renewing your Booster Membership for the upcoming 2017-18 school year.
100% of the money
raised supports your student athletes and the WCHS sports programs. Click the link below for a membership registration form so you have one less form to fill out at the start of the school year.
Teams which reach 100% membership receive $250 back to their team.
Membership Levels & Gifts
$40 – Friends of Bulldog – New Bulldog Car Magnet
$100 – Silver Bulldog – Insulated drawstring bag + Car Magnet
$200 – Gold Bulldog – Bulldog fleece blanket + insulated drawstring bag + Car Magnet
$500 –
Platinum Bulldog – Best deal yet-- ALL the above gifts +
an
ALL SEASON SPORTS PASS
(valued at over $100) for all regular season home games +
PREFERRED STADIUM PARKING
at home football games + a canvas sideline chair. Also receive a free hot dog and drink at each home game where concessions are served!
All Platinum donors who sign up before 10/1 will have their names displayed in the stadium.
---
2. Fall Sports Night Meeting
Come August 21 for Fall Sports Night to meet with your Coaches!
Important team information is distributed and shared at the Fall Sports Night. Meet in the WCHS Auditorium at 7 pm on Aug 21.


---
3. Chuck Stevens Field
Naming Baseball Field for Coach Chuck Stevens September 15
Mark your calendars for September 15 The late Chuck Stevens, WCHS Baseball program founder and legendary coach, will be recognized with the naming of the baseball field in his honor. A celebration of Coach Stevens' contributions to WCHS will be held at the September 15 home football game. The event will include a pre-game reception beginning at 4:30, tailgate grilling in the Stadium, a half time presentation, and a post game gathering. Mark your calendars and spread the word to WCHS alumni. More details to follow in August and also reach out to Scott Sorkin at ssorkin@blandsorkin.com or Chris Nazarian at naztitle@gmail.com for any questions.
---
4. Important Fall Dates
---
5. Team Photos
Team and Individual Photos on Aug.21
Photos begin at 11am and each team will be given their time slots by their coaches. Athletes will receive picture forms beforehand and photos can also be ordered on line through LIfetouch.


---
6. Football News
Come to the Football Games on Friday Night!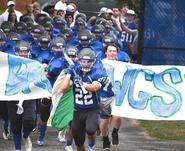 Calling all families-- make Friday night a fun family night and come to the Friday night Football games. WCHS has a dedicated and amazing football team, along with a skilled group of football coaches, including two former NFL players- Head Coach Willie Williams (former Steelers) and Offensive Coordinator Chris Samuels (former Redskins)
First Home Game is Friday, Sept 1 against RM.
Go to
www.churchillathletics.com
for complete schedule.
Volunteer at Friday Night Football Games!
Concession Stand Volunteers Needed:
Interested in grilling at the football games? Or helping sell food in the snack bar? It's a great way to share in the Friday night school spirit and it is a lot of fun. Contact Debbie Jacobs at Debrajacobs@comcast.net,
Sell WCHS Fan Wear:
Interested in selling Churchill Bulldog fan wear at the Friday night games? We could use your help. Contact Tamara Greenspan at Tamaragreenspan07@gmail.com or sign up at:
---
7. Sponsorship Opportunities
Stadium Banner Advertisement
Need a way to promote your business, support Churchill athletes, or both? Advertise your business with a sponsorship banner prominently displayed in the Stadium. The Stadium is open to the public all day and night and what better way to promote your business. Help your athlete's team as well- your team receives $150 for each banner the team secures. Contact jrosen922@aol.com or go to
www.churchillboosterclub.org/advertising
for more information.
---
8. School Store
Buy your Spiritwear!
Looking for a hoodie, baseball cap, t-shirt, pair of shorts or more sporting the Churchill logo? Our new Bulldog spirit wear is available.
Store days & hours: Tuesdays, Thursdays and Fridays between 11:10 am - noon/once school begins

Available at Friday night home football games
Where does the money go: 100% of profits go to the Booster Club
Please Volunteer in the School Store!

Support the Booster Club, meet new people, and get a glimpse of the students during the school day by working in the Churchill Fan Store. New volunteers are always welcome! All our new clothes with the new LOGO are in stock and ready to sell!
---
9. Order a Paver Today
Leave a mark permanently at WCHS with a concrete Paver!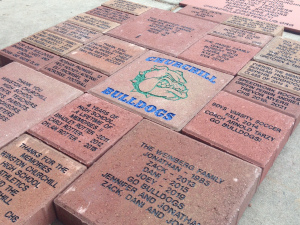 Purchase an engraved paver with your student's name, sport, graduation date, family alumni or more.
---
10. Athletic Department Website


Remember to visit the Athletic Department's new website for all our Bulldog teams! You'll find news, schedules, scores, forms, photos and much more at
www.churchillathletics.com
.
---
11. Weight Room Equipment Needed
Please donate if you have.....gently used treadmills, ellipticals, bikes and weights.
The Booster Club is helping to improve the WCHS weight room. The weight room is open to all students and used by many of our student athletes and teams. We are looking for:
treadmills, ellipticals, bikes and weights. We will pick up from your home. Please contact Brian Arnold at Badesignbuild@gmail.com or (202) 415-2147

---
12. Where Does the Booster Club Money Go....
Check out our list....
Click below to see the Booster Club list of "Where Does Your Money Go" and see all the ways that your generous donations help support WCHS athletes and sports programs.
---
13. Team Fundraisers in August
Come out to support.....
1. Boy's Soccer- Car Wash Aug 13 from 11-3 at Cabin John
2. Pom's - Baskin Robbins social Aug 14 from 5-9 pm at Cabin John

---
14. Forms Required for Try-outs
Don't forget to turn in.... Forms!
Make sure your athlete has all the necessary forms before Aug. 9 Fall Try-outs. Click below for necessary forms.
---