Booster News, November 2011
Dear Booster Friends,

The 2011 Churchill fall sports teams have enjoyed a solid winning season across the board. As the season begins to wind down, we're gearing up for the winter try-outs, practices and games.

I look forward to seeing the parents of our winter sports athletes at the upcoming Sports Night Meeting at the end of the month (the date will be set soon). I encourage you to "Join the Club," if you haven't already done so. Joining or renewing your annual Booster Club membership is critical to the success of the Booster Club, which provides significant supplemental funding to our Churchill teams. Please take advantage of our

easy-to-use online membership registration

.
For links and information to other important Booster activities and initiatives, please take a moment to read through this newsletter. We encourage you to attend our upcoming monthly meeting, this Wednesday, November 9 at 7 p.m. in Room 126. We are a dynamic and growing organization and we welcome new volunteers.
Go Bulldogs!

Wayne Cohen
President, Churchill Booster Club

Churchill student-athletes who need physical exams to play winter and spring sports can get them at Winston Churchill High School this Thursday, November 10, between 6 - 8 p.m., across from the entrance to the main gym. Any Fall student-athletes who still need a physical may also attend.
The cost per physical is $30, with proceeds to benefit the Winston Churchill High School Booster Club.
Medical staff from Montgomery Orthopaedics will donate their time and expertise to conduct the physical exams and support Churchill athletics.
All forms required to participate in winter and spring sports will be available that evening at the registration desk. Students who are under 18 years of age should be accompanied by a parent or legal guardian so all forms can be signed and submitted at the time the physical exams are completed.
Payments should be cash or check, made payable to "WCHS Booster Club." Churchill will not accept credit card payments.
Important: This physical exam meets the requirements needed to play sports in state public schools, but it does not replace the comprehensive annual exams or well check-ups provided by your family physician.
To schedule an appointment, please contact Jim Edwards at jbempb@comcast.net or 301-980-2384.
2. Booster Club Hosts Pampered Chef Cooking Show Fundraiser
Many thanks to the Booster Club supporters who attended our Pampered Chef Cooking Show Fundraiser on November 3. It's not too late to order online if you missed the event. You can place online orders through November 15th. Link
here to the Pampered Chef Catalog and Online Ordering Instructions. Please share this with your neighbors, family members and friends.

A special thank you to Pampered Chef Consultant Lynn Grody, who is graciously donating 100% of her profits from this sale to the Booster Club. Your purchase is an easy way to support our Booster Club initiatives and order items for everyday use, for the upcoming holidays or as gifts for family, friends, teachers and others. You can contact Lynn with questions or orders at legrody1chef@yahoo.com or (301) 983-6824.

Congratulations to Booster Club member Meg Percesepe, who won the Booster Club raffle (a Pampered Chef Bamboo Tool Turn-About with utensils and a Churchill "Dawg Pound Kitchen" Cookbook). Thank you to our hosts, Wayne and Jill Cohen, who opened their home and kitchen for the cause!
3. Save the Date: Spring Gala Set for March 16!
The Annual Booster Club Spring Gala will take place on Friday, March 16, 2012. Watch for details and invitations as the date draws near.

Booster Club members interested in helping with the event should attend a planning meeting this Wednesday, November 9 at 6:30 p.m. in Room 126, prior to our monthly general meeting at 7 p.m. Please contact Chris Koons-Byrne at ckblincoln@yahoo.com or Laurie Weinreich at rweinreich@yahoo.com for questions or additional information.
4. Booster Club Supports Pink Homecoming Week Activities
Above: The Boys'
JV
Soccer team was among many Churchill fall sports teams to support the National Foundation for Cancer Research (NFCR) by participating in
Pink Homecoming
Week events October 10-15. The boys
laced up their cleats with pink ribbons, played (and won) their home game with a regulation pink ball and raised $175 for the NFCR.
Below:
The Girls' Field Hockey Team organized a Pink Homecoming fundraiser on
Saturday, October 15. Proceeds from the bake sale and several cash donations raised $327 for the NFCR. Field Hockey moms Ellen Lescht, Sue Werber, Cindy Beauregard and Katherine Dodson were among the volunteers helping with the event.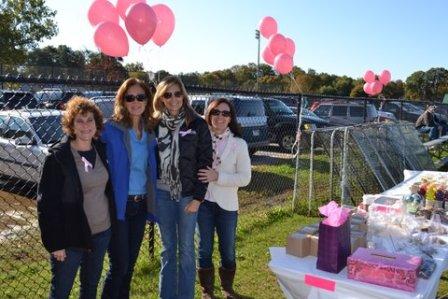 5. Booster Club Membership Registration Available Online
Join the Club! It's easier than ever to join or renew your Booster Club membership. Your annual dues directly support our Churchill athletes and teams. Link here for the no-fuss Booster Club online registration method. Our student-athletes and their coaches thank you for your support!
We Want You!
Please Join Us:
Churchill Booster Club
Monthly Meeting Schedule 2011-2012
Held at WCHS in Room 126, beginning at 7 p.m.
November 9th (Wednesday)
December 5th (Monday)
January 11th (Wednesday)
February 15th (Wednesday)
March 14th (Wednesday)
April 11th (Wednesday)
May 11th (Wednesday)
June Meeting (TBA)
6. Online Spiritwear Store & Season Sport Passes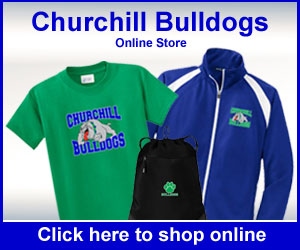 Our new Online Spiritwear Store is Bulldog Central for an extensive line of Churchill apparel and accessories, available in numerous customizable colors, styles and sizes! The Online Store offers items for men, women, youth—even toddlers and babies. Churchill teams also receive discounts for bulk orders on practice jerseys, warm-ups, socks or other items.

And that's not all: the Spiritwear Store is also your source for ordering season sport passes. Follow the easy instructions at the new Online Spiritwear Store and the passes will be delivered directly to your home.
Need a way to promote yo
ur business, supp
ort Church
ill athletes, or both? The Churchill Booster Club has ju
st the answer:
advertise your business with a
sponsorship banner prominently displayed in our stadium or baseball field. Let us help you score the goals and homeruns your business needs.
For a full list of our generous sponsors, along with details on our sponsorship opportunities, please click here.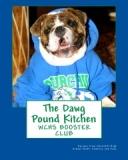 Bulldog Boosters are really cookin' now! Join the fun and place your order for the WCHS Booster Club Cookbook. Filled with fabulous family recipes, local restaurant recipes (including Normandie Farm's popovers), and recipes from farmers at the Potomac Village Farmer's Market, "The Dawg Pound Kitchen" cookbook makes a great gift for recent graduates, WCHS alumni
, Churchill parents, staff and more.
Cookbooks sell for $20 each. Link here for "The Dawg Pound Kitchen" cookbook order form and make checks out to: SSI (the company publishing the book).
Invite your friends and family to get cookin' t
oo.



(For out-of-town family and friends, the cookbook can be purchased online at:

https://www.createspace.com/3365402 or

at

Amazon.com

. Please note, however, the Booster Club receives less profit from online sales. If you do need to order online, the Create Space website provides Booster Club with more profit than

Amazon).
9. Churchill Crew Team Seeking Coaches
Churchill Crew, the year-old community rowing team, is seeking a head coach and assistant coaches for the upcoming school year and beyond. The team is asking
parents and teachers to help sp
read the word to their friends and colleagues who have rowing experience or have coached crew at the high school level. Click here for additional information.
10. Booster Club has a New E-mail Address & Website
Please help us get Churchill Booster Club News out to all Bulldog supporters. Know a Booster fan who should be receiving our news? Need an e-mail address added to our mailing list? Interested in sharing news about Churchill student-athletes? Contact us at our new email address: info@churchillboosterclub.org
Bookmark our website www.churchillboosterclub.org for helpful information, scores and related links.
See current and upcoming Booster Club activities, find updates and media coverage on Bulldog teams and athletes, check out our generous sponsors, or get directions to away game locations.
11. Vote Churchill for FOX 5's Game of the Week Coverage
It's football season and that means FOX 5's Game of the Week! Vote on
www.myfoxdc.com
or text "Churchill" to 29473 to vote for Game of the Week from your cell!
12. Booster Club Calendar of Upcoming Events
November 9 (Wed): BC Gala Planning Meeting, Room 126 @ 6:30 p.m.

November 9 (Wed): Booster Club Monthly Meeting, Room 126 @ 7p.m

November 10 (Thurs): Booster Club Sports Physicals, 6-8 p.m., across from the entrance to the main gym.
November 15 (Tues): Deadline for Online Orders for Pampered Chef Fundraiser

November 15 (Tues): Start date for MCPS Winter Sports Team Try-outs

November 11 (Fri): Varsity Football Playoff Game at Churchill

November TBD: Winter Sports Night Meeting (at end of month)

December 5 (Mon): Booster Club Monthly Meeting

March 16 (Fri): Booster Club Annual Spring Gala