The Booster Club officers and committee chairs have been working hard this summer. If you have questions or would like to help out this year, please send an email to info@churchillboosterclub.org
President: Leslie Janis
Vice President: Sandy Smyth
Vice President: Andrew O'Lone
Treasurer: Marcie Robinson
Secretary: Sharon Crane
· WHO CAN SHOP?: Montgomery County Parents & Students
· LOCATION: On the first floor near the cafeteria
· STORE DAYS & HOURS: Tuesdays, Thursdays and Fridays between 11:10 – 11:50 a.m.
· WHERE DOES THE MONEY GO?: 100% of the profits go to the Booster Club
· WHAT IF I WANT TO SHOP ONLINE?: Go for it! Click here to shop online.
PARENT VOLUNTEERS NEEDED
· Support the Booster Club, meet new people, and get a glimpse of the students during the school day by working in the Churchill Fan Store.
· New volunteers are always welcome
· Available volunteer hours are Tuesday, Thursday & Friday during school lunch from 11:10 to Noon. Or volunteer during evening school events.
· Sign up for time slots by clicking here.
NEW GEAR FOR 2016!
New! T-Shirts
Stop by the school store and check out our new student-designed T-shirts. Three new designs are just in! They are only $10 each and a great way to show your school spirit this fall.
NEW! Fit2win shorts will be on sale in the school store the first day of school! Get them before they are gone!
QUESTIONS
· Contact Ali Weitzman at 301.908.3411, or
Ali@iSparkleEvents.com
.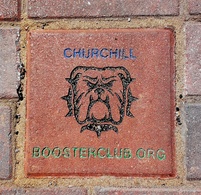 Parents, alumni, friends and families are welcome to honor the time at Churchill and help fund improvements to our athletic stadium and facilities. Click here to find pricing information and to order. Check out the options for color lettering and a Bulldog logo on your paver! Questions? Contact Chris Nazarian at cnaz@mris.com.
*Student or Team Amazing Memory Paver.