May 2015 - Gala Auction 2.0 and Spring Sports
Gala Items, Lacrosse, Baseball, Tennis, Volleyball, Track and More
Thanks to our guests, sponsors, donors, and volunteers, the

"Blue at the Green"

2015 Churchill Booster Club Gala Fundraiser was a celebration of CHS sports including golf competitions,
auctions,
eighties music, a celebrity appearance by NFL great Brian Holloway,a CHS tribute

video montage

, and food and drink at TPC Potomac at Avenel Farm. Thanks to the generosity of our sponsors and donors, there are a few auction items left

that will keep your kids' brains and bodies healthy through the summer.

View the list

of items for Auction2.0, now available on a first-come, first-serve basis until Monday, May 18. Contact Allyson Bergman

bergmanhome@verizon.net

to request an item. If you couldn't make this fantastic party, you can still donate,

click here make a donation

.


Photo: NFL Great Brian Holloway and fellow CHS Alumni - Event Chair Chris Nazarian, and Booster Club President Larry Tanenbaum. Photo by Mary Ellen Mengucci.
Booster Club Meeting - Everyone Invited!
Wednesday, May 20, 7pm, Room 126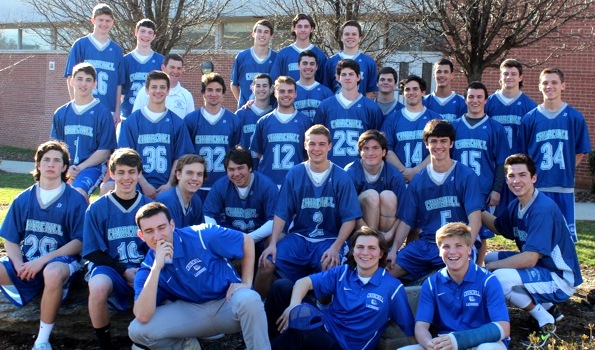 Boys Varsity Lacrosse

finished the regular season with a 13-1 record. The one loss was to nationally ranked (#2) Landon. CHS is seeded number 1 in the playoffs and posted a 27-2 win over Richard Montgomery in their first playoff game. The next game is May 11 at 6pm against Whitman at home.

Photo by Sandy Smyth.
---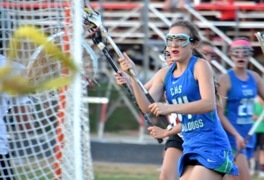 Pictured at left, Ellie Lavery shoots on goal during the

Varsity Girls Lacrosse

game against the QO Cougars. WCHS came out on top with a 21 to 7 win. The Bulldogs are on fire in the postseason with a 24-4 win on May 6 against Northwood and a 21-1 victory against B-CC on May 9. The next round is away at Whitman on May 11.

Photo by Draga Dubick.
---
The
Coed Volleyball
team completed a undefeated regular season and advances to the county semifinal against Wootton on May 12 at 5:15 at CHS. Come cheer them on! Senior Photo at right: Maddie Beller, Alan Ha, Chris Hallock, Head Coach Mike Endler, Eddie Yao, Jimmy Song, Jasmine Soriano, Asst Coach Cindy Hillard.
Photo by Sunny Yun.
---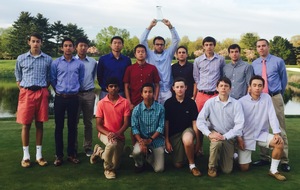 The Boys Tennis team and first-year coach Matt Grassi celebrated their division win at the end of season banquet (pictured at left, missing Alexander Paper). Churchill tied B-CC and Whitman, all with 4-1 division records and 11-1 season records. At the County Tennis Tournament on May 7, Michael Chen beat out his Whitman opponent at the #3 singles position. The team will be well-represented in the upcoming regional tournament. Reporting and Photo by Julie Dobson.
---

On May 7th, the

Softball

team beat Walter Johnson 10-0 in the first round of the 4A playoffs. For the second time this year Varsity Softball mercied WJ with a very successful short game and aggressive base running. With that win, Churchill moves on to the quarter finals against last year's regional champions Blair on May 11 at 7pm in an away game.
Reported by Larry Tanenbaum.
---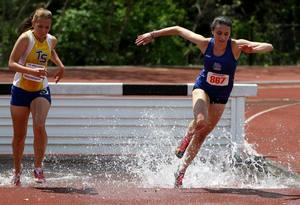 Photos from May 2

TC Williams Track Invitational

: At right, Sophomore Julia Reicin laps a runner at the water jump en route to the victory and a school record in the 2000M Steeplechase. Her time of 7:26.62 ranks her 18th in the nation. Photo below: Left to Right Senior Brendan Fagan and junior Mitchell Welter lead the way in the Mile at the TC WIlliams Invite. They went on to run 4:40 and 4:39 respectively.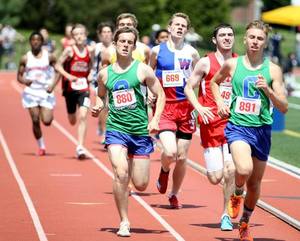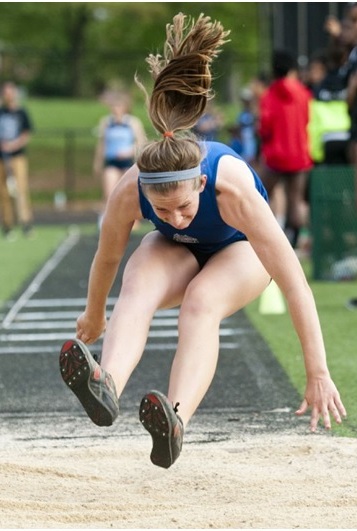 At the

Montgomery County Track Championships

held May 6, Julia McDermott is shown in the photo at right as she completes one of her triple jump attempts on the way to her third place finish. Churchill Senior Jabari Butler is the Montgomery County champion in the 100M with a time of 11.01. Churchill Senior Lucy Srour is Montgomery County runner-up in both the 1600M race with a time of 5:08 and the 800m with a time of 2:18.

Reported by Eric Reicin and Roger Weaver. Photos by David Warren.
---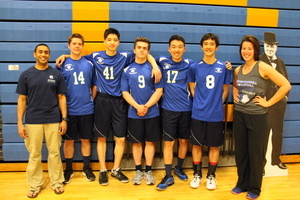 Boys Volleyball
finished the regular season with an outstanding 10-1 record. Their post-season was cut short by a surging RM team in a hard fought 2-3 first round match. The strong play of the seniors throughout the season was recognized at the April 29 Senior Night game against Watkins Mill. Senior photo left: Asst Coach JJ Rathnam, Casey Monson, Charles Yang, Eric Russ, Edmond Lee, Alan Yan and Head Coach Erika Eastham. Photo by Sunny Yun.
---
Churchill Crew once again broke new ground at the Maryland State Championship Regatta. Churchill placed more crews in the finals and earned more medals than in any previous year. This year, six of Churchill's crews earned berths in the finals, three of those finished with medals, and they defended their state championship. The novice crews' good performances bode well for the future of the team. The novice girls placed three crews in the finals: two fours and an eight. One four became state champions, while the eight finished a strong fourth in a field of eight crews, the best performance yet in this event. The novice four boys finished third in another field of eight crews and earned Churchill's first medals in any boys' event. For more information on Churchill's growing crew program, visit www.churchillcrew.org. Reported by Barrie Berger. Photo above: MD State Champion Novice Girls Four Team - Coach Eddie Logsdail, Rachel Newman, Sara Weissel, Mary Sailer, Ryan Schamberg, Holly Smithberger. Photo by Caroline Sailer.
---
The Varsity Baseball team is pictured at right at the Strike-Out Pancreatic Cancer event to benefit PanCan, a research organization focused on the disease. The event was in honor of senior Jesse Katz' father who recently succumbed to pancreatic cancer. The JV team and parents also participated in the April 25 event. Click here to read the story in the Observer Photo by Karen Lipson.
Field Hockey Clinic for Girls in Grades 3-8 on June 7
Thinking about playing field hockey? Come to the field hockey team's skills clinic on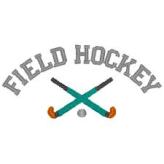 Sunday, June 7, from 9-11 am. The clinic is for girls in grades 3-8, beginners and advanced players alike, and will include drills run by current varsity and JV field hockey student-athletes. Come meet the coaches, work on field hockey fundamentals, and get to know the 2014 field hockey team members. The cost is $20 (checks made out to WCHS Booster Club), which will be collected on the day of the event. To sign up, visit our team website www.churchillfieldhockey.com.
Questions?Email coach@churchillfieldhockey.com.
To view the flyer, click here.
Bulldog Youth Football Camp from June 16-19 at WCHS
If you are just starting out or have played on an organized youth team, this is the camp for you! Open to all levels beginner through experienced. Our camp includes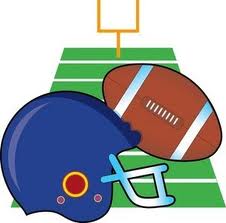 daily 7 on 7 competitions plus speed and agility drills and instructional videos. Campers will develop football skills including passing, catching, punting, kicking, blocking and offensive and defensive strategies. Campers will receive individual instruction by the Churchill Football Varsity Coaching Staff. No equipment will be needed. There will be no contact during the camp. Come train with the best!!!! Register early!

The camp will be held June 16-19 (Tues - Friday) from 9am-2pm for rising 3rd-9th graders. A t-shirt and speed-and-agility evaluation are included in the $250 fee. Click here for Camp Registration Form. Click here to check out the Football team website.

It is the 50th Anniversary of Winston Churchill High School and the Booster Club is proud to unveil the commemorative t-shirt at a special price of only $10!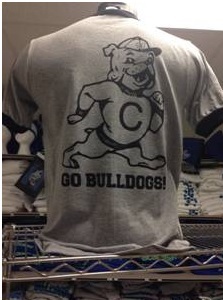 Please visit the school store and get yours today! Go Bulldogs!
We are looking for a freshman/soph parent team
to run the school store in Fall 2015!
Contact Allyson Bergman at bergmanhome@verizon.net.


Volunteer at the School Store: The new 2015 sign-up dates are up!
Parents are invited to work at the school store, located on the first floor near the cafeteria,on

Tuesdays, Thursdays and Fridays at lunch between 10:30 - 11:45am
Log into www.signupgenius.com and select 'Find a Sign Up.' Enter bergmanhome@verizon.net in the email space.
Support Boosters - Quick Links!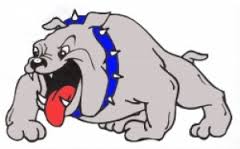 Join Boosters – click here
Buy a Paver – click here
Purchase a Season Sports Pass – click here
Buy Apparel Online – click here
Find the CHS Game Schedule from County Sports Zone - Click here
Booster Club Calendar of Upcoming Events (New dates!)
May 20 (Wed.): Booster Club Meeting, 7pm, room 126
June 3 (Wed.): Booster Club Meeting, 7pm, room 126
Booster Club Email Address, Website & Social Media