The 2011-2012 school year is winding down, but we still have considerable Booster News to share, so please read the newsletter below! Also, join us this Wednesday, May 9, at 7 p.m. in Room 148 for our monthly Booster Club meeting. We'll hold elections for the 2012-2013 Booster Officers and tackle several other important agenda items.

Wayne Cohen
President,
Churchill Booster Club
Recap of 2011-2012 Booster Club Accomplishments
It's been a busy and productive year in the Churchill Booster Club. Huge props go out to our many dedicated volunteers who tirelessly coordinate and
staff our year-round initiatives!
This year alone, we've provided significant supplemental funding for the
purchase of a stadium safety netting system,
a protective cage
used during hitting and pitching practices for
baseball and
softball and an enhanced sound
system during Homecoming activities.
We're finalizing plans to replace the main scoreboard in the stadium and starting to identify ways to replace other WCHS scoreboards. We've even renegotiated contract fees for the external use
of our fields, all of
which
directly benefits the upkeep of those surfaces for our Churchill teams.
And the list goes on! The Booster Club has created new by-laws, developed a new website and newsletter, hosted several successful fundraisers (including sports physicals, the annual golf classic, a Pampered Chef party, our Spring Sports Night Gala, and several team sports clinics for area youth). We've developed new financial investment policies, created new sponsorship and fundraising options, increased membership and restructured our board.
This incredible momentum is only possible
with the ongoing support of our Booster Club members, volunteers and sponsors.
For more on our 2011-12 accomplishments, link to our
website
.
Churchill Baseball Hitting Clinic for 6th-8th Graders
Don't Miss the Opportunity to Train with the
Churchill High School Baseball Team & Coaches!
Sharpen Your Hitting Skills, Learn About the Churchill Baseball Program, Work with WCHS Baseball Players & Meet Varsity Coach Blackwood & JV Coach Nori
DATE: Friday, June 1, 2012 LOCATION: WCHS Baseball Field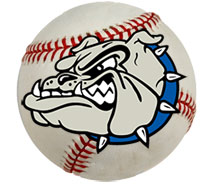 TIME: 4:00-5:45 p.m. FOR: Current 6th-8th Graders

COST: $35 (Participants should bring a check, made payable to the WCHS Booster Club, to the clinic registration check-in on June 1.)
REGISTRATION: Required by 5/22/12. For full Registration Details & a Color Flier Link HERE. Send email to Booster Club President Wayne Cohen at wrc@cohenandcohen.net. NOTE: Space is very limited. Reserve today!
Sponsored by the Winston Churchill High School Booster Club, a 501(c)(3) Organization Which Helps "Boost" Churchill Athletics. Proceeds Benefit the Winston Churchill High School Baseball Program.
Sports Physicals Offered June 14: Good for 2012-2013 Seasons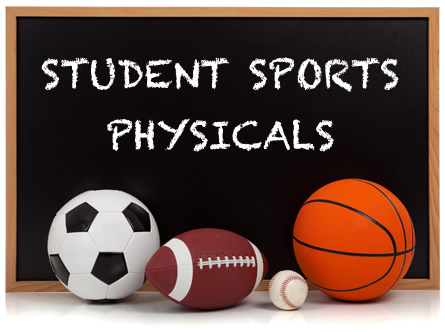 Churchill student-athletes needing physical exams to play 2012-2013 fall, winter and spring sports can get them at Churchill High School on June 14, starting at 6 p.m. Middle School students may also register for physicals. Medical staff from Montgomery Orthopaedics will conduct the exams.
The cost per physical is $50. Proceeds to benefit the Churchill Booster Club and its sports programs. For full details and to schedule an appointment, LINK HERE.
Save the Date: 9th Annual Bulldog Golf Classic is August 9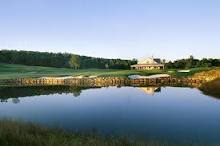 Mark your calendars for Thursday, August 9 to attend the 9th Annual Bulldog Golf Classic at Whiskey Creek Golf Club in Ijamsville, MD. Watch for upcoming details on registration and sponsorship opportunities. Proceeds from this fundraiser benefit the Churchill Booster Club. Link here for the Whiskey Creek website.
Bulldog Youth Football Camp Registration Now Open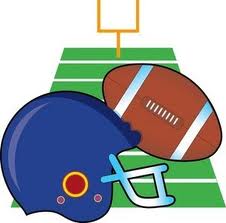 The Bulldog Youth Football Camp is open to all levels, beginner through experienced. It includes daily 7-on-7 competitions, plus speed and agility drills. Campers will develop football skills including passing, catching, punting, kicking, blocking, offensive and defensive strategies. Campers will receive individual instruction by the Churchill Football Varsity Coaching Staff. No equipment will be needed. This is a non-contact camp.
CAMP DATES: June 18–22, 2012 TIME: 9 a.m.–2 p.m.
FOR: Rising 3rd – 9th grade students
WHERE: Winston Churchill High School, Potomac, MD (Lower Field)
COST:
$275 (includes camp t-shirt)
*Proceeds benefit WCHS Football Team through the Churchill Booster Club, a non-profit organization*
---
Link
Here
for Details on the
Churchill HS Football Orientation Program
for Parents and Players, THIS Tuesday, May 8 at 6:30 p.m., WCHS Auditorium
Booster Club Membership: JV Baseball 100%
Congrats to the JV Baseball Team, which achieved 100% membership participation in the Booster Club at the start of the spring season! Several more spring teams are very close to reaching full participation. A big thank you to those Churchill families who have already committed. Joining or renewing your annual Booster Club membership is critical to the success of the Booster Club, which provides significant supplemental funding to our Churchill teams.
Still need to join? It's not too late and it's easy: link to our new online registration process by clicking
here
.
"Bowl-A-Strike for Churchill" Spring Gala a Huge Success!
Many thanks to all who attended the Churchill Booster Club's
Annual Spring Gala on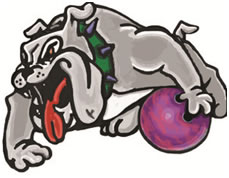 April 13 at Bowlmor Lanes! Everyone—from our planning committee, sponsors, advertisers, donors, team basket contributors, volunteers, and the 200-plus gala attendees—made this year's event a fun and casual evening of socializing and fundraising for the greater Churchill community. We offered more than 135 live and silent auction items, and we raised nearly $25,000 for our Churchill student-athletes!
Thanks to all of our Booster friends for the continued support.
School Store Volunteers Needed for 2012-2013 School Year
Looking for an easy way to volunteer that doesn't require a huge time commitment? Join us in the SCHOOL STORE! We are looking for volunteers for the 2012-13 school year on Tuesdays, Thursday and Fridays at school lunch, along with special events and pre-game sales. It is a fun way to show your spirit and meet people. Contact Allyson Bergman:
bergmanhome@verizon.net
or
3
01-351-5794.
Need a Gift for a Graduating Senior? Shop our Online Store
Need something special for a Graduating Senior? Check our online store for an extensive line of clothing, spirtwear and Bulldog accessories. Choose from a variety of styles, colors and customizable options. Not sure what to get? Purchase a gift card and let the graduate decide! Link here:

Online Spiritwear Store

.
Baseball Fundraiser at Potomac Pizza Thursday, May 17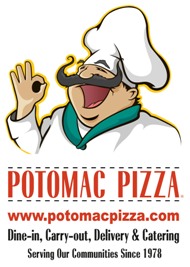 Stop in to Potomac Pizza on Falls Road any time between 4-9 p.m. on Thursday, May 17 to support the Churchill Varsity & JV Baseball Teams. Place your receipt for all dine-in or carry- out orders in the Churchill Baseball Box on the front counter at Potomac Pizza that day. The Baseball Program will receive 20% of the proceeds from those receipts. Come out and support the Bulldogs! Link here to print out flier.
Churchill Sports in the News
A number of Churchill teams and athletes were featured in the local media and on the Booster Club website in April and May. Below are just a few recent highlights. Read more about our teams' successes by linking to the

Booster Website

.
Booster Club Luncheon for Captains & Coaches of Spring Sport Teams:
The Churchill Booster Club held its annual luncheon for captains and coaches of spring sports on Tuesday, April 24. The event, one of three seasonal luncheons hosted for captains each year, honors Churchill's hardworking student-athlete-leaders. More than 40 JV and Varsity spring sport captains attended this event, along with Athletic Director David Kelley (shown speaking), Principal Dr. Joan Benz and several spring coaches. The guests were treated to lunch from the Potbelly Sandwich Shop.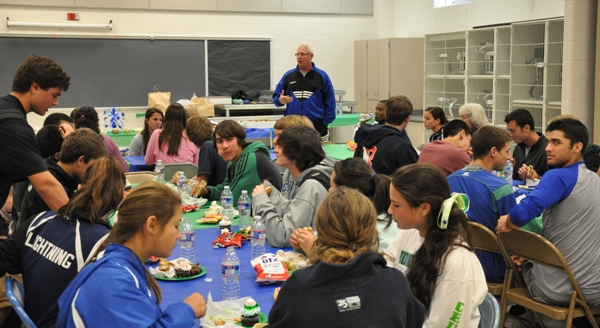 ---
Varsity Crew: The Churchill Girls Crew Team won 3rd-Place Medals at the Maryland High School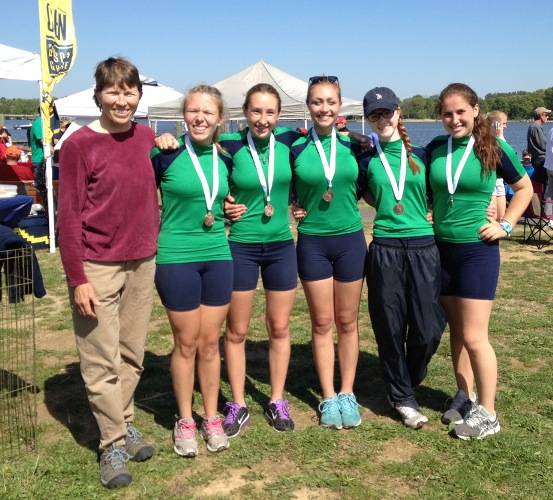 Rowing Championships on April 29. Churchill competed in the event against 14 teams, held at Washington College in Chestertown, MD.
Crews raced a 1500-meter course on the Chester River.

In the first heat of its class, Churchill Crew's Women's Varsity 4+ boat came in 1st-Place (6:11:3) against B-CC, Bryn Mawr and three other boats. This qualified Churchill's Women's 4+ for the final race, in which it won 3rd-Place (7:01:3) after B-CC and Whitman, outperforming two boats from Walter Johnson.
For more photos and information on
Boys and Girls
Churchill Crew teams, link to the
Booster Club
website.
Photo:
The Churchill Women's 4+ shown with their 3rd-Place medals at the Maryland High School Rowing Championships: Coach Cindy Cole, Tori Hoffman, Julia Taladay, Emma Benjamin, coxswain Brenna Means and Alisa Dan. Photo: Wein Jiang
---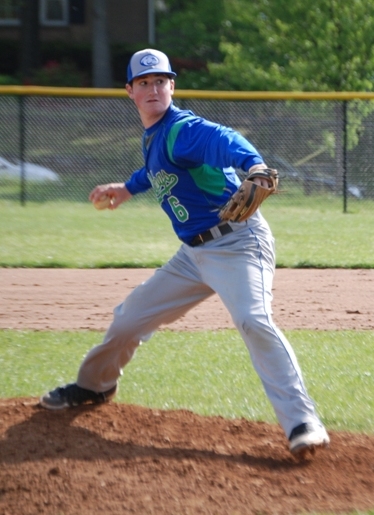 Varsity Baseball: Churchill's Varsity Baseball team beat rival Wootton High School Patriots 1-0 at home on Tuesday, April 24. Shown on the mound in this photo at left is
Senior Danny Weiss, who
pitched a shut-out game for the win. T
he Varsity team also beat Gaithersburg 10-4 one day later. With that game tied at 3-3 and two outs in the 4th inning, Weiss hit a grand slam over the center field wall.
Churchill's Varsity Baseball team wraps up its regular season play on Wednesday, May 9, during a home game vs. Rockville at 5:15 p.m. The game will include Senior Night activities to honor the nine graduating Varsity players. Link to the
Booster Club Website
for more Churchill Baseball news and details about post-season play. Churchill baseball and other
WCHS
spring sports coverage can also be found in the
Potomac Patch
by searching for Churchill Highlights. Credit: Jon Thibodeau.
---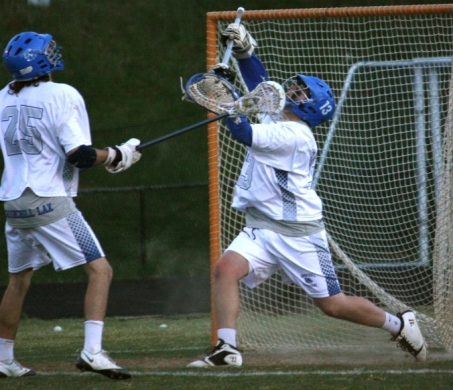 Varsity Boys Lacrosse:
The Churchill Boys Lacrosse team beat Springbrook at home 10-3 on Wednesday,
May 2 and then celebrated the team's successful season during Senior Night at the WCHS stadium. Link here for a video clip of the Churchill Boys Lax seniors honored at the Senior Night ceremony after the home game.The team was named top seed in the 4A/3A West Regional Playoff.
Photo at left: Goalie, Junior Peter Hurd, shown in goal, was named "Player of the Game" after holding the Walter Johnson team to 5 goals in the Bulldogs's 10 - 5 victory over the Wildcats on April 11. Credit: Linda Rhodes.
---
Varsity Girls Lacrosse:
The Churchill Girls Lax team celebrated Senior Night with a dominant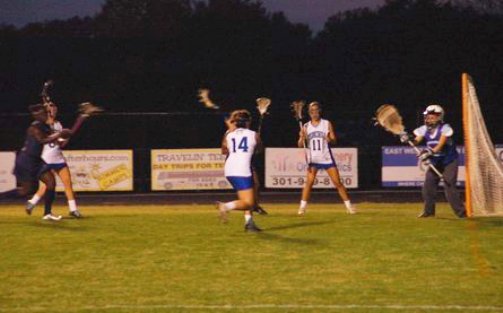 21-3 home victory over Springbrook on Wednesday, May 2. The team honored graduating Seniors Emma Barnett, Megan Brody, Eliza Farha, Alex Fox, Maddy Flax, Mairin Hall, Roshan Promisel and Colby Ranck.

Goals came early and often from the season-long leading scorers during the Senior Night Game, but notable were 2 goals and an assist for Promisel and a goal for Gina Biccochi. Pictured are Megan Brody (8), Eliza Farha (11) and Promisel (14) scoring one of her two goals for the night. For more coverage of the season, link to the

Booster Club Website

.

Interested in advertising at Churchill? Hundreds of people visit the Churchill Stadium each year and stadium signs are a great way to get your business name & logo out to the general public.
To order a Stadium Banner for the upcoming school year, contact Allyson Bergman:
301-351-5794 or
bergmanhome@verizon.net.
Booster Club Calendar of Upcoming Events
May 8 (Tues.): Football Orientation Mtg for Parents & Players, 6:30 p.m., WCHS Auditorium
May 9 (Wed.): Booster Club Monthly Mtg, 7 p.m., Room 148
May 16 (Wed.): Girls Soccer & Summer Programs Mtg, 6 pm WCHS Rm 221 (incl current 8th grd)
May 17 (Thurs.): Churchill Baseball Fundraiser @ Potomac Pizza, Falls Road 4-9 p.m.
June 1 (Fri.): Churchill Baseball Hitting Clinic for Current 6th-8th Graders @ WCHS
June 6 (Wed.): Booster Club Monthly Mtg, 7 p.m., Room 126
June 14 (Thurs.): Sports Physicals Clinic for Student-Athletes, 6 p.m., WCHS Across from Main Gym
June 18-22 (Fri.-Tues): Bulldog Youth Football Camp, 9 a.m.-2 p.m.
August 9 (Thurs.): 9th Annual Bulldog Golf Classic, Ijamsville, MD.
Booster Club E-mail Address, Website & Social Media
Please help us get Churchill Booster Club News out to all Bulldog supporters. Know a Booster fan who should be receiving our news? Need an e-mail address added to our mailing list? Interested in sharing news about Churchill student-athletes and teams? Contact us at at: info@churchillboosterclub.org
Bookmark our website www.churchillboosterclub.org for helpful information, scores and related links. See current and upcoming Booster Club activities, find updates and media coverage on Bulldog teams and athletes, check out our generous sponsors, or get directions to away-game locations.