March 2015 - Ice, Snow and Spring
Ice Hockey, Dive, Indoor Track, Looking forward to Spring, and More
Churchill Ice Hockey - Maryland State Hockey League Champions!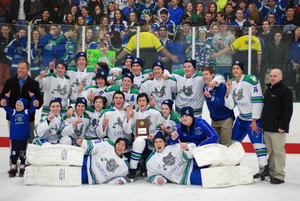 The Churchill Ice Hockey Varsity 1 team

drew the largest crowd in the history of the state hockey championships on the way to defeating Marriotts Ridge for the MSHL Championship.
The final score was 10-0. Senior Ross Allen, the team's Captain, received the MSHL's Yvonne Lambert Award as the outstanding student-athlete in the state prior to the game, then went on to score four goals during the championship. This capped a phenomenal 20-1 season and was the 3rd state championship in five years. Congratulations to the players, coaches, families and spirited student cheering section on the winning season. Click here for the Washington Post article. Contributor: Scott Greenberg. Photo: 2015 Churchill Ice Hockey V1 team celebrates after the MSHL championship in front of a huge crowd. Photo courtesy of Scott Greenberg.
Divers are Winners;

Snow delays State Swim Championships
The State Dive Championships were held on February 20 at the UMD Eppley Center. Elaina Faerber completed her sweep of the three 2015 championships after the previous top finishes in Metros and Regionals. This is the fourth year in a row that a female Churchill diver has won both Metros and State. Kali Becker snapped up the second place State spot, completing an outstanding season on her way to UNC's Dive team next fall. Mory Gould finished in 4th place in the Boys Dive Championship. Congratulations to these high-flying divers, their supportive teammates, and their coaches and families.
Since snow delays have held up the State meet, now scheduled for March 11, look for a special report Booster Club newsletter on their finish soon! Photo above: Elaina Faerber (1) and Kali Becker (2) recognized at the podium at the State Dive Meet. Photo courtesy of Yolanda Faerber.
Indoor Varsity Track Races through Post-Season!
The Girls Varsity Track team finished strong in the post-season events. Senior co-captain Lucy Srour broke the long-standing Churchill record in the 1600 M distance at the Virginia Tech Invitational and finished 2nd at the Maryland State Championships in that same distance. Lucy also took 5th in the 800M at Maryland States. The 4x800M girls relay of senior Lucy Srour and sophomores Julia Reicin, Tara Rhodes, and Jocelyn Kelly came in 6th place at Maryland States. Julia Reicin also took 9th individually at Maryland States in the 800M. In hurdling, senior Gabriella Silva and junior Sydney Veator both had top 12 finishes at Maryland States. Senior co-captain Julia McDermott had top 5 performances in the long jump and triple jump in Montgomery County. Photo left: The Girls 4 x 800M Maryland State Championship Relay won 6th in 4A State Championships. Left to right - sophomores Jocelyn Kelly, Tara Rhodes, Julia Reicin, and senior Lucy Srour. Photo by Leslie Janis.

The Boys Varsity Indoor Track Team also had a very successful season. At Maryland States, senior co-captain Marquette Lewis took 7th at the Maryland State Championship in the 300M and senior co-captain Arturo Woodward-Montes took 8th in the 3200M.The boys 4x200M relay also took 8th at Maryland States (Junior Andrew Zuckerman and Seniors Marquette Lewis, Cameron Babers, and Oda Assimaidou). Boys long jumper junior Ethan Liu finished the season with a Montgomery County top 10 effort. Congratulations to the Churchill Indoor Varsity Track team for finishing the post-season with so many successes. Special thanks to coaches Scott Silverstein, Paul Jacobson, and Dave Warren for a terrific season. Reported by Eric Reicin. Photo right: The Boys 4x200M Maryland State Championship Relay ran 8th in 4A State Championships. Left to right - senior Marquette Lewis, senior Cameron Babers, junior Andrew Zuckerman and senior Oda Assimaidou. Photo by Dave Warren.

Spring Sports Night moved to
this Wednesday, March 11, 7pm, Main Gym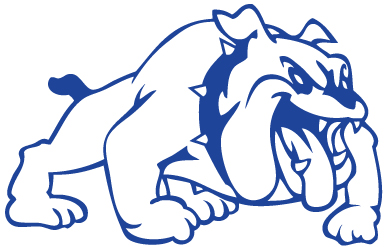 Parents of Spring team athletes should attend the meeting rescheduled to this Wednesday, March 11 at 7pm in the Main Gym to meet the spring team coaches and discuss important information. Join Booster Club on-line by March 11 and pick up your membership gift at the meeting! Click here to get membership information and join online. We support all 50 teams at Churchill, and your membership makes the difference in safe, high-quality and fun programs.
Save the Date: Spring Fundraiser "Blue at the Green" on May 1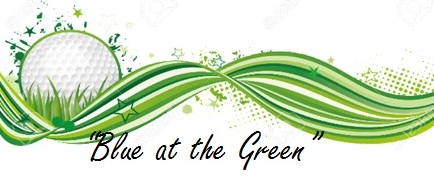 Plan to attend our biggest fundraiser and Churchill social event of the year! The "Blue at the Green" 2015 Churchill Booster Club Gala Fundraiser is on May 1, 8-11pm at TPC Potomac at Avenel Farm. Plan for a night of auctions, dancing, light refreshments, raffles, a cash bar and golf games near the lush 18th green at Avenel.
For tickets and more information, click to the Booster Club website.
Opportunities for advertising and "shout-outs" to your favorite team or athlete in the event program are available now! Click here for more advertising information or contact Larry Tanenbaum or Tom Howes.

Booster Club Meeting moved to
this Thursday, March 12, 7pm, Room 126

Want to be involved and make a difference at Churchill?
Join this active group of parents at the meeting
this Thursday, March 12, 7pm in room 126.