Dear Booster Friends,
Congratulations go out first to the many Churchill teams and student-athletes for their success during the winter season, and second to the student-athletes selected to play on one of the many 2013 spring sports teams! Practices are under way and games will begin next week.
In this issue, we focus on Bulldog team and individual accomplishments during the winter months—from the basketball teams and wrestlers to the swimmers, divers, runners and—last but certainly not least—our state champion club ice hockey team!
The success of our student-athletes depends on a lot of factors, including the

strength of this Booster Club. The start of the new sports season brings with it the opportunity to recruit new families to our membership roster. If you are a parent of a spring student-athlete and are not a member of the Booster Club, go to our website to join quickly and easily online.
I also want to encourage our Booster community to celebrate Churchill athletics at our end-of-year Spring Gala on Friday, April 26 at Bowlmor Lanes in Bethesda. Read on to learn more about this fun and casual event.
Finally, don't miss our upcoming monthly meeting Wednesday night, March 13 at 7:30 p.m. in Room 124. All are welcome.
Go Bulldogs!

Jim Edwards,
President
Churchill Booster Club
Sports Gala: It's Time to Get in on the Roll!
♦
♦
You Are
Invited!
♦
♦
Churchill

's

Largest

Social

Event

of

the

Year!
Please Join us on Friday, April 26, 7-10 pm for the Booster Club's Annual Sports Night Gala Fundraiser at Bowlmor Lanes in Bethesda! Enjoy a fun

&

casual adults-only evening, filled with bowling, live

&

silent auctions, DJ, food, reduced price happy hour cash bar, desserts

&

more. Bowl A Strike for Churchill Sports!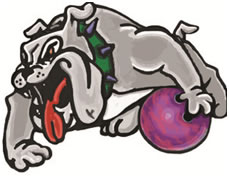 ♦

All Guests Must be Age 21 or Older
♦
All Proceeds Support
WCHS Sports
♦
♦
Fair Market Value of the Ticket is $60

♦
Winter Teams Wrap Up Season Exceedingly Well!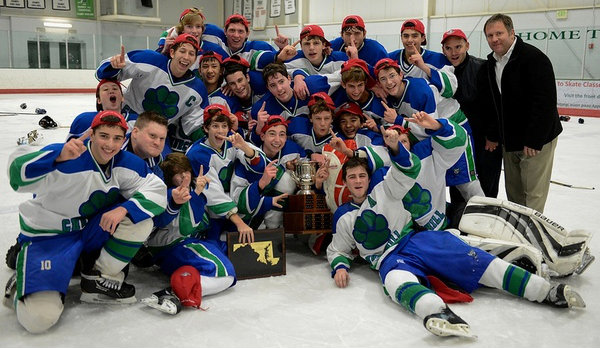 WCHS Ice Hockey Club Team is the Maryland Scholastic Hockey League state champion for the second time in three years. The team captured the title in a 6-1 victory over Easton on Feb.25 at the Gardens Ice House in Laurel, MD. During four playoff rounds, Churchill outscored its opponents 28-1, breaking state scoring and defensive records. Above, the team and coaches celebrate after the big win before a capacity crowd. Photo by Paul Lai
---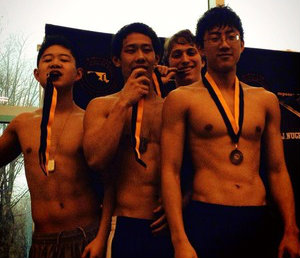 Bulldog Swimmers and Divers captured several gold medals and set a few records in the Maryland State Swim & Dive Championships Feb. 21-23 at University of Maryland. Congrats to the new girl's Maryland State Dive Champion, junior captain Mashal Hashem. Sophomore Kali Becker placed 3rd. Senior captain Michelle Illig swam her way to gold in the 50 Free. On the boy's side, WCHS won big, shattering both the Churchill and State records in the 200 Free Relay. The WCHS boy's 400 Free Relay team also won gold. The Bulldog boys placed 4th overall and the Bulldog girls placed 6th in the state competition. The Churchill and state record-breaking teammates, shown above from left, are juniors Kevin Gu and Harrison Gu (not siblings) and senior captains Austin Cole and Steve Ge. Photo by Diving Captain Mashal Hasham
---
WCHS Boys Varsity Basketball team went 18-6 this season winning a 3rd straight division title, making the regional semifinals and graduating Dominique Williams and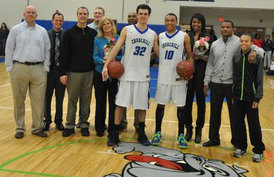 Bryant Wheatley. Williams became the program's all-time career steals leader with 155 career steals, career games played leader with 72, and cracked the top 10 in career scoring at 644. Wheatley led the team in rebounds with 8rpg. The team broke the 'Free Throws Attempted and Made' record with 414 made and 620 attempted. Boys Junior Varsity team earned a 10-8 record with a very young team. WCHS Lady Bulldogs ended their winning season with an overall 17-6 record. For highlights of the season, including details and photos of Varsity Girls' Senior night, please see Sports News on the Booster Website. Shown above are seniors Bryant Wheatley (32) and Dominique Williams (10) with the CHS Varsity coaches and their families during senior night festivities following the home game vs. Magruder Feb. 19. Photo by Mary Ellen Mengucci
---
Senior captain Matthew Schleckser represented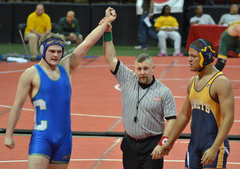 WCHS Wrestling team well in the State Wrestling Tournament March 1 and 2 at the University of Maryland. Matched up against the 16 best wrestlers in the State and Regional Competition winners, Schleckser took 5th place in the 195 pound weight category. WCHS sophomore James Kalavritinos (182 pounds) also earned a berth in the state competition. At right, Schleckser, arm raised, earned the 5th place finish at the State Wrestling Tournament. Photo by Denise Schleckser
---
Churchill Girls Indoor Track 4X800 Relay Team finished 3rd overall at the MD State
4A Indoor Track Championships at Prince Georges Sports Complex Feb.18. The relay teammates were juniors Breanna Boggan, Juhee Kim, Jessica Weinreich and sophomore Lucy Srour. Srour also came in second in both the 1600m and the 800m. Also competing on the state level for the Bulldogs were David Fitzgerald (1600 m), Kyle Beatty (pole vault) and Sabrina Silva (55 m). Shown at left, Srour is racing her way to a strong finish in the state competition.
Photo by Scott Silverstein
Sports Teams Stadium Sign Challenge
If your team needs extra cash for team expenses, check out the Stadium Sign Team Challenge! Just find a NEW Stadium Sign Sponsor by the target dates below and the Booster Club will give your team account cash.
Secure a new sign sponsor and payment by April 1
and the team earns $350.
Secure a new sign sponsor and payment by May 1
and the team earns $150.
Additional news on advertising opportunities coming soon. Questions – Allyson Bergman bergmanhome@verizon.net
School Store Looking for Volunteers
The school spirit store is a great way to volunteer and the time commitment is small. Please consider helping out! We are open during school lunch Tuesdays, Thursdays and Fridays and open for certain special sporting or school events. The new 2013 schedule is posted. Log into

www.signupgenius.com

and
"
Search for a Signup.
"
U
se this email address:
bergmanhome@verizon.net
. Please be sure to look at the 2013 signup and fill in your name. If you have any questions, please contact Allyson Bergman at
bergmanhome@verizon.net
Online Store has Spiritwear to Meet Changing Weather Needs
Head straight to the Churchill school store this month to get what you need to show your spirit as spring sports get underway! I

f you can't find what you need there, please take a moment to visit our online spirit store at

www.fieldhouse.com/churchill

for all your spiritwear needs. We have a wide selection for kids, juniors and adults, including outerwear, novelties and t-shirts. All orders are custom designed and are shipped directly to you. A portion of the sales supports the Booster Club. Show your support, wear your spirit! Questions? Contact Allyson Bergman at
bergmanhome@verizon.net
Several WCHS teams, athletes, sports events and community initiatives have attracted positive community attention in February and March. Take a look at our Sports News page on the Booster Website to see what teams and athletes are making news.
Booster Club Calendar of Upcoming Events
March 13 (Wed.): Booster Club meeting, 7:30 pm, WCHS Room 124
April 26 (Fri.): Sports Gala, BowlMor Lanes, Bethesda, MD, 7-10 pm
Upcoming Bulldog Team Competition
March 21 (Thur.): Baseball @ Northwest JV 3:30 pm
March 21 (Thur.): Baseball v. Northwest V 3:30 pm
March 21 (Thur.): Boys Lacrosse v. The Heights V 7 pm/JV 5 pm
March 21 (Thur.): Girls Lacrosse @ Bullis V 5:30/JV 4:15 pm
March 21 (Thur.): Softball v. Northwest V 3:30 pm
March 21 (Thur.): Boys Tennis v. Northwest 3:30 pm
March 21 (Thur.): Volleyball @ Clarksburg Coed 5:15 pm/Boys 7 pm
March 22 (Fri.): Baseballl @ Magruder V 3:30 pm
March 22 (Fri.): Softball v. Magruder JV 3:30 pm
March 22 (Fri.): Softball @ Magruder V 3:30 pm
March 22 (Fri.): Boys Tennis @ Springbrook 3:30 pm
March 23 (Sat.): Boys Lacrosse @ Blake V 10:00 am
March 23 (Sat.): Girls Lacrosse v. Blake V 10:00 am

For a list of future Bulldog matchups, please click here. Then go out and cheer on our student-athletes!
Booster Club Email Address, Website & Social Media