April 2015 - Spring Sports Spring Forward (Finally!)
Lacrosse, Baseball, Softball, Volleyball, All-Met, All-Gazette and More
Buy Your Tickets Now:
Spring Fundraiser "Blue at the Green" on May 1
Meet NFL Great and CHS Alumnus Brian Holloway
Go for the fun and great cause! The "Blue at the Green" 2015 Churchill Booster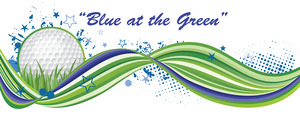 Club Gala Fundraiser is on May 1, 8-11pm at TPC Potomac at Avenel Farm. Plan for a night of auctions, dancing, light refreshments, a cash bar and golf games near the lush 18th green at Avenel. Meet former NFL All-Pro Brian Holloway. For tickets and more information, click to the

Booster Club website

. Opportunities for advertising and "shout-outs" to your favorite team or athlete in the event program are available now!


Click here

for more advertising information or contact

Larry Tanenbaum

or

Tom Howes

.
Booster Club Meeting
this Wednesday, April 15, 7pm, Room 126

Want to be involved and make a difference at Churchill?
Join this active group of parents at the meeting
this Wednesday, April 15, 7pm, Room 126.
Lax Player Breaks Maryland Point Scoring Record
With one goal and six assists in the Damascus win on March 26, Churchill senior and UMD recruit Louis Dubick broke the Maryland HS Boys' Lacrosse points record in a high school career with 393 points (
198 goals, 195 assists)

. With strong play all around, the boys' team is off to a 5-0 start.




Click here

for the Washington Post article on Louis' record.
Watch

Washington Post

video interview

with Louis and Coach Fritz.
Photo right: Louis Dubick and Coach Jeff Fritz after March 26 game. Photo by Draga Dubick.
The

Girls Varsity Softball

team is off to a 4-1 start led by freshman shortstop

Brittany Lew who already has two grand slam home runs. The girls early success is heralded in a feature story in the

Gaithersburg Gazette

.
---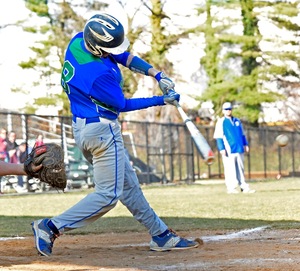 With the home opener and 2 successive games rescheduled due to field conditions, the Varsity Baseball team currently posts a 2-4 record. The young team is looking for more wins in the post-spring-break season.

Photo: Starting Varsity Catcher Jacob Storch makes contact at WJ game on April 1. Photo by Michael Becker.
---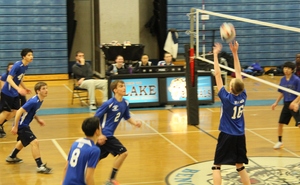 Both Coed and Boys Varsity Volleyball teams gave spectators smashing shows with 6-0 records before the break. Each team has only lost one game in the six best-of-five matches played.
Photo: Erik Hillard (18) sets for Charles Yang (far left) with Bradley Soll (2) preparing for the fake and Jason Arndt and Alan Yan (8) positioned for defense against Blake HS. Photo by Sunny Yun.
---
The Girls Varsity Lacrosse team record is 3-1 going into the break.

Photo left: Annie Moshyedi faces the Damascus Hornets on March 28. Photo by Draga Dubick.

Congratulations to All-Met and All-Gazette Players
Washington Post 2015 Winter Sports All-Met
First Team
Girls Swim and Dive: Elaina Faerber
Ice Hockey: Ross Allen, Jacob Arden, Coach of the Year: Ray McKenzie
Watch video interviews with WP reporter Gabe Hiatt
including Elaina, Jacob and Ross

Second Team
Girls Swim and Dive: Kali Becker
Ice Hockey: Andrew Kurapov

Honorable Mention
Boys Swim and Dive: Mory Gould
Girls Swim and Dive: Brighid Dunn, Elaina Gu, Hannah Lindsey, Emily Wang
Ice Hockey: Markus Hurd, Trevor Dixon, Philip Satin
Girls Indoor Track: Lucy Srour

All-Gazette
Girls Swim and Dive
First team: Elaina Faerber, Hannah Lindsey, Emily Wang, and
First team Medley Relay Team: Fiona Asbury, Kathryn Wright, Emily Wang and Hannah Lindsey
Second Team: Elaina Gu, Kali Becker and 400m Freestyle Relay Team
Girls Indoor Track
Second Team:Julia McDermott (long jump) and Lucy Srour (1600M)
Ice Hockey
Player of the Year: Andrew Kurapov
Coach of the Year: Ray McKenzie
First Team: Jacob Arden, Markus Hurd
Second Team: Philip Satin
Honorable Mention: Ross Allen, Justin Spivak
Spring Captains Luncheon Gets Spirit Going
The Captains Luncheon for Spring teams on March 17 highlighted the captains' roles in promoting school spirit, integrity and determination. Sponsored by your

Booster Club, the luncheon featured speaker Mr. Evan Rosenthal along with the healthy helpings of Bethesda Bagel sandwiches and salads and the distribution of the captains' lanyards.
Photo above: Teacher Evan Rosenthal shares his enthusiasm for sports and school.
Photo by Elaine Arndt.
Field Hockey Clinic for Girls in Grades 3-8 on June 7
Thinking about playing field hockey? Come to the field hockey team's skills clinic on Sunday, June 7, from 9-11 am. The clinic is for girls in grades 3-8, beginners and advanced players alike, and will include drills run by current varsity and JV field hockey student-athletes. Come meet the coaches, work on field hockey fundamentals, and get to know the 2014 field hockey team members. The cost is $20 (checks made out to WCHS Booster Club), which will be collected on the day of the event. To sign up, visit our team website www.churchillfieldhockey.com.
Questions?Email coach@churchillfieldhockey.com.
To view the flyer, click here.