Important and Fun Fundraisers Coming Our Way

The Girls Basketball team and their coaches will be 'at your service' for dinner at the Silver Diner in Rockville on Wed., Nov. 14 from 6-9 p.m. A portion of all sales during this time will go toward the WCHS girls basketball program. Eat out and support the team! That's a win-win situation! For details contact varsity basketball coach Kate McMahon at Katelyn_M_McMahon@mcpsmd.org
---
WCHS Crew invites the entire Churchill community to attend its fundraiser at the Silver Diner in Rockville on Mon., Nov. 19 from 5-8 p.m. The co-ed rowing club, established in 2010, is a completely self-funded, parent-run organization and 20 percent of all proceeds from the event will benefit the nonprofit, 501(c) (3) organization.
---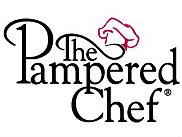 The WCHS Booster Club coridally invites you for a Pampered Chef cooking show on Thur., Nov. 29 at 7 p.m. at the home of Booster Club President Jim Edwards and his wife, Maria. The address is 11821 Prestwick Rd., Potomac. Come as a novice and leave as a master of great easy, delicious recipes as well as great ideas of holiday cooking and entertaining. This event will be a fun night out for the entire Churchill community — men and women alike! — as well as a great way to support Bulldog student athletes. All profits from the evening will go directly to the Booster Club as it plays an increasingly important role in supplementing the WCHS athletic department's budget. Please RSVP to Lynn Grody at legrody1chef@yahoo.com or 301-613-8184 or Jim Edwards at jbempb@comcast.net. For a full invitation please Click here.
Can't make the Pampered Chef cooking show date? You can still place an online order and support the Booster Club: Go to www.pamperedchef.biz/lynngrody Click on "Shop Online" under #1 "Already invited to a show…" enter Churchill Booster Club under organization and click on search. Click on "Shop Catalog" (You can view an interactive catalog online by clicking the picture of the catalog.) Please place your order by Fri., Nov. 30. Contact Lynn Grody, at 301-613-8184 or legrody1chef@yahoo.com if you have questions or prefer to order by phone or email.
Bulldog Fall Season Teams Compete, Win and Give to the Community!
Football was alive and well in 2012 with both Varsity and JV Bulldogs taking huge bites out of the opposition with outstanding seasons. The WCHS JV Bulldogs combined offense + defense + special teams to complete a perfect 8-0 season, the program's first since 2002! The team topped off the year with an exciting victory over the Sherwood Warriors, 28 to 13, on Nov. 3. See Sports News for complete game details. A dozen of the JV Bulldogs joined the Varsity for the Maryland 4A playoff game vs. Northwest on Nov. 9, and, with 20 seniors leaving the program this year, have likely played their last JV game. The coaches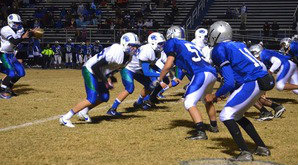 and players wish to thank the parents, siblings, cheerleaders and fans for all the help and support during an unforgettable 2012 JV Bulldog year!

The Varsity Football team also racked up a 'wow' season and defended its Montgomery 4A South crown, going undefeated for a second straight year in conference match ups. While the team ended with a 7 - 4 record overall, this year was the first in more than a quarter century that the Bulldogs have made it to the playoffs in consecutive years. With such a strong JV contingent, several of this year's Juniors returning in key positions and six sophomores having played extensively this season, look for an exciting Bulldog 2013! See Sports News for further details about the Bulldogs' impressive season.
In photo above, JV Center Eli Promisel , #66, snaps the ball to QB Nick Muscarella, #5, against Sherwood in the final game of the team's undefeated season. Photo by Bill Zonghetti.
---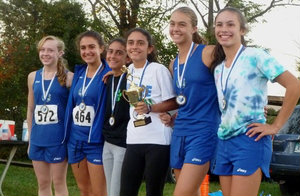 For Girls XC, congrats to Lucy Srour, WCHS top finisher Nov. 10 at the 4A State Cross Country Championships at Hereford. The sophomore finished 5th in a time of 19:55 and paced the Bulldogs to a fourth-place team finish. Chasing Lucy to the finishing chute were freshman Kathryn Wright (21), junior Breanna Boggan (22), freshman Fiona Asbury (58), junior Moraya Boggan (60), junior Jaclyn Dosik (71) and sophomore Katherine Kidney (131). Shown, above from left are: Wright, Dosik, M. Boggan, B. Boggan, Asbury and Srour after their 3rd place finish at the 4A West Regional Championships at Clarksburg Nov. 1.
---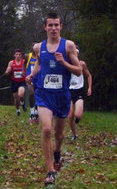 For Boys XC, Sophomore David Fitzgerald competed as an individual in the State Championships at the Hereford course. He finished 21st, capping a season in which he had run a personal best time of 15:45 with a 3rd place finish at the Regional Championships earlier in the month. The XC team also sold and donned pink headbands to raise more than $150 during Cancer Awareness month.

Fitzgerald, right, shown at Regional Championships at Clarksburg, site of the Coyote Invitational. Photos by Nancy Fitzgerald.
---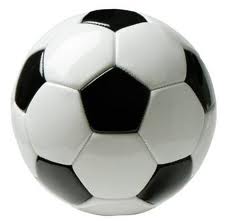 The WCHS Boys Varsity and JV Soccer teams enjoyed solid seasons this year. The Varsity team, led by head coach Arnold Tarzy, finished the season with a 7-7-1 record while playing the county's most difficult schedule. The team sported just two returning starting players, one of whom--Senior Crispin Muessle--has been recruited and signed to play for Bucknell University in 2013. Crispin was recently named second team All-State. The JV Soccer team, led by head coach Rodney Jean, finished the season with a 5-3-1 record. See Sports News for picture of graduating seniors and captains. Congratulations to the players and coaches!
---
The Varsity Field Hockey team ended their season with a 9-5 record and made it to the regional semifinal game. In 14 games, they scored 38 goals and allowed only 12. In addition, the Combined Field Hockey teams raised more than $300 for the Susan G. Komen foundation from a bake sale at one of their games.
---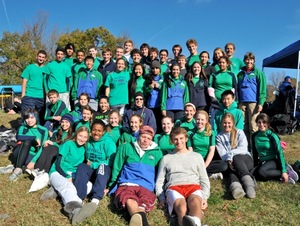 WCHS Crew wrapped up its fall season at the Head of the Occoquan at Virginia's scenic Sandy Run Regional Park on Nov. 4. Both Varsity and Novice boats competed in this 5K course against dozens of other teams from the region. The Crew also competed in three other regattas throughout the region this season, including one where Olympian David Banks (WCHS alum) cheered them one. After Thanksgiving, WCHS Crew will begin an intensive winter-long conditioning program, held at the Jewish Community Center, to train for the spring 2013 season. See Sports News for more highlights of the season. Churchill Crew shown in photo at the Head of the Occoquan, Nov. 4, 2012. Photo by Wein Jiang.
---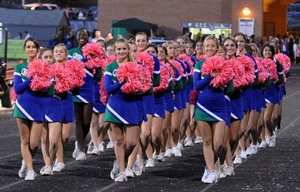 WCHS Varsity Cheer is the reigning Division I Champion and will defend that title Sat. Nov. 17 from 4-6 p.m. at Blair High School. WCHS fans with season passes are welcome to attend at no charge; otherwise, tickets are available for $5.00. Contact Parent Representative Cheryl Rhodes at crrrhodes@aol.com in order to purchase. At right, Varsity Cheer at WCHS v Wootton Game on Oct. 26. Photo by Mary Ellen Mengucci
---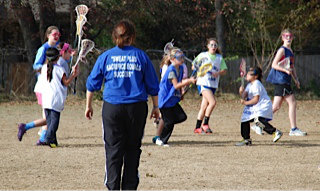 The WCHS Girls Lacrosse team, under the tutelage of new Girls Varsity Coach Jamie Frank, cultivated future players from the community with a tremendously successful "Lovin' Lacrosse" clinic for girls grades 2 thru 8 on Nov. 10.
Shown at left, Coach Frank with some of the more than 40 young LAXers who learned new skills at the clinic. Photo submitted by Deborah Schaumberg.