Community Thrives at CHS - October 2014
In Memorium - Carolyn Mattingly,
Former CHS Booster Club President
Unity in action. Varsity Football celebrates 41-0 win over WJ on September 12. The Bulldog Varsity is 3-2 with the next game on October 10 at Gaithersburg HS.
.
Photo by Bill Zonghetti.
Community support is evident everywhere at Churchill High School, and to show thanks, the Booster Club and Athletic Department are sponsoring

Community Nights

again this fall - Varsity Football on October 17 at 6:30 and Varsity Soccer games on October 20, Boys at 5pm and Girls at 7pm. Students from the Churchill cluster elementary and middle schools are admitted free to all 3 games. Giveaways and 1/2 price "Dawg Pound" tee shirts are also available to our feeder school students. Share the excitement of exciting CHS varsity sports with your friends and family!
---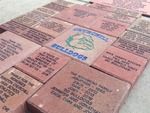 Pave the Way!
The first pavers have arrived and are ready for installation at Shepherd Stadium. Many thanks to the first paver families and businesses for kicking it off. Time to think about what to say on YOUR paver. Click here to purchase a paver.
---

Booster Club Meeting on Wednesday, October 8 at 7pm room 126.
Share your ideas and insights with this active parent group.
We look forward to seeing you!
The

Field Hockey

team has been scoring high on the field and in the community with two benefit fundraising games in the month of September. In mid-month, CHS and Wootton joined together to fundraise for Active Minds (for more information, go to activeminds.org), a non-profit founded by Alison Malmon, a former CHS cheerleader and lacrosse player who graduated in 1999. Both teams raised over $200 that will go directly to support Active Minds' various programs to raise awareness for mental health issues and suicide prevention. The Bulldogs continued their generosity on September 27 when the Varsity and JV Field Hockey teams hosted their annual "Field Hockey Sticks It To Cancer" fundraiser games. Featuring pink socks, coaches in pink shirts, and a pink-lined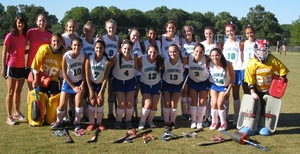 field, the girls and parents raised funds for breast cancer research and awareness. The players, parents and spectators, including the opposing RM fans, contributed to the cause.
Photo above: Moments before the Active Minds benefit game, the Wootton and Churchill Varsity Field Hockey teams unite for the cause. Photo by Cay Miller.
Photo right: CHS players "Stick It To Cancer" at their September 27 fundraiser against RM. Photo by Lisa Hanover.
With 3/4 of their season completed, the Varsity Field Hockey has team posted a 6-3 record so far. The team creates a balanced attack with passing, defense, offense and constantly improving stick skills. Even in the three losses, the team has shown grit and determination. The most recent game, on September 29, was a heart-stopping and heart-breaking OT loss to B-CC, 2-1. Jenny Langerman scored with an assist from Dani Weinberg with just 1:36 left in regulation to tie the game. Goalie Sophie Asher provided an outstanding 14 saves.
---
Coach's Corner - Mike Fisher, Golf Team
"Your Bulldogs continue their successful season as they won the District Championship on September 29 by 11 strokes over their nearest competition. The score of 291 was the lowest team total in at least 7 years. While the outcome was not a surprise due to the strength of our regular season, it was a testament to the team depth that the 4 top WCHS scores were the reverse of how the team individuals finished during the regular season."(
For more details,
click here
to read the Gazette article.)
"On October 6, the Bulldog Girl golfers set a school, county, and state record with 8 girls qualifying for the States Championship: Lena Capoccia (scoring a 79, bronze medalist), Rebecca Bartko (80), Hanna Jia (81), Eunbbie Kim (81), Joddie Zeng (86), Aine Kenwood (86), Eowyn Pak (87), and Bethany Chen (89), with a narrow miss by Christina Poerstel. The top 5 Churchill girls also qualified for the County Invitational. The 8 girls along with 4 boys will represent Churchill at States, a record 12 golfers from one school."
L to R - States Qualifiers senior Adam Gray (shooting a 75), senior Luke Schaap (73), soph Oliver Whatley, freshman Dylan Rotter (72), freshman Lena Capoccia (71), and Coach Mike Fisher.

Photo by
Dennis Capoccia.
---
Girls Volleyball Varsity and JV

have posted
an undefeated 8-0 so far this season. See the action at one of the six remaining matches.
Photo at left: Girls Varsity Volleyball Team Middle and Outside Hitter Abby Kash and Lucy Bedwei blocking against WJ.
Photo by Diana Kash.
---
Girls Varsity Soccer

beat previously undefeated WJ 6-2 on October1.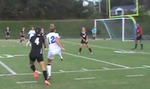 Click here

to read the description of the game from the Washington Post.
The team is currently ranked second by the WP.
Photo at right: Sarah Johnston shooting what would be her

third

goal of the night! Photo by Rena Reese
---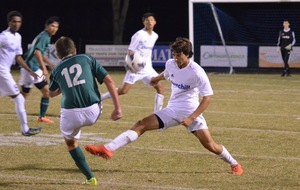 Also on October 1, the

Boys Varsity Soccer

team played Walter Johnson and scored a dramatic 4-3 victory. For more photos from the game, see the

Booster Club Website

Sports News Page

.
Photo at left: Junior Nicholas Yazdani on the tackle against WJ. Photo by Lisa Drexler.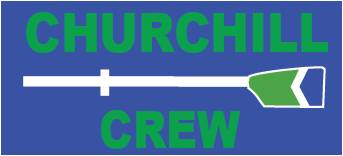 Help support

Churchill Crew

on

Oct.12 from 1 to 4 PM.

They will be holding a car wash and bake sale at Chevy Chase Acura, 7725 Wisconsin Avenue, Bethesda, MD.
Our club team is entirely self-funded; proceeds will help us purchase and maintain our fleet and enable us to grow!
www.churchillcrew.org
---
Girls Volleyball Dig Pink Rally on October 13

The Girls Volleyball teams are hosting a "Dig Pink" Rally at their matches on October 13. JV plays at 5:30pm and Varsity starts at 6:30pm with opponents from Damascus. Prizes for the "Best Dressed Pink" male and "Best Dressed Pink" female will be awarded, so dress in pink and support the teams at their games in a rally for breast cancer awareness and research funding.

To make donations in honor of our teams, see the Side-Out Foundation website at https://www.side-ut.org/cb/campaigns/campaign/9254
---
Supp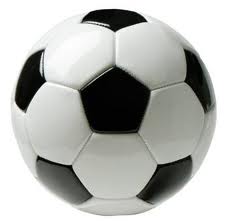 ort CHS
Boys Soccer
by going to the Potomac Village Chipotle on Tuesday,
October 21st, from 5:00pm to 9:00pm
. Bring in the flyer
(click here),
show it on your smartphone or tell the cashier you're supporting the cause to make sure that 50% of the proceeds will be donated to Winston Churchill High School Boys Soccer.
Share this event with family and friends!
Stadium Sign Team Challenge
EXTENDED! All Churchill Sports Teams: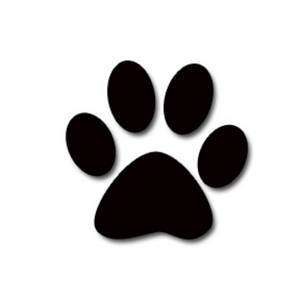 The CHS Booster Club would like to reward athletic teams for their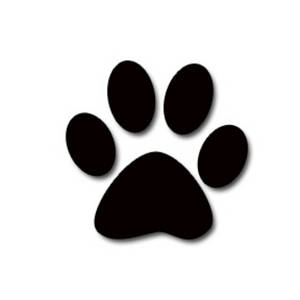 fundraising efforts.
Senior Night, Community Night and Homecoming are around the corner and the crowds are big at the football and soccer games!
To promote team fundraising during the 2014-2015 year, the Booster Club will give each sports team money for securing new stadium sign sponsors.
• If a team secures a new sponsor and payment is received for the stadium sign by

October 10, 2014,

the team will receive

$150

for its team account.
• If a team secures a new sponsor and payment is received for the stadium sign by

October 24, 2014

, the team will receive

$100

for its team account.
There is no limit to the number of stadium signs that can be obtained per team.
---
Volunteer at the Concession Stand:

We are looking for volunteers to support one of the Booster Club's biggest fundraisers - Football Concessions.
Simply visit

www.signupgenius.com

and Select Find a Sign Up and type in this email address

thesloates@aol.com

. Select concessions volunteers sign up for as many shifts as you are able. Go Bulldogs! - Questions? - email Tricia Sloate-

thesloates@aol.com
---
Volunteer at the School Store: Parents are invited to work at the school store, located on the first floor near the cafeteria, on

Tuesdays, Thursdays, and Fridays at lunch between 10:30 - 11:45am

Log into

www.signupgenius.com

and select 'Find a Sign Up.' Enter

bergmanhome@verizon.net

in the email space and select 'School Store Fall 2014.'
Questions? Contact Allyson Bergman
301-351-5794

Bergmanhome@verizon.net
Booster Club Calendar of Upcoming Events
October 8 (Wed.): Booster Club Meeting, 7pm, WCHS room 126
October 17 (Fri.): Varsity Football Senior Night and Community Night Game at 6:30pm
October 20 (Mon.): Varsity Soccer Community Night Games, Boys at 5pm, Girls at 7pm
November 5 (Wed.): Booster Club Meeting, 7pm, WCHS room 126

Booster Club Email Address, Website & Social Media