Booster News, September 2012
Greetings, friends of the WCHS Booster Club!

It's an exciting time of year with classes back in session, and our Churchill Bulldogs back on the field and on the court.
It's been a busy summer for the Booster Club in part because last winter, the Booster's board voted to approve the purchase of a new stadium scoreboard, complete with the traditional static scoreboard and, above it, a digital screen that can display videos (produced by Churchill students) and ads by local businesses and staunch Bulldog supporters. The entire scoreboard was installed last month and was live for the Bulldog football team's first game of the season, against Whitman.

The Booster Club is excited to not only help enhance the experience of all games that take place in the stadium, but to also be in a position to make this contribution to Churchill's athletic facilities. Through the hard work of volunteers and responsible spending over several years, the Boosters built the reserves needed to buy the scoreboard—one that has the capability, through digital advertising, to generate a healthy return on our investment for years to come. And we'll be able to direct the revenue it generates back to Churchill's athletic teams.
The Booster Club's work to support Churchill athletics is ongoing. We have many fundraising activities planned for the year, including our Bulldog Golf Classic, coming up on Churchill's Homecoming Day, Fri., Oct. 19. Hope you can make it. See details below.
Also, please join us for our first Booster Club meeting of the school year, on Wed., Sept. 12 at 7 p.m. in Room 126 (across from the auditorium entrance).
We are only as effective as the commitment volunteers are willing to make to the Boosters. So don't stand on the sideline; we need everyone. Get involved!


Jim Edwards,
President
Churchill Booster Club
Classic Golf and Homecoming Gridiron Combine for Maximum Fun
Make plans now to join us on

Friday, October 19th

- homecoming weekend - for the 9th Annual Churchill High School Bulldog Golf Classic at Whiskey Creek Golf Course. With no school that day, the ENTIRE Churchill golf community
—
students, parents, faculty, staff and friends
—
will be able to enjoy a beautiful day on the links,
support Churchill Athletics and then come back to the stadium for what should be a rollicking homecoming game between our Bulldogs and the Springbrook Blue Devils. Find your foursome and join the festivities!
Not a golfer or can't attend? Consider sponsoring a coach or foursome. Your entry fee entitles you to an incredible golf experience. See all the details below then sign up!
---
WHAT:
Churchill Booster Club Bulldog Golf Classic
(Open to the Entire Churchill Community)
WHEN:

Friday, October 19, 2012
7:00 a.m. Registration & Wake-Up Breakfast
8:30 a.m. Shotgun Start
WHERE: Whiskey Creek, Ijamsville, MD

INCLUDES:

18 holes of golf (shotgun start), Captain's Choice Scramble, breakfast, range balls, Bulldog Classic golf shirt, Bulldog Classic hat, beverages on the course, lunch and prizes! It will be a great outing for all!
COST:

$250 per player (special discounted rate of $175 for current students and recent graduates - limited to first 20 spots)



REGISTRATION:

To register

link here

for easy online options
CONTACT: For additional information about this event . . . or to sponsor a coach, a foursome or the 9th Annual Golf Classic, please contact Churchill Booster Club Committee Golf Classic Chair Wayne Arden at waynearden@verizon.net.
Proceeds benefit the Winston Churchill High School Churchill Booster Club.
Link here for a virtual tour of the
Whiskey Creek Golf Course
.
Join the Club! Online Membership Drive
Booster Club membership has never been easier! Click here for online Booster Club membership registration. Membership levels for the 2012-13 school year are:
$500 Platinum Bulldog (See Details Below)

$200 Gold Bulldog (Receive a Free Bulldog Cooler!)

$100 Silver Bulldog (Receive a Free Bulldog Umbrella!)

$40 Friends of Bulldog Sports (Receive a Free Decal!)
NEW FOR 2012-13! The new PLATINUM BULLDOG pulls out all the stops. You will be treated to ALL THE ABOVE FREE GIFTS, 2 Free Seat Cushions PLUS PREFERRED GAME SEATING & PARKING! If that's not enough, how about a free hot dog or slice of pizza and a beverage at each home game where concessions are served? We'll also take your picture with our official Bulldog Mascot, Freddie the Bulldog!
Boys' Varsity Soccer : A Stellar Start
Churchill Boys' Varsity Soccer had a great start to their season when goalkeeper, senior Eli Tobias (wearing black), denies Georgetown Prep a goal during the team's season opener on home turf on Saturday morning, Sept. 1.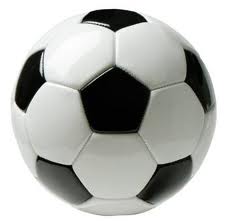 Churchill went on
to beat the Hoyas 2-1 then
defeated Mt. St. Joseph's that night at Whitm
an, 1 - 0, securing the team's second win of the day. All in all, this was a great start to the season.
Photo by Mary Ellen Mengucci
Cheerleaders Give Football Team Pre-Season Spirit
Varsity Cheerleaders, on the eve of the team home opener against Whitman, packaged and delivered cookies to homes of all Varsity football players. Great support even before the first down!
Photo submitted by Kelly Lavery
Concession Stand and School Store Volunteer Opportunities
Parents – here's a great way to support the Booster Club and our student athletes: work the concession stand for home football games! Chip in to serve food and meet new people and have fun as a bonus! The time commitment is typically 5:30 pm – 8:00 pm. Sign up by going to www.signupgenius.com and select Find a Sign Up. Enter bergmanhome@verizon.net in the email address field, and the sign up for JV Parents to work Concessions at Varsity Games will be listed. The link is http://www.signupgenius.com/go/20F0F45A5A87-jvparents. We appreciate any and all help and the games are exciting! Questions? Please contact Allyson Bergman – bergmanhome@verizon.net
---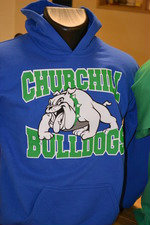 Attention Parents – Looking to volunteer? Sign up to work in the Churchill School Store! This is a great way to get involved and it does not require a lot of time. Click this link
http://www.signupgenius.com/go/20F0F45A5A87-churchill1
that will take you right to Sign Up Genius to volunteer for the store or log into
www.signupgenius.com
and select "Find a Signup" and enter my email address
bergmanhome@verizon.net
. Thank you for your support,

GO BULLDOGS!
---
In addition to volunteering, remember you can support our Bulldogs by shopping for spirit wear. Can't find exactly what you need in the school store? No problem! Try our online store,
www.fieldhouse.com/churchill
. This is a great site to purchase an even
wider variety of spirit wear and gift items, including gift cards and outerwear.
Questions? Contact Allyson Bergman at
bergmanhome@verizon.net
.
Stadium Sign Team Challenge
Attention All Churchill Sports Teams: Does your team need some extra cash for team expenses? Check out the Stadium Sign Team Challenge! It is a great way to raise money: just find a brand NEW Stadium Sign Sponsor by certain target dates and the Booster Club will give your team account some cash. It's that easy! Click here to read the flyer and then spread the word. We appreciate all the support of our athletes and their families! GO BULLDOGS! Questions? Contact Allyson Bergman at bergmanhome@verizon.net.
Fall Season Sport Passes For Sale Online
The fall season is now underway but there's still time to ensure your seat at every home game! Fall Season Sport Passes for home stadium games will be sold online ONLY this year! Avoid the ticket line and the expense at entry by ordering your passes right now! Just follow the easy instructions at the Booster Club's Online Spiritwear Store. The passes will be delivered directly to your home. If you attend a game before your ordered pass arrives in the mail, please bring a copy of your receipt or a driver's license to the stadium for verification. Click

here

to order passes.
Booster Club Calendar of Upcoming Events
September 12 (Wed.): Booster Club meeting, 7 pm, WCHS room 126
October 10 (Wed.): Booster Club meeting, 7 pm, WCHS room 126
October 19 (Fri.): 9th Annual Bulldog Golf Classic, Ijamsville, MD., 8:30 am shotgun start
Booster Club Email Address, Website & Social Media