The Bulldogs have a new family member!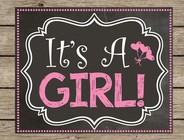 Congratulations to Athletic Director Jesse Smith, wife Danielle, and Big Sis as they welcome home a new baby girl!
In This Issue
What to Know....
1. Winter Schedules
2. Fall Soccer, Football, Field Hockey, Cross Country, and Volleyball Wrap-up
3. Winter Sports News
4. 2018 Booster Club Gala Information
5. School Store - new items
6. New Baseball Dugout
7. Booster Club Membership
8. Ways to Support our Student Athletes
8. Sponsorship Opportunities
9. Where Do Your Booster Donations Go?
10. Athletic Department Website
11. Weight Room Equipment Needed
12. Upcoming Booster Club Meetings
---
1. Winter Schedules
(Support the boys team at a fundraiser on December 19, 5-9pm, at Chipotle in Potomac Village)
For complete highlights on all things sports and to read about our student athletes, please go to www.churchillathletics.com.
Click here
to see photos/results of all teams.
---
2. Fall Soccer, Football, Field Hockey, Cross Country, and Volleyball Wrap-up
Boys Soccer
The team finished the season with a record of 12-3-0 and earned the #1 seed in the region. They fell in the third round to eventual State Champion BCC.
Darius Siahpoosh was the area's leading goal scorer with 22 goals scored in only 13 games. He had 4 hat tricks during the season.
Darius received many post-season honors:
First team Washington Post All-Met
First team All-State voted unanimously.
First team All-South USA
First team All-County
Montgomery County All-Star
Montgomery County Player of the year
Darius Siahpoosh, Joel Assai, and Sam Spencer were selected to represent Churchill in the Montgomery County Senior All-Star Game which took place at the MD Soccerplex Stadium on Monday, November 20th.
Girls JV Soccer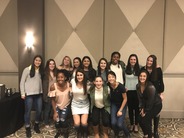 The Girls JV Soccer team celebrated a winning season under new coach Monica Tarzy. The girls went 5-2-2. Offensive MVP award went to Alex Primich (fr), Defensive MVP to Natalie Leventhal (so), the Bulldog Awards went to Lia Pappageorge (so), Mary James (fr), and Lauren Redwood (so). Most Improved Player this season was earned by Annika Hando (fr). Way to go!
Football
The Varsity football team ended the 2017 season with a 5 - 5 record. Our football team is making great strides to become a playoff team for 2018 season. Our student athletes are committed to working hard during the off-season workouts, wiith the help of our experienced coaches, our team understands what it takes to be winners and we look forward to next season. Some players to mention are:
Churchill Bulldogs All-county players:
1. Andrew Welch TE - 2nd Team
2. Fio Tranquill DL - 2nd Team
3. Lucas Bautista K - 2nd Team
Honorable Mentions:
1. Issac Lewis RB
2. Patrick Richardson LB
3.
Michael Janis
QB
Varsity Field Hockey
The varsity field hockey team ended the 2017 season with a 15-1 record and made it to the state tournament for the second year in a row, losing 3-0 in the state semis to eventual state champions South River. They ended the season as repeat division champs and regional champs, and they haven't lost a game to a Montgomery County opponent since 2015. Postseason recognition was recently awarded to senior midfielder Faith Kean (All-State second team, All-County first team, All-Division first team), junior forward Alexandra Sperling (All-State honorable mention, All-County first team, All-Division first team), senior defender Martina Rabade (All-County first team, All-Division first team), junior forward Regan Solomon (All-County second team, All-Division first team), senior goalkeeper Juliet Twomey (All-County second team, All-Division second team), and sophomore midfielder Lucia Alem (All-Division second team).
Cross Country
The cross country team had another great season with the girls coming home with a 6th place at the Maryland 4A high school championship and the boys finishing 10th. A few of our select runners went down to North Carolina for a season-end meet.
Girls Volleyball
Big congratulations to four Churchill Varsity players who were named to All County 2017 Girls Volleyball Teams! Churchill's varsity team ended a strong season with a 17-6 record and a deep run into the 4th round of the play-offs. The four nominees are Michelle Tai- 1st Team, Nadia Hedayat -2nd Team, Serena Xu - 2nd Team, Grace Xia - Honorable Mention
---
3. Winter Sports News
Girls Basketball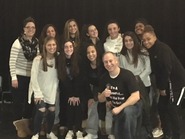 Varsity Girls Basketball with Hypnotist and Comedian Marc Hausman. Marc performed on Friday 12/1 to help the girls team fund raise for the upcoming season. For more on Marc and the powers of hypnosis, visit http://hypnoticfun.blogspot.com/2017/11/.
To see some basketball that will blow your mind, come out and see the girls play this season! Click HERE for the varsity schedule.
Wrestling
The Bulldog Wrestlers opened the season with a Varsity win of 79-0 and JV win of 48-0 over Wheaton last week. On Saturday, the Varsity kept up the momentum with a 79-0 over Rockville.
---
4. 2018 Booster Club Gala


Join Churchill parents and coaches for a night of good food and drinks at the Annual Booster Club Gala on February 3, 2018 at Bar Louie in Rockville to help raise money for Churchill Athletics. It promises to be a fun time with lots of tv screens to watch pre-Superbowl hype! Buy tickets and get more info on our website at
churchillboosterclub.org
.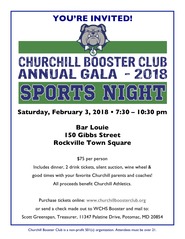 Be a Corporate Sponsor at the Gala
The Booster Club Gala will have corporate sponsorships available for $100 each. Each sponsor will have its company name and logo added to the official gala bannerstand that will be displayed during the event.
---
5. School Store - New Items
Pick up a gift for the holidays
Stop by the School Store Tuesdays, Thursdays, and Fridays between 11:10am-12:00pm to see our new inventory!
The best way to see the new inventory is to
Volunteer in the School Store!

Support the Booster Club, meet new people, and get a glimpse of the students during the school day by working in the Churchill Fan Store. New volunteers are always welcome!
---
6. New Baseball Dugout
Check out our new dugout
Installation was completed a week ago, and the batting cage will be an excellent addition to the newly painted and furnished dugouts from last season, along with improvements to the newly rebuilt pitchers mound and bullpen area.
---
7. Booster Club Membership
Please Join Now!
It's not too late to support Churchill Athletics by joining or renewing your Booster Membership for the 2017-18 school year.
100% of the money
raised supports your student athletes and the WCHS sports programs. Click the link below for easy-on-line registration.
Teams which reach 100% membership receive $250 back to their team.
Congratulations to the following 9 teams which hit 100% membership status:
JV Field Hockey, Girl's Varsity Soccer, Poms, Boy's Varsity Soccer, JV Girl's Soccer, JV Girl's Volleyball, Varsity Field Hockey, Varsity Girl's Volleyball, and Golf. Thank you for reaching 100% membership!

Please Join here:
Membership Levels & Gifts
$40 – Friends of Bulldog – New Bulldog Car Magnet
$100 – Silver Bulldog – Insulated drawstring bag + Car Magnet
$200 – Gold Bulldog – Bulldog fleece blanket + insulated drawstring bag + Car Magnet
$500 –
Platinum Bulldog – Best deal yet-- ALL the above gifts +
an
ALL SEASON SPORTS PASS
(valued at over $100) for all regular season home games +
PREFERRED STADIUM PARKING
at home football games + a canvas sideline chair. Also receive a free hot dog and drink at each home game where concessions are served!
---
8. Ways to Support our Student Athletes.
In addition to joining the Booster Club, parents and businesses have sponsorship opportunities and other ways to support our athletes:
Stadium Banner Advertisement
Need a way to promote your business, support Churchill athletes, or both? Advertise your business with a sponsorship banner prominently displayed in the Stadium. The Stadium is open to the public all day and night and what better way to promote your business. Help your athlete's team as well - your team receives $150 for each banner the team secures. Contact jrosen922@aol.com or go to
www.churchillboosterclub.org/advertising
for more information.
Leave a mark permanently at WCHS with a concrete Paver!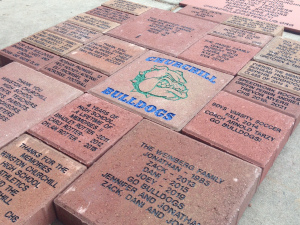 Purchase an engraved paver with your student's name, sport, graduation date, family alumni or more.
---
9. Where Does the Booster Club Money Go....
Check out our list....
Click below to see the Booster Club list of "Where Does Your Money Go" and see all the ways that your generous donations help support WCHS athletes and sports programs.
---
10. Athletic Department Website


Remember to visit the Athletic Department's new website for all our Bulldog teams! You'll find news, schedules, scores, forms, photos and much more at
www.churchillathletics.com
.
---
11. Weight Room Equipment Needed
Please donate if you have.....gently used treadmills, ellipticals, bikes and weights.
The Booster Club is helping to improve the WCHS weight room. The weight room is open to all students and used by many of our student athletes and teams. We are looking for:
treadmills, ellipticals, bikes, and weights. We will pick up from your home. Please contact Brian Arnold at Badesignbuild@gmail.com or (202) 415-2147

---
12. Booster Club Meetings
Everyone is welcome and encouraged to attend our monthly meetings. They are always held at 7:00pm in Room #114. The more, the merrier, so please come!
January 10, 2018
February 7, 2018
March 7, 2018
April 11, 2018
May 2, 2018
June 6, 2018
---