Booster News, August 2011
Dear Booster Friends,

It's been a busy summer for the Churchill Booster Club and we're happy to update you on our progress and growing organization
. This issue of Booster News has important information on Fall Sports Try-Outs, the Fall Sports Night meeting, Booster Club Membership, our new Online Spiritwear Store, Season Sport Passes and much more.
Our combined
support of WCHS student-athletes and Bulldog sports is more important than ever as athletic programs across the MCPS system face continued cuts to their budgets. What can you do? Fill out a Booster Club membership form, support our fundraisers, volunteer to help us help our athletes, "Like" us on Facebook, and read our e-newsletters to stay in-the-know about everything Boosters. I look forward to meeting many of you and working with this dynamic group of Boosters during the upcoming 2011-2012 school year.

Wayne Cohen
President, Churchill Booster Club

It's Booster Membership time of year again! Show your support of the Churchill Booster Club by joining or renewing your Booster Membership for the upcoming 2011-2012 school year. Get your membership registration form today and beat the crowds at the Fall Sports Night Meeting (happening in the WCHS auditorium on Monday, August 29th, at 7 p.m., the evening of the first day back at school).
Your Booster Club Membership and annu
al dues are critical components to our success and they allow us to support your student-athletes and WCHS athletics. What's more,
membership in the WCHS Booster Club
keeps you in the loop on important Booster news and events. Click here for a membership registration form now so you have one less form to fill out at the start of the school year.
$35.00

Friends of Bulldog Sports

- Receive a free decal
$100.00

Silver Bulldog

- Receive a free Bulldog Tote Bag
$200.00 Gold Bulldog - Receive a free Bulldog Golf Umbrella

Churchill Booster Club
Monthly Meeting Schedule 2011-2012
Held at WCHS in Room 126, beginning at 7 p.m.
September 14th (Wednesday)
October 12th (Wednesday)
November 9th (Wednesday)
December 5th (Monday)
January 11th (Wednesday)
February 15th (Wednesday)
March 14th (Wednesday)
April 11th (Wednesday)
May 11th (Wednesday)
June Meeting (TBA)
3. Bulldog Golf Classic A Huge Success!
More than 80 golfers joined us on August 10th—a picture-perfect day on the links— for our 8th Annual Bulldog Golf Classic. The event—traditionally our largest single

annual fundraiser, was an overwhelming success, bringing in over $24,000. The Booster Club wishes to thank the entire planning committee, all of our golfers, sponsors, Booster donors, coaches and the many volunteers who staffed the event.
A special thank you to Mark Green, the Booster Club's immediate past-president. Mark graciously agreed to stay onboard and oversee this event and his dedication to this Golf Classic was again critical to its success. The Winston Churchill Booster Club applauds Mark for his hours of planning and work on this tournament, along with his dedication to and guidance of the Booster Club for the past two years. Thank you Mark!

Thank You to the Generous Sponsors
of the 8th Annual Golf Classic:
Ken & Jill Brodkowitz
Century Distributors, Inc.
Chevy Chase Acura
Criswell Auto
Goldman Sachs (Bill Lewin)
Morgan Stanley (Steve Schaeffer)
Looking for a hoodie, baseball cap or pair of shorts sporting the

Churchill logo? Bulldog Spiritwear is now available 24-hours a day via the Booster Club's new Online Spiritwear Store! Browse through hundreds of items, then choose the colors, sizes and styles you want. Order your spiritwear now and have it delivered directly to your home.

Take advantage of our Back-to-School Specials this month. Save 10% on all orders purchased between August 15-29! Items are available for men, women, youth—even toddlers and babies. Order one item or order in bulk! Churchill teams can order practice jerseys, warm-ups or other items and customize everything to their sport. Discounts are available for bulk orders, too. See the Churchill Online Spiritwear Store for additional details about bulk orders.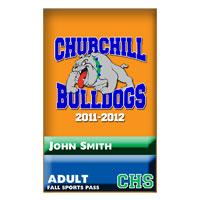 Don't forget your Season Sport Pass. New this fall, Churchill sports fans should purchase all Season Passes from the Online Spiritwear Store. Click on the sample pass to the left and follow the easy steps to order Adult or Student Passes. Your pass will be mailed to your home address. (Please bring a copy of your receipt or your driver's license to any game you attend before your pass arrives in the mail).

Students, parents and staff can also purchase Churchill Spiritwear everyday at lunch during the first two weeks of school (Room 157 near the gym and cafeteria), or at Falls Sports Night (8/29), 9th Grade Parents' Night (8/30), and 30 minutes before and after Back-to-School Night (9/11).
Need a way to promote yo
ur business, supp
ort Church
ill athletes, or both? Bulldog Boosters has ju
st the answer:
advertise your business with a sponsorship banner prominently displayed in our stadium or baseball field. The Banner Sponsorship Program is a great way to promote your business throughout the greater Churchill Community. What are you waiting for? Let us help you score the goals and homeruns your business needs.
Your banner is dedicated to your business w/ the company logo on

banner

Your banner will be visible during the sports seasons

Your banner is white with 2-color artwork and 3 ½' x 8' in size. Big!

Your banner is placed along the fence line at the stadium field or the outfield of the baseball field
Bulldog Boosters are really cookin' now! Join the fun and place your order for the WCHS Booster Club Cookbook. Filled with fabulous family recipes, local restaurant recipes (including Normandie Farm's popovers), and recipes from farmers at the Potomac Village Farmer's Market, "The Dawg Pound Kitchen" cookbook is a must-have. It makes a great gift for recent graduates, for WCHS alumni
, for the upcoming holiday sea
son, and more. Please see ordering information below.
Cookbooks are $20 each. Checks should be made out to: SSI (the company publishing the book). Throughout th
e summer, the Booster Club will personally deliver all orders within the Winston Churchill High School boundaries. Invite your friends and family to get cookin' t
oo.
Send all Bulldog Booster Cookbook checks to:
(For out-of-town family and friends, the cookbook can be purchased online at: https://www.createspace.com/3365402 or at Amazon.com. Please note, however, the Booster Club receives less profit from online sales. If you do need to order online, the Create Space website provides Booster Club with more profit than Amazon).
Looking for a way to make a huge impact on WCHS Booster Club fundraising efforts? PLEASE consider taking on the role of Concession Stand Coordinator for the 2011-2012 school year! Better yet, ask a friend to work with you so you can coordinate the Beloved Beast together.

Yes, we know it's a big commitment, but the concession stand also provides much-needed funding to the Churchill Booster Club's annual fundraising budget... and there's no more direct way than concessions to support our WCHS student-athletes. Send us an e-mail so we can begin a Bulldog Brainstorm session—with you and your cohort—about this VERY important role! Please contact us at our new email address: info@churchillboosterclub.org
8. Digital Sign Buy-A-Tile Opportunities
Make your experience at Winston Churchill High School a permanent memory.

Now you have the opportunity to commemorate that experience by purchasing an engraved tile sporting your name, a student's name, family alumni members' names, and more. With an initial contribution from the Class of 2009, and collaborative commitments from the PTSA, Churchill Booster Club and Music Departments, WCHS will be installing a Digital Sign to improve communications with our community. This Digital Sign will be installed in a new Celebration Wall located at the corner of Tuckerman Lane and Gainsborough Road. For a flyer and registration form, click here.
Coming Soon: more news on our athletes, sponsors, website & events!
Please help us get Churchill Booster News out to Bulldog supporters. Know a Booster fan who should be receiving our news? Need an e-mail address added to our mailing list? Interested in sharing news about Churchill student-athletes? Contact us at our new email address: info@churchillboosterclub.org
And don't forget to click here to "Like" us on Facebook: