December 2014 - Sports Excitement Continues!
Pavers-Stadium Turf Founders Club-Commmitment Day-Winter Sports Night- Membership Drive-XC-Cheer-FH-Swim&Dive-Turkey Bowl-Ice Hockey-Crew and More!
Paver News - Paver Field at Shepherd Stadium Entrance
Shepherd Stadium now features a dramatic paver-lined entrance. Many thanks to the outstanding families, individuals and businesses who have already purchased a paver. At holiday time, take a moment to honor a friend, family member, team or coach from your time at CHS. Just

CLICK HERE

to be taken to the paver website where you can compose the message to be engraved on your paver and submit your order.
Let everyone see your Bulldog Pride!
Stadium Field Founders Club - Gift before Year-end!

The Stadium Turf Field Founders Club is the fundraising arm of the Churchill Booster Club dedicated to funding the construction of a state-of-the-art synthetic turf field at Shepherd Stadium at Danver Field.Two outstanding local partners have taken on the bulk of the funding: Bethesda Lacrosse and Potomac Soccer. Churchill Booster Club is in need of immediate community support from businesses, families and individuals for the remainder of the funding. All donations in excess of the turf funding will be applied to additional stadium refurbishment.
The field has been approved by Montgomery County Board of Education and is in the engineering phase. It is scheduled to be installed by Fall 2015.
Each Founders Club contributor be recognized on a bronze plaque at the stadium entrance.
Be a permanent part of the Churchill legacy while you support this vital project.
For more information, contact
Bill Leonard 301-529-2080 bleonard4@comcast.net or
Arman Moshyedi 301-221-9480 amosh@aol.com
Winter Sports Night & Membership Drive
Monday, December 1, 7pm Main Gym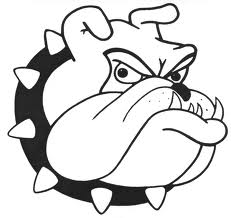 All

parents of winter sports athletes

should plan to attend this meeting with coaches. If you join Booster Club by Sunday, Nov.30 online, your membership gift will be available at the meeting.

CLICK HERE

to go to membership page. Already a member? Follow Booster Club on Facebook and Twitter for a chance at a prize-filled Bulldog bag.

CLICK HERE

to check it out.
Congratulations to these senior athletes who confirmed
commitments to schools for next year:
Kali Becker – Diving, University of North Carolina, Chapel Hill
Sara Chang – Volleyball, Oberlin College
Louis Dubick – Lacrosse, University of Maryland, College Park
Elaina Gu – Swimming, Princeton University
Julia McDermott – Track and Field, College of William and Mary
---
Thanks to the Cross Country coaches - Paul Jacobson, Scott Silverstein, Dave Warren, and Susan Pereles - and a dedicated team, Churchill Cross Country had a very successful 2014 season. XC successes were won both at the team level and the individual level. After winning Boys and Girls Varsity Divisionals, both the Girls and Boys achieved 3rd overall in 4A West Regionals. Individual performances were highlighted by Lucy Srour and Julia Reicin taking 2nd and 9th respectively, with David Fitzgerald and Arturo Woodward-Montes taking 10th and 11th respectively. At States, the Girls had their best performance in 15 years achieving 3rd overall, with exceptional individual performances by Lucy Srour taking 3rd and Julia Reicin taking 12th. The Boys returned to States for the first time in three years, garnering 7th place overall, with a great individual result by Arturo Woodward-Montes finishing 20th overall.
Senior Captain Lucy Srour made All-Gazette first team and Senior David Fitzgerald, Senior Arturo Woodward-Montes, and Sophomore Julia Reicin made All-Gazette Second Team. And it has been announced that David Fitzgerald has verbally committed to Temple University for Track and Field.
There is a bumper crop of upcoming underclass runners to join next year's Seniors. Look for the XC team to keep the momentum and have another great season in 2015!
Photo: Lucy Srour and Julia Reicin display their State medals. See more XC photos in Sports News. Photo by Scott Silverstein.
---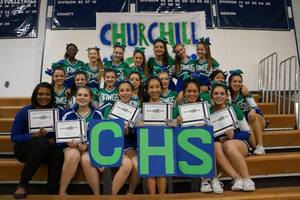 The CHS

JV Cheerleading

team wrapped up another successful season! The team brought home 6 awards from the JV Cheerleading Exhibition; Best Overall (3pete), Best Choreography, Best Motions, Best Crowd Appeal, Best Pyramid, and Best Partner Stunts. The team is made up of 21 hardworking girls and was led by captains Rachel Yi, Emma Margolis, Chloe Myers, Kerry Murphy, and Julia Wang.
Photo above: JV Cheer celebrates at the Cheerleading Exhibition. Photo courtesy of Jasmine Sutton.
---
The CHS Varsity Cheerleading team (32 members strong) had an eventful fall season. Along with supporting their sports teams, Varsity Cheer partnered with Macy's to perform for a fundraiser benefiting March of Dimes, seniors guest-hosted the Top 7 at 7 on DC's 107.3 and put on their 1st annual 'Mini Spirit Camp' with Poms, where they raised over $5,000. The team also delivered a solid performance at the 27th Annual MCPS Cheerleading Championship where they secured their spot in Division 1.
In keeping with their mission to support our school, athletics and community, Churchill cheer will partner with Jobs Unlimited, Inc. & Lakeforest Mall to provide holiday gift wrapping to mall patrons on Saturday, December 20th and Sunday, December 21st from 1 – 7pm. Proceeds will help raise awareness about mental illness and help to keep people with mental illnesses employed. The team will also be preparing for its second competition hosted at Paint Branch High School in January.
---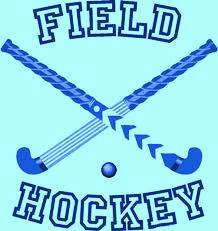 The girls Field Hockey team completed a very successful season in late October, which unfortunately ended in a second-round playoff game loss to Wootton. The team displayed exceptional balance throughout the season. While they truly played as a "team," several of our Bulldogs were recognized with individual honors:
Senior Carly Kabelac was selected to the first team all-county and all-Gazette teams; junior Annie Moshyedi was selected to the second team all-county and honorable mention All-Gazette teams; senior Sophie Ascher and sophomore Jocelyn Kelley were selected as honorable mention All-County picks. Congratulations girls! We can't wait to see our field hockey Bulldogs in action next year.

---
The

Swim and Dive team

is looking forward to an amazing season for both girls and boys teams, thanks to its talented group of athletes.
While former coach Brendan Roddy, whose tenure was marked by hard work, enthusiasm and leadership over three years, will be missed, the team welcomes new coach Christopher Tappis. He was a Division I swimmer at the University of Maryland and brings a great deal of experience and enthusiasm to CHS Swim and Dive. Come share the excitement!

Photo: Swim and Dive Captains at first Team Dinner Left to Right: Chris Cochran, Colton Neubauer, Coach Tappis, Rachel Caplan, Kali Becker (not pictured: Elaina Gu). More photos in

Sports News.

Photo by Lisa Caplan.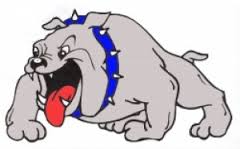 Schedule:
12/6 Whitman, 11:30 am, Kennedy Shriver Aquatic Ctr
12/13 Blair, 12:00, MC – Takoma Park Campus
12/ 20 WJ, 9:15am, Kennedy Shriver Aquatic Ctr
1/10 RM 11:30am, Olney Aquatic Ctr
1/17 Wootton, 9:15am, Kennedy Shriver Aquatic Ctr
1/24 Northwood, 9:15am Germantown Indoor Swim Ctr
1/31 Swim and Dive Divisionals, Division I, 7:30am, Germantown Indoor Swim Ctr
---
Varsity Boys Soccer

took on its illustrious alumni in the

38th Annual Thanksgiving Day Turkey Bowl

game. Congratulations to the alumni for a great performance. Cue up the ibuprofen and Thanksgiving dinners after showing skills and burning up calories. Photo at left: Junior Neil Garg takes on a fast-moving alumnus. See more photos from the game in

Sports News

.

Photo by Lisa Drexler.





Announcing: Volleyball Conditioning Program




CHS Volleyball conditioning

runs every Monday starting

December 1st

from 3:30-4:30. Workouts will be led by Boys Coach Erika Eastham. Details on

flyer

. No fee. Please direct questions to

eeastham1234@gmail.com

.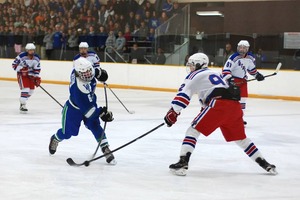 The Churchill Ice Hockey club is off to a mixed start.The Varsity 1 Squad has opened with an impressive 3-0 League Play record (currently first place in their division).They began the season on Nov 7 against Whitman with a 10-0 shutout. Marcus Hurd, supported by the defensive squad, turned away just 9 shots on goal. Jacob Arden's first period goal was followed by goals from Chris Barber, Philip Satin (Power Play), Justin Vagonis and John Taylor. Jacob Arden and Mark Weinstein had one goal apiece in the second period, followed up by back-to-back goals from Ross Allen. Jacob Arden finished the game with the last goal in the third period. PHOTO ABOVE: Trevor Dixon, making a slapshot against Wootton in 6-1 win. Photo by Paige Taylor.
On Nov 12, the Bulldogs played an emotional non-conference game against longtime rival Gonzaga. This was their first meeting since the tragic death of Gonzaga Senior and star center, Dom Pettey. Many of the CHS players knew Dom and played with him on travel teams for several years. They began the game with a brief tribute to Dom then went on to lose a hard-fought contest by a score of 3-2.

The Varsity 1 (V1) squad faced off against Wootton on Nov 14 and came out on the winning side with a 6-1 victory. A week later, V1 beat Sherwood with an 11-0 shutout. Goalie Kendall Wong turned away 5 shots on goal.

The Varsity 2 (V2) squad has posted a 1-1-1 record against teams in a very strong conference. Their season opener against Walter Johnson ended in a 2-2 tie. Zachary Jacobs scored the two goals for the Bulldogs in the first period, but WJ rallied in the second period, posting two of their own. A week later, the V2 squad skated past RM for a 4-2 win. Four different players scored, with Alexander Abraham and Anand Chandrasekhar getting goals in the first period, Zane Begun with an unassisted tally in the second period, and Aidan Martin slamming the door shut in the third.

The V2 team fell to BCC on Nov 21, with a 4-1 loss. The lone Bulldog goal was tallied in the third period by Adam Rosenbaum. But they have high hopes when they face off against Wootton on Friday, Dec 5 at the Rockville rink at 8:50 pm.

The Junior Varsity squad is working hard to get their skates a little sharper on the ice. They started the season on Nov 7 with a 1-1 tie against Maryland State rival Atholton, but fell short of wins in their successive games against BCC (6-0 loss), Gonzaga (3-0 loss) and Urbana (a close 2-1 loss). They are learning how to play in a tough league and are looking to improve on their record as the season progresses.

ALL Churchill Students, Teachers and Alums are encouraged to come out and root for your favorite squad. You can find the entire season schedule at the Churchill Ice Hockey club website, http://www.churchillhockey.club
---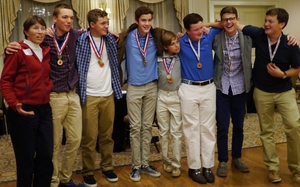 Churchill Crew wants you! Time to join Churchill Crew! They are looking for dedicated young men and women to be part of this amazing sport. Give it a chance and you will find that Crew isn't just about rowing – Crew builds character, sharpens focus, creates opportunities, and enhances life skills. Winter workouts are just getting started. Visit www.churchillcrew.org or contact dorothy.ingalls@marriott.com.
Photo: Medalists in the Novice Boys events at the Head of the Anacostia and the Head of the Schuylkill (which had over 2,000 competitors). Left to right: Coach Cindy Cole, Adam Wathieu, Briggs Clarke, Kevin Case, Ethan Snider, Taylor Stansbury, David Papermaster, Adam Albert. Photo by Eric Berger.


NEXT Booster Club Meeting on
Wednesday, Dec. 10 at 7pm at CHS room 126.
Support Churchill athletics. Over 50 teams - we support them all.
---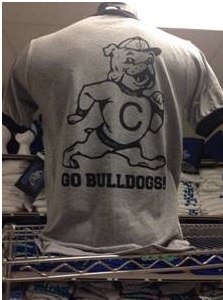 Great holiday gift - It is the 50th Anniversary of Winston Churchill High School and the Booster Club is proud to unveil the commemorative t-shirt.
Please visit the school store and get yours today!
Go Bulldogs!
Volunteer at the School Store: Look for the new 2015 sign-up dates on December 5!
Parents are invited to work at the school store, located on the first floor near the cafeteria, on
Tuesdays, and Fridays at lunch
between 10:30 - 11:45am
Log into www.signupgenius.com and select 'Find a Sign Up.' Enter bergmanhome@verizon.net in the email space.
Stadium Sign Team Challenge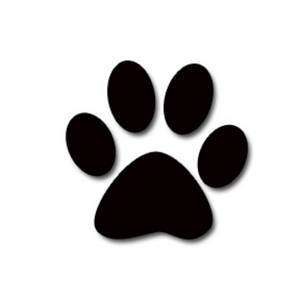 The CHS Booster Club would like to reward athletic teams for their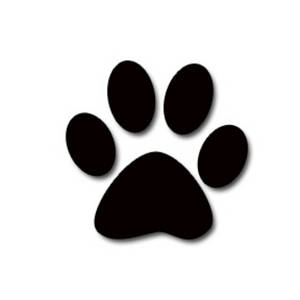 fundraising efforts.
To promote team fundraising during the 2014-2015 year, the Booster Club will give each sports team money for securing new stadium sign sponsors.
• If a team secures a new sponsor and payment is received for the stadium sign, the team will receive

$100

for its team account.
There is no limit to the number of stadium signs that can be obtained per team.
Support Boosters - Quick Links!
Booster Club Calendar of Upcoming Events
December 1 (Mon.): Winter Sports Night for parents, 7pm, WCHS Main Gym
December 10 (Wed.): Booster Club Meeting, 7pm, WCHS Room 126
January 7 (Wed.): Booster Club Meeting, 7pm, WCHS Room 126
Booster Club Email Address, Website & Social Media