Welcome to the Newest Bulldogs!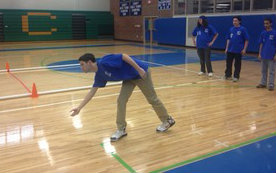 The WCHS
Varsity Bocce Ball

team takes to the boards in its in
a
ugural season. Pictured at right, WCHS
senior Michael Abrahams follows through on
a shot as he prepares for the Bulldogs
'
first-ever bocce match at home on Jan. 10. The Bulldogs beat Whitman and improved to 2-2 in the program
's
inaugural season. Bocce is a new varsity sport being offered at Churchill and several other Montgomery County schools to provide opportunities to a more diverse group of students. P
lease
click here
to read more about bocce in a recent Washington Post article. Photo by Jim Edwards

Winter Sports Teams Sizzle!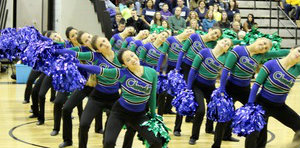 The WCHS Poms' dance and athletic skills were on great display as the squad placed 1st in choreography and 2nd overall in the Northwest Poms Invitational on Jan. 5 at Northwest High School. The Division 1 County Invitational pitted the 17-member WCHS squad against five other Division 1 Pom squads. Victory was particularly sweet for the WCHS Poms as they had competed but not placed in this invitational in the last few years. Photo by Jacquelin Zimmerman
---
The Churchill Ice Hockey Club is in first place and well on its way to regaining its position as 2011 state champions with a 9-2 record in league play so far this year.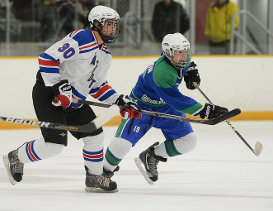 One of those victories was a 7-3 win over Whitman in a capacity crowd at Churchill as the Washington Capitals high school game of the week. The Churchill club, led by senior captains Zachary Arden, Zachary Satin and Connor Martin, is in the top 5 in the Washington Post rankings of the top high school ice hockey teams in the region and has been the highest ranked public school team. At right, junior righ wing Brandon Levenson does his part to secure the Dec. 4 game-of-the week victory. Please see Sports News for more club highlights. Photo by Paul Lai
---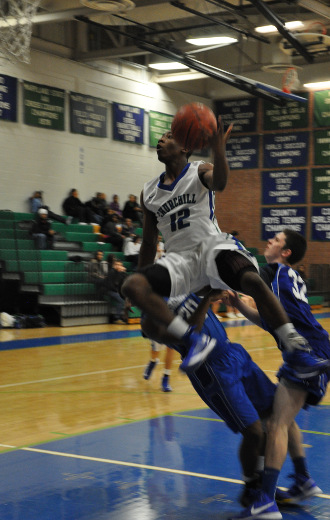 The WCHS Boys Varsity Basketball team, currently 9-3 overall, is now locked in a three-way, first-place tie with Walter Johnson and Whitman in the Montgomery County 4A South division. Juniors Malik Harris (16 points) and Allen Njumbe (16 points/10 rebounds), along with sophomore Jesse Locke (16 points and four 3-pointers) led the Bulldog attack for the Jan. 11 win against Walter Johnson. At right, WCHS junior Allen Njumbe (number 12) is going up for three-point play during the home game Dec. 11 vs. Gaithersburgh. Njumbe scored 20 of the team's points during the 66-36 victory. Photo by Mary Ellen Mengucci
---

The WCHS Girls Varsity Basketball team continues a great season with a 9-3 record despite a 59-52 loss to Walter Johnson Jan. 11. Below right, sophomore guard Japria Karim-Duvall is shown on her way to scoring a season high 18 points (half from hitting 3-point shots) in the Jan. 8 home game vs. Richard Montgomery. Other high scoring Lady Bulldogs in that game included senior center Alaine Thronson and freshman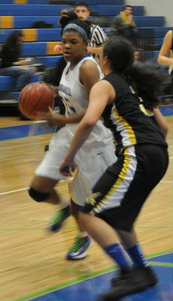 Nicole Brodkowitz (both 12 points) and senior forward/guard Erica Lindsay (9 points) for the win. Below left, Churchill head coach Kate McMahon and her father, assistant coach Pete McMahon, give pointers to the team prior to second-half play of the RM game.
Photos by Mary
Ellen Mengucci
---
The WCHS Indoor Track and Field team competed in the prestigious Montgomery Invitational Jan. 12 at the Prince George's Sportsplex against high school athletes from Maryland, Virginia, Delaware and Pennsylvania. Sophomore Lucy Srour paced the Bulldogs by winning the 1600M run in 5 min.,19 sec. Other Churchill standouts included junior Kyle Beatty who came in 5th in the pole vault and junior Fanny Chen, who came in 5th in the long jump competition.
---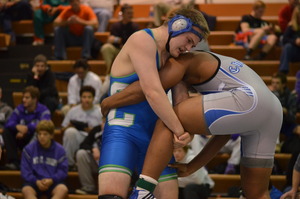 The WCHS Wrestling team competed against more than 30 teams from Maryland, Virginia, Delaware and Pennsylvania at the Glen Jones Charger Classic in mid-December at Lackey High School in Indian Head, MD. Placing for the Bulldogs grapplers against the tough slate of competitors were junior Adama Keita with a 5th place finish at 160 pounds, senior Matthew Schleckser with a 4th place finish at 220 pounds and junior Hunter Sutton, at 152 pounds, taking 1st place recognition. At left, Schleckser is shown working his opponent's leg to a take-down. Photo by Denise Schleckser
Run into
'
CalTor
'
on
Jan. 29
for WCHS Runners
' Fundraiser
The WCHS Running teams invite the community to a fundraiser at California Tortilla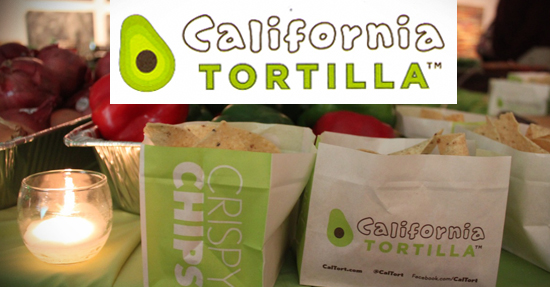 at Cabin John Shopping Center on Tuesday, Jan. 29. When you place an order between 4:30 and 8 p.m. and say "TRACK," the restaurant will give 25% of all proceeds to support WCHS indoor, outdoor and cross country runners, the school's largest teams. Please click here for a flyer with more details. Spread the word then come and join the fun! You'll be pleased you did!
Calling All Volunteers for Spring Gala and School Store
It's wintry right now but spring really is rapidly approaching and there
'
s something for everyone as the Booster Club gears up for its biggest fundraiser of the year, the
Spring Gala
.
Your help is essential!
Opportunities to volunteer include entertainment, marketing, auction, refreshments, computer support, décor, and more so there
'
s a spot for every talent and interest. To make this year
'
s event the best ever and to continue funding our WCHS student-athletes, please click here
to review all committee options and then email Roya Hakimzadeh
bcgala2013@aol.com
or Jim Schleckser jschleckser@verizon.net
if you are able to lead a committee or volunteer.