Booster Club Elections on June 15, 7pm

Help make the next year another year of Bulldog Pride! All members are requested to attend to elect officers and make the plans for next year. We need a quorum for the elections on this Wednesday, June 15, 7pm, in Room 126 (if in use, alternate room 117).
Slate for 2016-17:
President: Leslie Janis
Vice President: Sandy Smyth
Vice President: Andrew O'Lone
Treasurer: Marcie Robinson
Secretary: Sharon Crane
---
Where did your Booster Club Money Go This Year?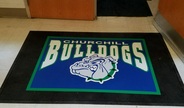 Thanks to our generous members, sponsors and donors, we have been able to support our athletes and the entire school community this year. Check out how much of an impact your contribution made by clicking on our
Booster Club By the Numbers
post. You have helped make our athletes stronger, our school more spirited and our facilities safer and more up-to-date for all.
---
CHS Represents in Spring All-Met

Throughout the 2015-16 school year, CHS has had a strong presence on the
Washington Post
All-Met seasonal list. This Spring is no exception. See our
Spring All-Met
post and view the list of CHS recipients. The full
Washington Post
list is here. Congratulations to all our All-Met Bulldogs!
---
2016 Brian K. Song Memorial Bulldog Classic and Dinner/Auction on August 8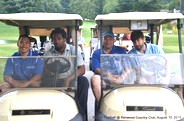 The CHS Football Program would like to invite you to participate in the 2016 annual Brian K. Song Memorial Bulldog Classic and Dinner/Auction! The tournament will once again be held at Kenwood Country Club on Monday, August 8, 2016. Registration information, sponsorship and auction donation opportunities are available. Go to the
Tournament post
. Go Bulldogs!
Reported by Julie Wagman. Photo above: Former Bulldog football players unite again to support the team: left to right, current Head Coach Albert Song, former NFL player Dhani Jones, Coach Stamati Comuntzis, and Doug Silverman. Photo by Christopher Shea.