May 23, 2016 Winston Churchill HS Booster Club Potomac, MD
Churchill Booster Club Bulletin
Spring Bulldog Pride!

CHS Boys Tennis MCPS Champs
The Boys Tennis Bulldogs put it all together to grab its first Montgomery County Championship since 2009. Read the Washington Post article. See more photos at our Tennis post. After the County win, they headed to Regionals and came up with a Singles 3rd place finish by Michael Chen, Boys Doubles 2nd place by Austin Yang/Drew Bennet, and a Boys Doubles 3rd place by Ethan Kaufman/Mark Dager. The Mixed Doubles team of Drew Ingall/Rebecca Redlich placed 4th after losing the semis to last year's state champions in a tough match. Boys Tennis plays at States next weekend. Reporting and photos courtesy of Jeff Sullivan@MCPSathletics and Neale Castillo. Photo above: Boys Tennis County Champions. Photo courtesy of Jeff Sullivan.
---
Churchill Track Sending 14 to States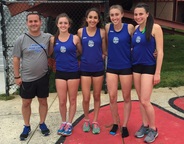 Due to outstanding individual and relay team performances at the 4A West Regionals on May 19-20, fourteen members of the Churchill Varsity Outdoor Track and Field Team qualified for the Maryland State 4A Championships scheduled for May 27 and 28 at Morgan State University in Baltimore. Read who qualified in the
Track post
.
Photo above: State qualifying 4x800 Varsity Girls team left to right: Head Coach Scott Silverstein, Jr Becca Clem, Fr Anisa Saigan, Jr Gwen Ashbury, and Jr Julia Reicin. Their time at Regionals (9.39.38) is the fastest CHS 4x800 Girls Varsity relay team since 2009. Photo by Coach Dave Warren.
---
Churchill Crew Rallies at Stotesbury: World's Largest HS Regatta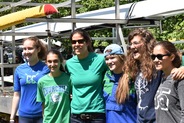 Winston Churchill's Crew Club Team varsity boys and girls competed in the world's largest high school rowing competition, the 90th annual Stotesbury Cup along the banks of the Schuykill River in Philadelphia on the weekend of May 21. Read about it in the
Crew post. Reported by Barrie Berger. Photo above: Girls Varsity 4+ and left to right: Lindsay Hutton, Ila Keshishian, Coach Michele Nance, Holly Smithberger, Sara Weissel, Rachel Newman. Photo by Eric Berger.
---
CHS Lax Teams Finish as Region 3A/4A West Champions
The dual winning seasons of the Boys and Girls Varsity Lacrosse teams ended with Region 3A/4A West Championships for both. On Saturday, May 21, the girls lost in the State Semi-finals to Leonardtown, 11-6. The Boys fell to Severna Park 10-5 in their attempt to reach the State Finals for the second year.
The Boys Churchill Varsity Lacrosse Class of 2016 graduates with a 61-10 record, three regional championships and a current streak of 25 straight county wins. Congrats to the teams, coaches and families on a great season and post-season. Reporting by Wayne Olan and Kelly Lavery. Photo top: Girls Varsity Lacrosse Region Champ Seniors. Photo by Kelly Lavery. Photo bottom: Boys Varsity Lacrosse Region Champ Seniors. Photo by Ariane Promisel.
---
Boys Basketball Fundraiser on May 24
Go to the Boys Basketball fundraiser on Tuesday, May 24, 6-9 PM at the CAVA GRILL Montgomery Mall. Tell the cashier you are with CHS!
---
2016 Brian K. Song Memorial Bulldog Classic and Dinner/Auction on August 8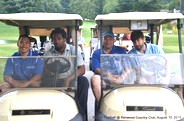 The CHS Football Program would like to invite you to participate in the 2016 annual Brian K. Song Memorial Bulldog Classic and Dinner/Auction! The tournament will once again be held at Kenwood Country Club on Monday, August 8, 2016. Registration information, sponsorship and auction donation opportunities are available. Go to the Tournament post. Go Bulldogs!
Reported by Julie Wagman. Photo above: Former Bulldog football players unite again to support the team: left to right, current Head Coach Albert Song, former NFL player Dhani Jones, Coach Stamati Comuntzis, and Doug Silverman. Photo by Christopher Shea.

---
Booster Club Elections on June 15, 7pm

Help make the next year another year of Bulldog Pride! All members are requested to attend to elect officers and make the plans for next year. We need a quorum for the elections on June 15, 7pm, in Room 126 (if in use, alternate room 117).
Slate for 2016-17:
President: Leslie Janis
Vice President: Sandy Smyth
Vice President: Andrew O'Lone
Treasurer: Marcie Robinson
Secretary: Sharon Crane
---
Field Hockey Interest Meeting June 8, 4:30
If your daughter is currently in
eighth grade
and is interested in trying out for the field hockey team this fall, we will hold an
interest meeting at Churchill on Wednesday, June 8, at 4:30 pm (room TBA).
At this meeting, coaches will speak about the program, our expectations, and tips for kids trying out for the first time. This meeting is not mandatory for new players, but it is recommended. Parents are welcome to attend, but the main audience will be the student-athletes.
The first day of tryouts in 2016 will be Wednesday, August 10.
If you would like to learn more about the field hockey program at Churchill, please visit their website at
www.churchillfieldhockey.com
.
---
Put your STAMP* on CHS!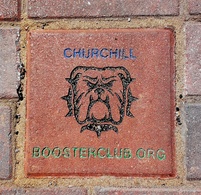 As graduation approaches, it is time to mark a milestone by putting your STAMP* on the paver field at the entrance of the Stadium. Honor the time at Churchill and help fund improvements to our athletic stadium and facilities. Click here to find pricing information and to order. Check out the options for color lettering and a Bulldog logo on your paver! Questions? Contact Chris Nazarian at cnaz@mris.com. *Student or Team Amazing Memory Paver.

---
PLAN YOUR SUMMER SCHEDULE!
FALL 2016 SPORTS TRYOUTS START
AUGUST 10.

---
CHURCHILL BULLDOGS T-SHIRTS
Stop by the school store and load up on our student-designed T-shirts. Three designs and only $10 each. Show your school spirit this summer!
Remember your online school store for great gift ideas.
Tons of items in all sorts of colors are available for you to customize. Click here to check out the amazing NEW fan gear on the Booster Club's online store.
The Churchill Fan Store is Ready for You!
Support the Booster Club, meet new people, and get a glimpse of the students during the school day by working in the Churchill Fan Store during lunches on Tuesday, Thursday or Friday from 11:10 to noon or during evening school events! New volunteers are always welcome. Sign up for lots of time slots by clicking here.
---
The Winston Churchill High School Booster Club is a 501(c) (3) volunteer organization established to promote school spirit and work to improve our sports teams and clubs.
Our primary purpose is to get students, parents, staff and the community involved in our programs so we can promote safe and competitive athletics for all of Churchill High School's athletes.
Contact:
info@churchillboosterclub.org
Bookmark the Booster website www.churchillboosterclub.org for helpful information, scores, membership registration, sponsors, directions to away-game locations, online spiritwear store & more!
The Booster Club proudly supports the Churchill PTSA. Our organizations work cooperatively on behalf of WCHS students, parents, staff and the greater Churchill community. Link to the PTSA website to receive important PTSA news & membership information.