Booster News, December 2012
Greetings, friends of the WCHS Booster Club!
This is my favorite time of the year—the anticipation of the holidays, of seeing family and friends and beyond that, the excitement awaiting a new year. It's a great time for high school sports, too. Student-athletes are recognized for their individual achievements during the fall season and teams' successes are celebrated. At the same time, our winter sports teams begin their 2012-13 campaigns with hopes high and visions of championships dancing in their heads!
This month's WCHS Booster newsletter captures this special time of year. And then some. Not only does it highlight individual and team achievements, but it also captures just some of the many activities that take place during the school year to support Churchill athletics.
Congratulations are in order to the many athletes who received post-season honors, including soccer all star and Bucknell University-bound Crispin Muessle. And cheers to the girls' tennis team, which went undefeated and captured its sixth straight county title. Also grabbing headlines this fall was senior Matt Leonard, who decided where he will attend college and play lacrosse next fall (read on to find out!).
We are tracking Churchill's post-season accolades in the news on our Facebook page. If you haven't already, "like" WCHS Booster Club to learn about our many award winners, and where our top student-athletes will take their athletic talents to the collegiate level.
Before you read on, let me close by wishing you and yours a joyous holiday season and prosperous new year.
Go Bulldogs!

Jim Edwards,
President
Churchill Booster Club
Accolades Abound for Bulldog Teams and Athletes
WCHS Girls' Varsity Tennis Team nets unprecedented sixth consecutive county title following a 12-0 season! The team was strong across the board with all four of the team's seniors competing in the county tournament and key younger teammates also contributing to the great results. Already looking forward to the next competitive season, most team members play year round. Coach Benjamin Woods congratulated his powerhouse team that this year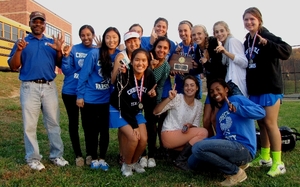 included junior Megan Le and sophomore Alissa Li (#1 doubles county finalist), senior Emily Hillman and sophomore Sydney Sugarman (#2 doubles county finalist), captain Joan Albrecht and senior Alex Boukhvalova (#3 doubles county finalist), and captain Lauren Perrine (#4 singles county finalist). Joining in the fall celebration at Blair High School are fellow Churchill teammates sophomores Katie Gauch, Hayley Keats, and Sriya Movva, junior Jeanine Liu, and freshmen Gina Dehdashty and Tatiana Hewitt. Photo by Joan Perrine
---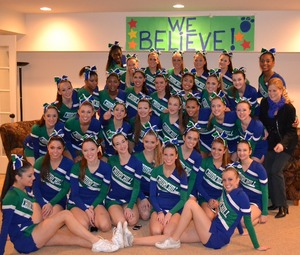 WCHS Varsity Cheer capped a great season with a second place finish in the MCPS Division 1 Cheerleading competition. The 33 student-athletes were led throughout the season by senior captains Leslie Blalock, Paige Brody, Larissa Kim, Christina Pergantis and Elisa Rogers.

The squad is shown prior to the Nov. 17 competition.
Photo by Cheryl Rhodes.
---
Bulldog Varsity Lacrosse player Matt Leonard's stellar play at the attackman position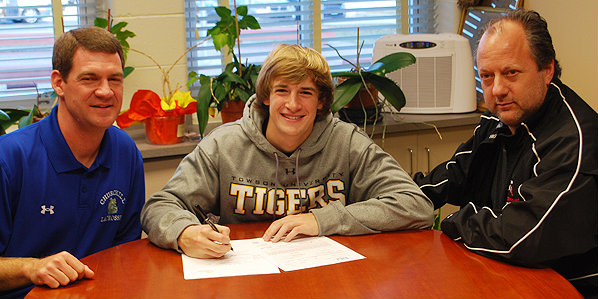 in spring earned him both 2012 All American and 2012 Montgomery County Player of the Year honors. He has decided to take his skills to Towson University after graduation.
Leonard, center, is shown signing his National Letter of Intent to play lacrosse at Towson University. Coach Jeff Fritz, left, and Assistant Coach Wayne Olan, join Leonard at the signing. Photo by Joe Muscarella.
---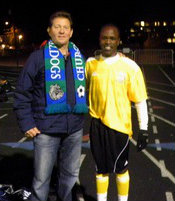 Bulldog Varsity Soccer mid-fielder Crispin Muessle's season-long, high caliber performance resulted in his selection to play in the Maryland Association of Coaches of Soccer All-State Game. Fifty-six players from 42 Maryland public and private high schools played in the annual event, held Nov. 19 at Walter Johnson High School. Muessle scored one goal and one assist, contributing to his team's 7-2 victory. Muessle also was recently named to the Gazette's All-County 1st Team and is set to continue his soccer career at Bucknell University after graduation.
Muessle (in yellow), shown with Varsity Coach Arnold Tarzy. Photo by Mary Muessle.
WCHS Crew Team Uses Winter to Gear Up for Spring
A successful fall season behind them, the 50-member co-ed WCHS Crew team has begun a rigorous indoor training program at the Jewish Commumnity Center in Rockville. The program emphasizes rowing on the club team's 10 ergometers as well as strength training in preparation for the Spring 2013 season.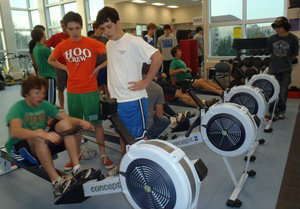 On Feb. 10, 2013, the team will head to the second annual National Capital Erg Invitational at Sidwell Friends School, an indoor event that includes individual and relay races on rowing machines. Spectators are welcome. For more information about this parent-run club team, visit www.churchillcrew.org.

Members of the team working out at the JCC. Photo by Sharon Dan
Turkey Bowl Features WCHS Soccer Players Past and Present

Every Thanksgiving day, WCHS Boys Soccer alumni play the current varsity soccer team in an annual "Turkey Bowl." For more pictures, including one of the Hauschild family, the first ever father-son alumni duo in the event's 36-year history, see Sports News on the Booster Website. Photo by Elena Ketelhut.
New Landscaping, Redone Gym Floor Spruce Up WCHS Inside and Out
WCHS Booster Club wishes to give a hearty "thank you" to Dave Johannes from Good Earth Landscaping for donating landscaping materials and labor to finish off our new stadium scoreboard. Good Earth, which is located at the corner of Glen Rd and Falls Rd, was quick to help when they heard about the Booster Club installing a new score board. The Booster Club appreciates local businesses like Good Earth Landscaping and Dave Johannef for their generosity and for being a "good neighbor" in our community.

For a full list of our sponsors, please link to the Sponsors page on our Booster Website. We encourage our booster members to partonize all of our generous Bulldog sponsors. For further sponsorship opportunities, contact Allyson Bergman, bergmanhome@verizon.net Photo by Jim Edwards.
---
Parents of WCHS student-athletes participating in winter sports gathered in the gymnasium on Nov. 26 for an overview of Churchill and MCPS policies regarding sports teams and athletes. Athletic Director David Kelley addresses parents on the newly refurbished gymnasium floor, the repairs for which were paid in large part by funds provided by the Churchill Booster Club. Photo by Mary Ellen Mengucci
Booster Club, Boys Baseball Host Fall Fundraiser Fun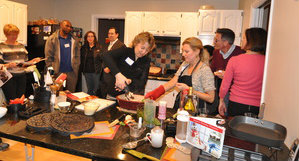 The WCHS Booster Club held a Pampered Chef fundraiser at the home of Booster President Jim Edwards, and his wife Maria, on Nov. 29. More than 25 parents, coaches, administrators and friends turned out for this fun and casual evening. This is the second year that Booster Club member and Pampered Chef Consultant Lynn Grody hosted the event, the entire proceeds from which she donated to the Booster Club. Grody (right) enlists the help of WCHS parent Andrea Denicoff to demonstrate a Pampered Chef product. Photo by Mary Ellen Mengucci.
---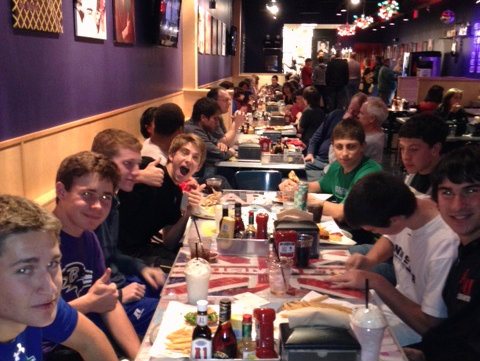 WCHS players, families and community members supported the Bulldog Baseball program at a team fundraiser at the BGR Burger Joint in the Cabin John Shopping Plaza on Nov. 12. The players have begun pre-season indoor winter conditioning in preparation for spring try-outs. Photo by Mary Ellen Mengucci.
Join the Booster Club Now As Winter Team Sports Heat Up
The Booster Club needs you and so do our Winter Sport Bulldog athletes! Click here for easy online Booster Club membership registration. Membership levels are:
$500 Platinum Bulldog (See Details Below)

$200 Gold Bulldog (Receive a Free Bulldog Cooler!)

$100 Silver Bulldog (Receive a Free Bulldog Umbrella!)

$40 Friends of Bulldog Sports (Receive a Free Decal!)
NEW FOR 2012-13! The new PLATINUM BULLDOG pulls out all the stops. You will be treated to ALL THE ABOVE FREE GIFTS, 2 Free Seat Cushions PLUS PREFERRED GAME SEATING & PARKING! If that's not enough, how about a free hot dog or slice of pizza and a beverage at each home game where concessions are served? We'll also take your picture with our official Bulldog Mascot, Freddie the Bulldog!
Shop at Online Store for Spiritwear Holiday Gifts
Looking for a great holiday gift for your student or friend?

If you can't find what you need at the Churchill school store, please take a moment to visit our online spirit store at

www.fieldhouse.com/churchill

for all your spiritwear needs. We have a wide selection for kids, juniors and adults including outerwear, novelties and t-shirts. Great gift ideas for your students or yourself. All orders are custom designed and are shipped directly to you. A portion of the sales supports the Booster Club. Show your support, wear your spirit!
Questions? Contact Allyson Bergman:
bergmanhome@verizon.net
Several WCHS teams, athletes, sports events and community initiatives have attracted positive community attention in November. Take a look at our Sports News page on the Booster Website to see what teams and athletes are making news.
Booster Club Calendar of Upcoming Events
December 5 (Wed.): Booster Club meeting, 7 pm, WCHS room 149
This Week in Bulldog Team Competition
December 5 (Wed.): Boys Basketball v. Damascus V 7 pm/JV 5:15 pm
December 5 (Wed.): Girls Basketball @ Damascus V 7 pm/JV 5:15 pm
December 5 (Wed.): Wrestling @ Blair V 6 pm/JV 7 pm
December 7 (Fri.): Girls Basketball v. Sherwood V 7 pm/JV 5:15 pm
December 8 (Sat.): Boys Basketball @ Sherwood V 7 pm/JV 5:15 pm
December 8 (Sat.): Swimming v. Whitman @ Martin Luther King Swim Center 11:30 am
December 11 (Tue.): Boys Basketball v. Gaithersburg V 7 pm/JV 5:15 pm
December 11 (Tue.): Girls Basketball @ Gaithersburg V 7 pm/JV 5:15 pm
December 12 (Wed.): Wrestling v. Wootton V 6 pm/JV 7 pm

For a list of future Bulldog matchups, please click here. Then go out and cheer on our student-athletes!
Booster Club Email Address, Website & Social Media