Girls Field Hockey Reaches State Championships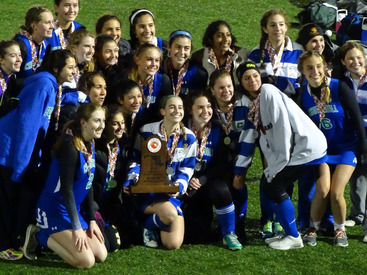 Churchill Girls Field Hockey finished their undefeated regular season at the MD State Championships against South River Saturday, November 12. The senior girls, Sonya Berinstein, Ashlyn Davis, Jocelyn Kelley, Joanna Kramer, Jenny Langerman, Lauren Lipson, and Sydney Weinstein finished their high school field hockey careers on a high note, as this was the first appearance that the Churchill field hockey team has made in the state finals since 1985.
Read more
here
!

Photo credit: Melanie Twomey
---
Varsity Cross Country Girls place 6th at 4A Maryland State Championship; Boys take 10th.
Congratulations to the Varsity Cross Country team for an outstanding fall 2016 season. On November 12, at the Maryland 4A State Championship in Parkton, Maryland, Churchill Girls Varsity placed 6th overall. Standout performances included Senior Julia Reicin (3rd), Senior Gwen Ashbury (32nd), Junior Kate Danziger (41st), Senior Olivia White (56th), and Sophomore Hannah Bush (77th).
Congratulations also are in order to the Boys Varsity Cross Country team for placing 10th at the Maryland 4A State Championship. Standout performances included Senior Vincente Rudolph (34th), Senior Matthew Halverson (44th), Senior Matt Goldsmith (60th), Freshman Nic Karayianis (68th), and Freshman Ted Lee (95th). More details & photos
here
!
Special thanks to our fabulous and dedicated Churchill coaches, Head Coach Paul Jacobson and Assistant Coach Scott Silverstein!! Go Bulldogs!!
Photo credit: Scott Silverstein
---
Girls Varsity Soccer Falls Just Short
After dismissing Whitman in the sectional playoffs for the second straight season, the Bulldogs couldn't hold off WJ and their University of Wisconsin recruit Cammi Murtha long enough. After an epic Friday night battle which lasted 76 minutes, Churchill lost 1-0 with less than 4 minutes to go.
This was another great season for Coach H and his girls, a team poised to lose 11 graduating seniors. With a team full of talented young soccer players, there will continue to be good times ahead!
---
Exciting End to Varsity Football Season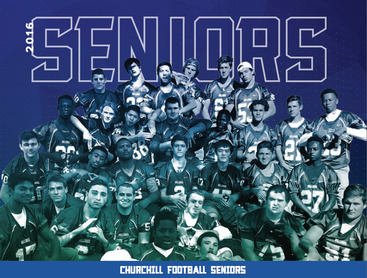 The Bulldog Football team beat WJ in a resounding 47 – 7 win, finishing the season on a high note.
Seniors Jack Wagman, Joel Goldstein, Donovan Williams, Dylan Whittaker and Zawadi Bryant all had an outstanding game. Wagman and Goldstein have been the offensive line stalwarts for the past several years, opening holes for others, but in this game each carried the ball to finish out the game.
More details and photos
here
.
---
Nov 21st: Come to Winter Sports Night & Join the Booster Club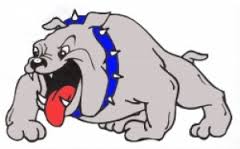 Winter Sports Night is
Monday, November 21 at 7 pm
in the WCHS Gym. Meet with Athletic Director Jesse Smith, Winter team coaches and other Bulldog parents. Learn all you need to know about Bulldog Athletics at the Winter Sports Night!
---
Baseball Field Upgrades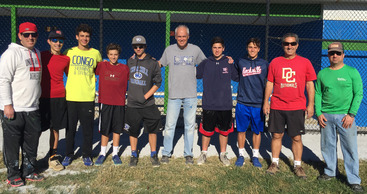 Current CHS baseball players, future players and families gathered at the baseball field the last two weekends of October to tackle much-needed projects surrounding the baseball field. Top of the list was painting the dugouts, adding crushed stone warning track in front of each dugout and cleaning the fence line behind the home dugout.
Future projects include outfitting the dugouts with big league benches, fence line adjustments that will include an on-deck circle for the visitor dugout and wind netting along the outfield fence. Thanks to all to assisted in this project! See you in the Spring!
---
Mark Your Calendars: Poms Fundraiser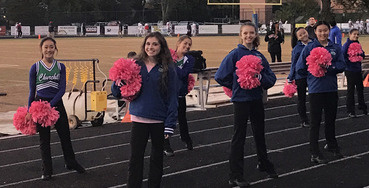 Take a day off from cooking dinner and support the Churchill Poms team fundraiser!! Poms is holding a fundraiser at California Tortilla at Cabin John Mall December 20 from 5 - 8PM! View the flyer
here
!
---
Headway Foundation supported by Churchill '16 Alumna

Sarah Renberg, Class of 2016, was driven by her personal experience to help support the Headway Foundation. The Headway Foundation is a 501(c)(3) non-profit organization founded by athletes, for athletes, that aims to combat concussions by promoting a safer sports culture, providing resources for concussed patients, and enhancing concussion evaluation protocols and their accessibility at all levels of sport.
Interested in having a Headway representative come speak to your team or coaching staff about concussion and brain safety in sport? If so, email
sarah.renberg@headwayfoundation.com
and visit their website at
www.headwayfoundation.com
to learn more.
---
Important Dates

Dec 7: Booster Club Meeting, 7PM

Dec 20: Poms fundraiser at California Tortilla in Cabin John; view flyer

---
Booster Club Gala


The Booster Club Gala Committee is finalizing the date and location for this year's Gala. If you would like to help with planning or contribute to the silent auction, please contact
Jeanine Resnick
. Stay tuned for details!
---
Team Schedules

---
School Store - Spiritwear
Who can shop:
Montgomery County parents & students
Location:
On the first floor near the cafeteria
Store days & hours:
Tuesdays, Thursdays and Fridays between 11:10 – 11:50 a.m.
Where does the money go:
100% of profits go to the Booster Club
What if I want to shop online:
Go for it!
Click here
to shop online.
Parent Volunteers Needed
Support the Booster Club, meet new people, and get a glimpse of the students during the school day by working in the Churchill Fan Store.

New volunteers are always welcome! Volunteers are needed Tuesday, Thursday & Friday during school lunch from 11:10 to Noon. Or volunteer during evening school events.
Click here to sign up now!
---
Why join the Booster Club?


By joining Booster Club, you make the difference in providing the equipment and support needed by our Churchill student-athletes and teams! Your donation is needed in every aspect of Churchill athletics! To see where your money goes,
click here
. 100% Membership teams earn bonus money for their teams. Congratulations to following teams for reaching 100% membership this year:
Boys JV & V Soccer
,
Girls JV & Varsity Soccer
and
Girls JV Volleyball
!!
Sign up online now!Membership Levels & Gifts $40
– Friends of Bulldog Sports – Bulldog Car Magnet
$100
– Silver Bulldog – Bulldog Stadium Seat Cushion + Car Magnet
$200
– Gold Bulldog – Bulldog Umbrella + Seat Cushion + Car Magnet
$500 –
Platinum Bulldog – Pulls out all the stops including ALL the above gifts + an ALL SEASON PASS for all regular season home games + PREFERRED PARKING at home football games + a Bulldog Stadium Blanket! Also receive a free hot dog and drink at each home game where concessions are served!