February 2015 - Smoke on the Water and Fire on the Ice
Swim & Dive, Ice Hockey, Golf, Crew, Coaches vs. Cancer,
New Varsity Football Head Coach, and More
Girls Swim and Dive are Champs at Metros!
For the second year in a row, the Lady Bulldogs are Metros champions! This past weekend, the Bulldogs competed against fifty public and private schools in the Washington Metropolitan Interscholastic Swimming and Diving Championships (Metros).This meet pitted our swimmers and divers against some of the best competition in the country, including local Olympian, Katie Ledecky. Churchill women divers gave the team a head start in points as Elaina Faerber took first place, Kali Becker was a very close second, and Bridie Dunn finished seventh. In the swim portion of the meet, it was the performance of the women's relays and the depth of the team that were keys to victory. The Medley Relay team of Hannah Lindsey, Fiona Asbury, Emily Wang and Kathryn Wright took first place. In the 400 free relay, the team of Wang, Lindsey, Elaina Gu and Hanan Bandak finished just behind Holton-Arms. And, in Churchill's only individual win, Lindsey was first in the 100 backstroke. Against very strong competition, the Churchill men finished seventh. Key performances were turned in by diver Mory Gould who placed fifth, the 200 free relay team of Zach Einhorn, Edward Yao, Kyle Zonghetti and Colin Mackey who were also fifth, and the 400 free relay team of Sanjay Wijesekera, Lucky Sun, Einhorn and Mackey.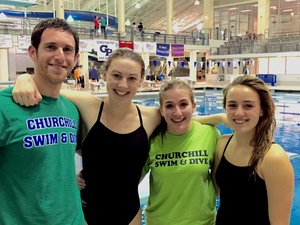 The Metros victories came in the wake of the team's MCPS Division 1 Championship on January 31, the Girls' third top title in the last four years. The Boys team finished third among a talented pool of teams.
As championship season comes to a close, the Bulldogs are hoping to win a regional championship next weekend and follow up with victory at the

Maryland State Championships which will be held on Friday, February 20 and 21 at the Eppley Center, University of Maryland.

The Lady Bulldogs are hoping to avenge last year's second place and cap off their undefeated season with a win at States!Go Dawgs! Read more in these links:

Gazette

and the

Washington Post.
Reported by Regina Hall and Yolanda Faerber.
Photo Above: Girls Swim and Dive celebrates the Metros Championship!
Photo at right: Coach Tappis, Bridie Dunn (7th), Elaina Faerber (1st) and Kali Becker (2nd) at Metros Championship Dive Meet.
More photos on the

Booster Club Sports News Page

. Photos by Deb Lindsey and Yolanda Faerber.
Churchill Ice Hockey Club Fired Up
The Varsity I team concluded an undefeated league regular season on Friday, February 6th, when the Bulldogs played BCC at the Cabin John Ice Arena. The senior players were honored during a Senior Night ceremony before the game. The seniors this year include: Ross Allen, David Amortegui, Jacob Arden, Matthew Donohue, Andrew Greenberg, Zach Silver, Justin Spivak, and Justin Vagonis. The Varsity I team finished their season with a decisive 11-0 win, mirroring their 11-0 win count this season. Scoring was by Ross Allen, Justin Vagonis, Mark Weinstein, Andrew Greenberg, Zach Silver, Charlie Butler and Trevor Dixon.

Their January 30 rout of Sherwood (11-0) showed this team's talent, patience, stamina and deep bench. In the first period of the game, goals were tallied by Philip Satin, Jacob Arden, David Amortegui-Ordonez, Zach Silver, Ross Allen, Charlie Butler and Trevor Dixon (with a pair of goals). While the second period remained scoreless, the Bulldogs once again lit up the goal-light with tallies from John Taylor and a hat trick from Justin Vagonis.

Currently, the Junior Varsity team is locked in a three-way tie for second place in their league, with a record of 3 wins, 4 losses and 1 tie. The Varsity II Team has had a tough season, with just two wins so far (with 8 losses and 1 tie), playing in a very difficult league with their Varsity I team counterpart. But the Varsity II team is gaining great experience and will be ready for moving ahead next season.

Playoffs begin this week with the first game against WJ on Monday, February 9th at the Rockville Rink at 4:30 pm. State championship games will be played during the last week of February. Please check the team website at http://www.churchillhockey.club for further information about game dates and times. Reported by Scott Greenberg. Photo: Andy Greenberg fires a shot at the BCC goal. See more photos on the Booster Sports News Page. Photos by Paige Taylor.

State Champ Golf Team Aces Annapolis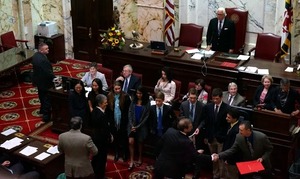 The Churchill Golf Team was invited to the Maryland State House on January 26 to receive Resolutions from both the Senate and the House in recognition of their Maryland State Championship. All team members were introduced and were very proud to represent Churchill HS with a successful season. Also, at halftime of the Varsity Basketball game against Whitman this past Tuesday, the team unveiled its State Championship banner - look for it next to the scoreboard! Reported by Mike Fisher.
Photo: Coach Mike Fisher and 2014 State Championship Golf Team receive the resolution from the Statehouse in Annapolis. More photos on the Booster Sports News Page.
Congratulations to all of the Churchill Crew rowers who competed in the Mid-Atlantic Erg Sprints, an indoor regional race among rowers using erg or rowing machines. Churchill had 15 entries competing and 5 finished in the top half of their events. Our team's highest placing finish was novice Sara Weissel who finished 8th out of 66 entries in the 14 year-old girls 1000 meter. Ray Pasco carried the flag for the novice boys and finished 32 out of 73 in the 14 year-old boys 1000 meter. Great job for our first time competitors! Three varsity rowers, Kyle Jurrens (15 year-old lightweight), Jordan Epstein (17 year-old lightweight), and Abby Means (17 year-old lightweight) also beat more than half of their competitors. In addition, many rowers set personal records. Well done Churchill rowers! Reported by Barrie Berger.
Churchill Crew Is NOW Recruiting for Spring 2015
No Experience Required. All That's Needed Is A Positive Spirit, Determination, And The Desire To Get In Shape! Check Us Out At: ChurchillCrew.org or email us at ChurchillCrewteam@gmail.com. To register, please click here.
---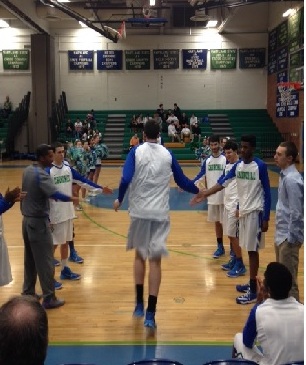 Basketball Coaches vs. Cancer benefit games raised over $500 for the American Cancer Society on February 3. Thanks to all the participants, donors and sponsors Go Ape!, Summer House Santa Monica and Del Frisco's.
Reported by Coach Kate McMahon. Photo at right: Bulldogs take the court during the February 3 "Coaches vs. Cancer" benefit games. Photo by Julia S. Gertler.
New Varsity Football Head Coach Announced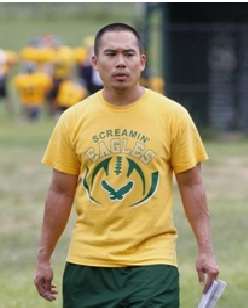 The WCHS Athletic Department is pleased to announce the hiring of Albert Song as the next head football coach for the Varsity Bulldogs. Coach Song is a 1996 Churchill graduate who has spent the past 6 years as an assistant coach for Seneca Valley High School. Currently, he is an English teacher at Seneca Valley and has served as the team's offensive coordinator the past two seasons. Prior to coaching at Seneca Valley, Coach Song was an assistant coach for Churchill from 2006-2008, serving as JV coach during the 2008 season. We look forward to welcoming Coach Song back to Churchill!
Reported by AD Scott Rivinius.
Photo: Coach Albert Song in Seneca Valley before changing back into his Bulldog Blue and Green sportswear.
Meet Coach Song at the Booster Club meeting,
Tuesday, February 10 at 7pm, Room 126!
Attention all

Baseball

Players - tryouts will take place on Saturday, February 28 & Monday March 2 - this is a two-day tryout so do NOT miss a day.Please have your forms into a member of the Coaching staff no later than


Wednesday, February 25th

.
Looking forward to a great season in our new dugouts!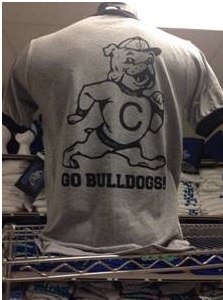 It is the 50th Anniversary of Winston Churchill High School and the Booster Club is proud to unveil the commemorative t-shirt at a special price of only $10!
Please visit the school store and get yours today!
Go Bulldogs!

We are looking for a freshman/soph parent team
to run the school store in Fall 2015!
Contact Allyson Bergman at bergmanhome@verizon.net.


Volunteer at the School Store: The new 2015 sign-up dates are up!
Parents are invited to work at the school store, located on the first floor near the cafeteria, on
Tuesdays, Thursdays and Fridays at lunch
between 10:30 - 11:45am
Log into www.signupgenius.com and select 'Find a Sign Up.' Enter bergmanhome@verizon.net in the email space.
Support Boosters - Quick Links!
Booster Club Calendar of Upcoming Events
February 10 (Tue): Booster Club Meeting - Meet Coach Song. 7pm, Room 126
February 28 (Sat.): Spring Tryouts Start
March 9 (Mon.): Spring Sports Night and Membership Drive for parents, 7pm
Booster Club Email Address, Website & Social Media