Booster News, February 2013
Greetings, friends of the WCHS Booster Club!
The WCHS Booster Club is charged with supporting and promoting athletics at WCHS. This issue of the Booster newsletter shows our dynamic mission in action. You will read about the success of our winter teams and of our efforts in the spring to support current and future Bulldogs.
On April 26, the Booster Club will again host the Annual Sports Night Gala, which will be lots of fun for those who attend and an opportunity to raise funds through live and silent auctions, and raffles. The event is open to the entire Churchill

community. You won't want to miss it!
In March, the Booster Club is partnering with Village Yoga, owned by Churchill alumnus Fred Margolis, to offer a special class for our students designed specifically for the teenaged student-athlete. Proceeds from the program will go to support Bulldog athletics. Read on to learn more about what yoga can do to enhance sports performance, and how to sign up!
You will also see the efforts of our sports teams to support their programs by offering clinics for elementary and middle school students. So scroll down to learn about our girls' and boys' lacrosse clinics.
If you like the work the Booster Club does to support and promote Churchill athletics, think about being part of it. Attend our next meeting this Wednesday night, Feb. 13, to find out what's going on and how to get involved. Details follow.
Go Bulldogs!

Jim Edwards,
President
Churchill Booster Club
Save the Date! Sports Gala Set to Roll Our Way
♦
♦
SAVE the DATE
♦
♦
Booster Gala is Friday Evening, April 26

!
Watch for an invitation and details about the Booster Club's upcoming Annual Sports Night Gala Fundraiser! Enjoy a fun

&

casual adults-only evening, filled with bowling, live

&

silent auctions, music & food.
Bowlmor Lanes, Bethesda, MD
♦

All Guests Must be Age 21 or Older
♦
Now that the
Booster Gala
countdown in on, (see above!) there
'
s something for everyone to do to make this the biggest and best one yet.
Your help is essential!
Opportunities to volunteer include entertainment, marketing, auction, refreshments, computer support, décor, and more, so there
'
s a spot for every talent and interest. To participate and
continue funding our WCHS student-athletes, please click here
to review all committee options and then email Roya Hakimzadeh
bcgala2013@aol.com
or Jim Schleckser jschleckser@verizon.net
if you are able to lead a committee or volunteer.
Booster Club Teams with Yoga Studio for Fundraiser
Does your teen
—
whether or not on a school, club or rec team
—
want to develop more muscle tone or gain flexibility to enhance his/her athletic pursuits? The Booster Club and Village Yoga are teaming up for "Teen Yoga 4 Sports Enhancement," a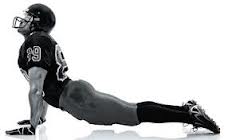 great opportunity for teens to up their game by increasing tone and flexibility while also raising funds for all WCHS sports programs. Village Yoga, located at 10154 River Road, Potomac, will host the six weekly one-hour sessions starting Tues., March 5, 2013 at 3:30 pm. All levels are welcome but participants must preregister at
www.villageyogayogi.com
for the $90 series. Please
click here
for important details and to download a flyer to help spread the word.
Captains and Coaches of Winter Teams Celebrated!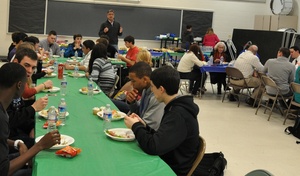 Churchill winter sport captains and coaches were greeted by Booster Club President Jim Edwards and treated to a luncheon Jan. 31. More than 50 captains, coaches and special guests attended the event, catered by Bethesda Bagels. The event is one of three seasonal luncheons hosted yearly by the Booster Club, all designed to recognize and celebrate our hard-working student captains and their coaches. Photo by Mary Ellen Mengucci
Winter Teams Peak as Season Crescendos
WCHS Swim and Dive Team is making a huge competitive splash this year,
heading into the Regional Swim Championship looking very strong. During the Division 1 meet held Feb. 2–3, the Lady Bulldog swimmers placed 2nd overall while the men placed 4th. Freshman Hannah Lindsey won the 200 Free and 100 Back; senior (captain) Michelle Illig won the 50 Free and 100 Free, with teammate junior Alicia Tiberino grabbing 2nd in the 100 Free. Illig, Lindsey, Tiberino and sophomore Elana Gu, combined to take 1st place in the 400 Free Relay.
Swimming for the men, senior Steve Ge, junior Kevin Gu, junior Harrison Gu and senior (captain) Austin Cole combined to win the 200 Yard Free Relay.
Lady Bulldog divers swept the Division 1 event; sophomore Kali Becker took 1st, junior (captain) Mashal Hashem took 2nd and freshman Elaina Faerber placed 3rd. Diving for the men, sophomore Kyle Zonghetti placed 3rd followed by sophomore Andrew Marders, fourth.


Top right, junior Alicia Tiberino swims the first leg of the Girls 400 YD Freestyle Relay vs. Richard Montgomery ("RM") Jan. 12. WCHS won with a time of 3:39.03. Top left, senior Steve Ge wins the Boys 200 Free vs. RM with a 1:48.28 time. Shown at left, junior (captain) Mashal Hashem competes in the RM meet. Above, sophomore Kali Becker dives vs. Poolesville on Jan. 26. All photos by Debra Lindsey
For more pictures and team details click Sports News on our Booster Website.
---
WCHS Boys Varsity Basketball team

has continued with a blistering season, which stands at 15 wins and 4
losses so far
, having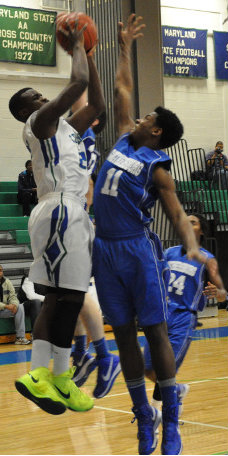 clinched its third consecutive division title and swept a grueling three-game week against Richard Montgomery, Walter Johnson and Clarksburg. Junior Malik Harris led the Bulldogs with 24 points against Clarksburg including a 10-10 performance from the free-throw line. Senior Dominique Williams continued his streak of strong performances with a 12-point, five-rebound, four-assist and nine-steals effort. The Bulldogs also got balanced contributions from junior Allen Njumbe (10 points), and sophomores Jesse Locke (10 points) and Bobby Arthur-Williams (8 points/5 rebounds).
At right, junior Malik Harris (in white) is shown shooting over his Gaithersburg opponent at a December matchup, which the Bulldogs won, 66-36.
Photo by Mary Ellen Mengucci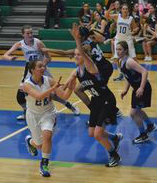 Lady Bulldogs

are continuing their strong
season with an overall 13-6 record. At left,
Senior guard/forward Shira Racoosin (22) take
s the ball inbounds for Churchill during a January game against Whitman.
Photo by Sam Racoosin
---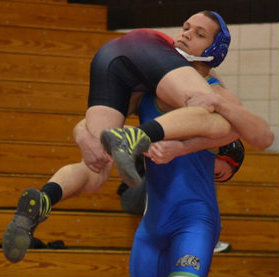 WCHS Wrestling Team has been plagued with injuries this season among its top teammembers. The result has been a disappointing 13 win–19 loss overall record for the grapplers. The Churchill Bulldog squad has experienced many bright spots despite these challenges, including the one pictured to the left, when WCHS sophomore Giulian Groce, in blue, pinned his Quince Orchard High School opponent at the away match on Jan. 26. Photo by Denise Schleckser
Spring LAX Teams Sponsor Clinics
Girls and boys have great opportunities to train with the Dawgs and get a competitive jumpstart on their spring Lacrosse season! Churchill Lacrosse Ladies—the Defending 4A/3A Regional Champions and a State Semi-Finalist—will hold a clinic Sat., Feb. 23 at WCHS from 2–5 p.m. for Grades 2nd to 8th. The cost is $50 and includes a take-home Bulldog practice pinney. All skill levels are welcome. Download the registration form at www.churchillboosterclub.org and then mail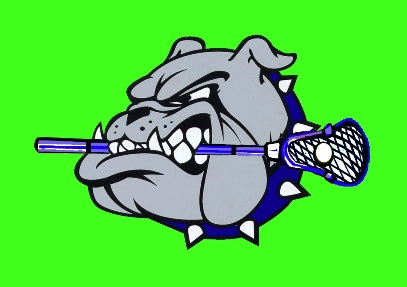 with check payable to WCHS Booster Club to: Draga Dubick 11204 Fall River Court, Potomac 20854. For questions, contact Draga Dubick at dragadu123@gmail.com

Churchill Lacrosse Men—the Defending 4A/3A Regional Champions and State Semi-finalist—will hold clinics on Sat., Feb. 23 and Sat., March 2 at WCHS from 9–10:30 a.m. for boys ages 6-14. The cost is $25 for each session or 2 sessions for $45. All skill levels welcome. Download the registration form at www.churchillboosterclub.org and mail with check payable to WCHS Booster Club to: Terri Kram 11101 Gilchrist Ct., Potomac 20854. For questions, contact Mark Dubick at dubickm@Duball-LLC.com
School Store Looking for Volunteers
The school spirit store is a great way to volunteer and the time commitment is small. Please consider helping out! We are open during school lunch Tuesdays, Thursdays and Fridays and open for certain special sporting or school events. The new 2013 schedule is posted. Log into

www.signupgenius.com

and
"
Search for a Signup.
"
U
se this email address:
bergmanhome@verizon.net
. Please be sure to look at the 2013 signup and fill in your name. If you have any questions, please contact Allyson Bergman at
bergmanhome@verizon.net
Online Store has Spiritwear to Meet Changeable Weather Needs
Looking for WCHS spiritwear to bundle up in during the chilly season or lighter weight to rransition into spring?

Head straight to the Churchill school store and i

f you can't find what you need there, please take a moment to visit our online spirit store at

www.fieldhouse.com/churchill

for all your spiritwear needs. We have a wide selection for kids, juniors and adults including outerwear, novelties and t-shirts. All orders are custom designed and are shipped directly to you. A portion of the sales supports the Booster Club. Show your support, wear your spirit! Q
uestions? Contact Allyson Bergman at
bergmanhome@verizon.net
There's Still Time to Support Student-Athletes with your Membership
The Booster Club needs you; so do our Winter Sport Bulldog student-athletes! Click here for easy online Booster Club membership registration. Membership levels are:
$500 Platinum Bulldog (See Details Below)

$200 Gold Bulldog (Receive a Free Bulldog Cooler!)

$100 Silver Bulldog (Receive a Free Bulldog Umbrella!)

$40 Friends of Bulldog Sports (Receive a Free Decal!)
NEW FOR 2012-13! The new PLATINUM BULLDOG pulls out all the stops. You will be treated to ALL THE ABOVE FREE GIFTS, 2 Free Seat Cushions PLUS PREFERRED GAME SEATING & PARKING! If that's not enough, how about a free hot dog or slice of pizza and a beverage at each home game where concessions are served? We'll also take your picture with our official Bulldog Mascot, Freddie the Bulldog!
Several WCHS teams, athletes, sports events and community initiatives have attracted positive community attention in January and February. Take a look at our Sports News page on the Booster Website to see what teams and athletes are making news.
Booster Club Calendar of Upcoming Events
February 13 (Wed.): Booster Club meeting, 7 pm, WCHS room 126
March 5 (Tues.): Teen Yoga 4 Sports Enhancement fundraiser, first session, Village Yoga, 3:30 pm
April 26 (Fri.): Spring Gala, BowlMor Lanes, Bethesda, MD
This Week in Bulldog Team Competition
February 12 (Tue.): Boys Basketball @ Northwood V 7 pm
February 12 (Tue.): Girls Basketball @ Northwood V 5:15 pm
February 15 (Fri.): Boys Basketball @ Watkins Mill V 5:15 pm
February 15 (Fri.): Girls Basketball @ Watkins Mill V 7 pm
February 19 (Tue.): Boys Basketball v. Magruder V 5:15 pm (senior night)
February 19 (Tue.): Girls Basketball v. Magruder V 7 pm (senior night)

For a list of future Bulldog matchups, please click here. Then go out and cheer on our student-athletes!
Booster Club Email Address, Website & Social Media