June 2015 Newsletter
Graduation on June 2 - Congratulations to all Senior Athletes!
Thanks to all our graduating athletes for their dedication and sportsmanship. Best wishes to all the families celebrating with their seniors and thanks for your support of Booster Club. For a list of where your money goes in aiding our athletic program, please

click here

.
State Finals - Lacrosse, Track & Field, Tennis
Howard HS defeated CHS in the Maryland State Lacrosse Finals on May 20, with a score of 14-6. This Bulldog team has shown tenacity throughout their 17-2 season and made a strong showing in their first-ever appearance in the state final. Read the

Washington Post

article about the game. In all, the 2015

Lacrosse Boys Varsity

captured their Division, their Region, a State Finalist position, and the MPSSAA State Sportsmanship Award. Individual recognition included MD All-time Leading Points Scorer and

Gazette

and

Montgomery County Lacrosse League

Player of the Year (Louis Dubick), Coach of the Year (Jeff Fritz) and eight players on the

Montgomery County Lacrosse League 4A/3A South All-Division Team

(Dubick, Reed Moshyedi, Derek Altobello, Marshall Rhodes, Austin LaBorwit, Cristian Edwards, Jack Taylor and Markus Hurd). Congratulations to this outstanding team.
---
A total of 11 CHS athletes qualified for the 4A Maryland State
Track and Field
Championships held in Baltimore on May 22 and 23. Senior Lucy Srour was the first Churchill athlete to qualify for state in four distance events in a single season. At the finals, she finished her year with a third and fourth place state finish in the 3200m and 1600m respectively. Senior Jabari Butler capped off his CHS career with a second place finish in the 100m event. Senior Julia McDermott finished with sixth and seventh places in the Long Jump and Triple Jump events respectively. For complete results,
click here
. Congratulations to all competitors for their strong season.
CHS State Qualifiers: Gwen Asbury, Becca Clem, Lucy Lee, McDermott, Julia Reicin, Tara Rhodes, Srour, Oda Assimaidou, Butler, Marquette Lewis, and Noah Jankel.
---
The CHS Girls Doubles Tennis team of Katie Gauch and Sriya Movva won the championship title at the Maryland State Tennis Championship on May 23 at the UMD Cole Field House courts. Movva successfully defended her 2013 and 2014 Doubles title with new partner Gauch. Gauch is no stranger to the top echelons of the championships as she won the Mixed Doubles Title last year. Kudos to these tough players. For complete tournament results, click here.
Booster Club Meeting - Everyone Invited!
Wednesday, June 3, 7pm, Room 126
Please attend the meeting on

Wednesday, June 3, 7pm, room 126


to conduct elections for Booster Club Officers in 2015-16. If you are interested in the position of Secretary, please contact Larry Tanenbaum at

larryt7@comcast.net
The Bulldog Classic Golf Tournament is BACK! Support CHS Football!
The Brian K. Song Memorial Bulldog Golf Classic, Dinner & Auction

will be held on Monday, Aug. 10 at 1pm at Kenwood Golf and Country Club. Not a golfer? Attend the Dinner & Auction. Special guest Dhani Jones, 11-season NFL player and WCHS and University of Michigan Alumnus. Go to

churchillfootball.com

for more details and full schedule of events. Go Bulldogs!
Field Hockey News: Interest Meeting June 3, Clinic June 7
For any students planning to try out for field hockey in the fall, please attend the interest meeting this Wednesday, June 3, at 4 pm, at Churchill. The room number is TBA and will be posted on the team website at www.churchillfieldhockey.com.
---
Thinking about playing field hockey? Come to the

field hockey team's skills clinic on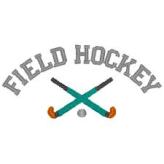 Sunday, June 7, from 9-11 am

. The clinic is for girls in grades 3-8, beginners and advanced players alike, and will include drills run by current Varsity and JV field hockey student-athletes. Come meet the coaches, work on field hockey fundamentals, and get to know the 2014 field hockey team members. The cost is $20 (checks made out to WCHS Booster Club), which will be collected on the day of the event. To sign up, visit our team website
www.churchillfieldhockey.com
.


Questions?Email
coach@churchillfieldhockey.com

.
To view the flyer,

click here.
Bulldog Youth Football Camp from June 16-19 at WCHS
If you are just starting out or have played on an organized youth team, this is the camp for you! Open to all levels beginner through experienced. Our camp includes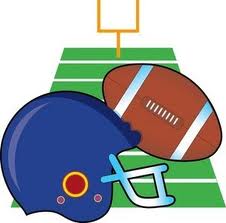 daily 7 on 7 competitions plus speed and agility drills and instructional videos. Campers will develop football skills including passing, catching, punting, kicking, blocking and offensive and defensive strategies. Campers will receive individual instruction by the Churchill Football Varsity Coaching Staff. No equipment will be needed. There will be no contact during the camp. Come train with the best!!!! Register early!

The camp will be held June 16-19 (Tues - Friday) from 9am-2pm for rising 3rd-9th graders. A t-shirt and speed-and-agility evaluation are included in the $250 fee. Click here for Camp Registration Form. Click here to check out the Football team website.

It is the 50th Anniversary of Winston Churchill High School and the Booster Club is proud to unveil the commemorative t-shirt at a special price of only $10!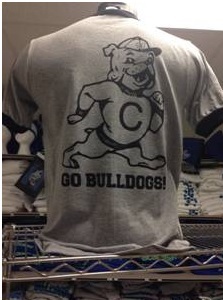 Please visit the school store and get yours today! Go Bulldogs!
We are looking for a freshman/soph parent team
to run the school store in Fall 2015!
Contact Allyson Bergman at bergmanhome@verizon.net.


Last 2 days for the school store this school year: June 4&5
At lunch between 10:30 - 11:45am
Booster Club Calendar of Upcoming Events
June 3 (Wed.): Booster Club Meeting, 7pm, room 126
Aug 10 (Mon.): Brian K. Song Memorial Bulldog Classic Golf, Dinner & Auction
Booster Club Email Address, Website & Social Media