April 11, 2016 Winston Churchill HS Booster Club Potomac, MD
Churchill Booster Club Bulletin
Spring into Bulldog Sports!

Lacrosse Hits the Field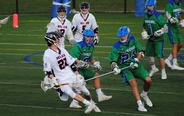 The Boys Varsity Lacrosse team roared into the season with big wins. To read our Boys Lacrosse post click here. The next game is tonight, April 11 at 7:15pm against B-CC at home. The JV Boys Lacrosse team precedes it at 5:30pm. Girls Varsity is 2-1 in regular season play. Their next home game is Tuesday, April 12 at 7:15 against WJ at Churchill. Girls JV precedes it at 5:45. Photo above: Andy Reyes and Christian Edwards (24) make life difficult for the Bel Air offense on April 2. Photo by Dave Altobello.
---
Churchill In Winter All-Met Line-up!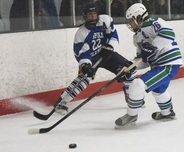 Senior Phil Satin led the Winter All-Met line-up with his Player of the Year selection for Ice Hockey. To read about the CHS student athletes recognized in the the Washington Post Winter All-Met line-up post, click here. Photo: Phil Satin taking the puck off the boards during the Annapolis/Old Mill MSHL State Championship game. Photo by Paige Taylor.
---
Churchill Crew Prepares for Upcoming Regattas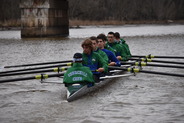 Churchill Crew team's club began its spring season with multiple first place finishes at the Bladensburg Invitational Race. The entire team is preparing to deliver again at upcoming races in Baltimore in mid- to late-April.
Churchill's Crew team, now in its sixth year, has undergone significant changes this school year. The team has several new coaches, including a new head coach, and a state-of-the-art indoor training facility. Racing seasons are both fall and spring, but an athlete can join the team for one or both. No experience is required. For more information visit www.churchillcrew.org. Reported by Barrie Berger. Photo: Churchill's Varsity 8 warm up at Bladensburg. Photo by Eric Berger.
---
Find your Spring Sports Schedule!
---
Spring Captains Lunch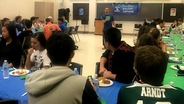 A St. Patrick's Day Spring Captains Lunch was packed with encouragement, leadership guidance and lots of food for this season's team captains. See photos and read our Captains Lunch Post by clicking here. Photo by Draga Dubick.
---
Thank you, Mr. Rivinius!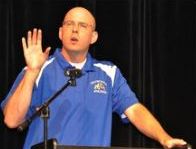 Many thanks to Scott Rivinius for an outstanding three years in the fast-paced and demanding Athletic Director position. He has announced his return to full-time teaching at Churchill. Read our post about Scott Rivinius by clicking here. Photo: Scott Rivinius presents at one of the many seasonal sports nights. Photo by Mary Ellen Mengucci.

---
Put your STAMP* on CHS! Deadline April 30!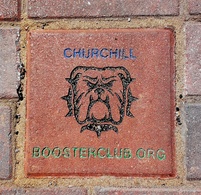 As graduation approaches, it is time to mark a milestone by putting your STAMP* on the paver field at the entrance of the Stadium. Honor the time time at Churchill and help fund improvements to our athletic stadium and facilities. The deadline is APRIL 30 to make the May installation. Click here to find pricing information and to order. Check out the options for color lettering and a Bulldog logo on your paver! Questions? Contact Chris Nazarian at cnaz@mris.com. Click here for samples and ideas. *Student or Team Amazing Memory Paver.

---
Baseball Game for Pancreatic Cancer April 18
Please join Churchill Varsity and JV Baseball in supporting the fight against pancreatic cancer. In memory of beloved baseball parent Jeff Katz, father of Jesse Katz (class of 2015), the teams are raising money for the annual PanCan Walk. There is a special "Katz" team page. http://purplestride.kintera.org/dc/jeffkatz This page will be open through the month of April. The entire Churchill community is encouraged to come out and join the teams at the the varsity game on Monday April 18th at 3:45 and help support this great cause! Donations are welcomed and deeply appreciated!
---
Football Interest Meeting April 12, 7pm, Room 126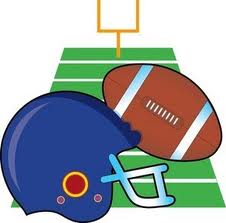 Churchill Football invites the parents of all current and prospective students who play football or would like to play football to attend a meeting with Head Football Coach Albert Song.
This interest meeting will discuss opportunities and provide information for all players. There will also be a presentation on concussion prevention and treatment. Football is the consummate team sport, and Bulldog players learn life skills that will serve them well beyond the gridiron and throughout their lives. The meeting is open to all prospective players, irrespective of experience, speed, size, height or athletic ability. All who are interested are encouraged to attend. Wanting something is easy--working towards attaining those goals separates the successful from the unsuccessful. Coach Song and his staff intend to re-establish the Bulldogs to perennial prominence, and it starts with you. See you Tuesday, April 12th!
---
Field Hockey Skills Clinic May 15 9-11am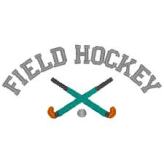 Thinking about playing field hockey? Come to the Churchill field hockey team's skills clinic on Sunday, May 15, from 9-11 am. The clinic is for girls in grades 3-8, beginners and advanced players alike, and will include drills run by current varsity and JV field hockey student-athletes. Come meet the coaches, work on field hockey fundamentals, and get to know the 2015 field hockey team members. The cost is $20 (checks made out to WCHS Booster Club), which will be collected on the day of the event. To sign up, visit our team website at www.churchillfieldhockey.com. See the 2016 Spring Clinic Flyer for details. Questions? Please e-mail coach@churchillfieldhockey.com. We have some equipment available to loan.
Field Hockey Interest Meeting June 8, 4:30
If your daughter is currently in eighth grade and is interested in trying out for the field hockey team this fall, we will hold an interest meeting at Churchill on Wednesday, June 8, at 4:30 pm (room TBA). At this meeting, coaches will speak about the program, our expectations, and tips for kids trying out for the first time. This meeting is not mandatory for new players, but it is recommended. Parents are welcome to attend, but the main audience will be the student-athletes. The first day of tryouts in 2016 will be Wednesday, August 10. If you would like to learn more about the field hockey program at Churchill, please visit their website at www.churchillfieldhockey.com.
---
PLAN YOUR SUMMER SCHEDULE!
FALL 2016 SPORTS TRYOUTS START AUGUST 10.

---
Booster Club Meetings - All Welcome!

Last two Booster Club meetings of the school year:
May 4, 7pm, room 117 - new AD introduced
June 15, 7pm, room 126
---
Booster Club Communications Needs You!
Want to get involved in Booster Club? Interested in making sure our community is kept informed and up to date on our sports news? Join the Booster Club Communications team! We already have an ace webmaster to make sure the technical stuff is in place - now we need your help to make sure the word gets out. Contact Elaine Arndt for more information.
elaineharndt@gmail.com
---
NEW CHURCHILL BULLDOGS T-SHIRTS
Stop by the school store and check out our new student-designed T-shirts. Three new designs are just in! They are only $10 each and a great way to show your school spirit this spring.
Remember your online school store for great gift ideas. Tons of items in all sorts of colors are available for you to customize. Click here to check out the amazing NEW fan gear on the Booster Club's online store.
The Churchill Fan Store is Ready for You!
Support the Booster Club, meet new people, and get a glimpse of the students during the school day by working in the Churchill Fan Store during lunches on Tuesday, Thursday or Friday from 11:10 to noon or during evening school events! New volunteers are always welcome. Sign up for lots of time slots by clicking here.
---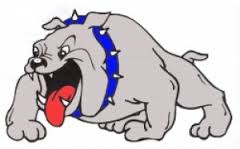 SPRING SPORTS -
TIME TO JOIN BOOSTER CLUB! ALUMNI INCLUDED!
The CHS Booster Club recently approved alumni membership, and warmly welcomes past students and parents to join. The CHS Booster Club makes the outdoor and indoor sporting areas and equipment safer, more competitive and more fun for all, athletes and fans alike. Where does your money go? Click here to find out! New this year - 100% Membership teams earn extra banquet money for their teams. Thank you for your support and Go Bulldogs! Join Booster Club by clicking here!
Important Dates:

April 12 - Football Interest Meeting, 7pm, room 126
April 18 - Baseball PanCan fundraiser, 3:45
April 30 - STAMP* Paver order deadline
May 4 - Booster Club meeting, 7pm, room 117
May 15 - Field Hockey Skills Clinic, 9-11am
June 8 - Field Hockey Interest Meeting, 4:30
June 15 - Booster Club Meeting, 7pm, room 126
The Winston Churchill High School Booster Club is a 501(c) (3) volunteer organization established to promote school spirit and work to improve our sports teams and clubs.
Our primary purpose is to get students, parents, staff and the community involved in our programs so we can promote safe and competitive athletics for all of Churchill High School's athletes.
Contact:
info@churchillboosterclub.org
Bookmark the Booster website www.churchillboosterclub.org for helpful information, scores, membership registration, sponsors, directions to away-game locations, online spiritwear store & more!
The Booster Club proudly supports the Churchill PTSA. Our organizations work cooperatively on behalf of WCHS students, parents, staff and the greater Churchill community. Link to the PTSA website to receive important PTSA news & membership information.