Churchill Athletes Kick Off the Year!!

Churchill athletes are more than three weeks into the school year, with dozens of games and matches played against high schools across the county. Remember, all team schedules can be found at
www.CountySportsZone.com
. You can bookmark the link for all Churchill games
here
!
Photo credit: Bill Zonghetti
---
2016 Churchill Community Night


Churchill cluster elementary and middle schools are invited to Community Night on Friday, September 30. Students get free admission to the game, early access to the field and "Dawg Pound" souvenirs.
Click here
for details!
---
Lunch. Leadership. Lanyards.
Boosters celebrated Fall sports, spirit and leadership with a Captains Lunch from Corner Bakery & Chick-fil-A on September 14th. Boosters President Leslie Janis and AD Jesse Smith welcomed the group and Coach William Ferry spoke about leadership and character qualities. More photos
here
!
Many thanks to Kelly Lavery Band, with committee members Clarice Ghais, Shawnda Wilkinson & Sharon Crane for event planning!
---
Varsity Cheer bonds with the Bulldog at home game against Seneca Valley!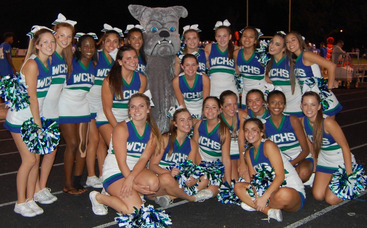 Click here
to view a cheer video from Churchill vs. Seneca Valley on 9/16. The full Varsity Cheerleader roster is
here
.

Photo credit: Natacha Myers
---
Varsity Field Hockey Starts Off 4-0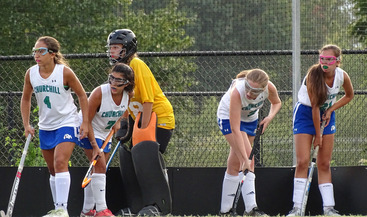 Congrats to Varsity Field Hockey, which has started off their season 4-0 with wins against Springbrook, Einstein, B-CC and Blair. Their next home game is against Poolesville on Friday at 5:15 pm. Above, Goalie Juliet Twomey with defensive team Martinia Rebade, Satare Aliakbar, Sydney Small, and Robyn Peterson defend a B-CC offensive corner.
Photo credit: Melanie Twomey
---
Join the Booster Club!!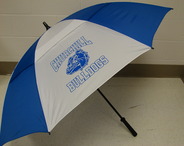 Remember, by joining Booster Club, you make the difference in providing the equipment and support needed by our Churchill student-athletes and teams! Your donation is needed in every aspect of Churchill athletics! To see where your money goes,
click here
. As a reminder, 100% Membership teams earn bonus money for their teams.
Sign up online now!Membership Levels & Gifts $40
– Friends of Bulldog Sports – Bulldog Car Magnet
$100
– Silver Bulldog – Bulldog Stadium Seat Cushion + Car Magnet
$200
– Gold Bulldog – Bulldog Umbrella + Seat Cushion + Car Magnet
$500 –
Platinum Bulldog – Pulls out all the stops including ALL the above gifts + an ALL SEASON PASS for all regular season home games + PREFERRED PARKING at home football games + a Bulldog Stadium Blanket! Also receive a free hot dog and drink at each home game where concessions are served!
---
Important Dates

September 30 - Community Night for all middle and elementary schools in the Churchill cluster. Details here!
Oct 3 - No school

Oct 5 - Booster Club meeting, 7PM, room #126

---
School Store - Spiritwear
Who can shop:
Montgomery County parents & students
Location:
On the first floor near the cafeteria
Store days & hours:
Tuesdays, Thursdays and Fridays between 11:10 – 11:50 a.m.
Where does the money go:
100% of profits go to the Booster Club
What if I want to shop online:
Go for it!
Click here
to shop online.
Parent Volunteers Needed
Support the Booster Club, meet new people, and get a glimpse of the students during the school day by working in the Churchill Fan Store.

New volunteers are always welcome! Volunteers are needed Tuesday, Thursday & Friday during school lunch from 11:10 to Noon. Or volunteer during evening school events.
Click here to sign up now!