2017 Annual Gala: February 11th!

Our 2017 Annual Gala will take place Saturday evening, February 11, 2017 at Bar Louie in Rockville! Join coaches and friends for a fun-filled evening including 15 TVs of sports, professional DJ, our signature silent auction plus a wine wheel! Delicious heavy appetizers and two (beer and wine) drinks are included with your $75 ticket.
Purchase your tickets online
here
!
---
Varsity Wrestling Takes off at Rocket Launch Duals!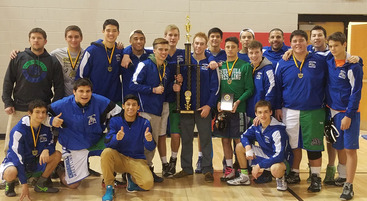 Varsity Wrestling took over Richard Montgomery's Rocket Launch Duals on December 16th & 17th. The team went undefeated, defending their title, taking 1st place! Seven wrestlers took top spots in their weight classes: Antony Slaughter, Lucas Young, Jack Connolly, Garrett Jacobs, Andrew Welch, Fio Tranquill & Jimmy Kloke! Jack Connolly was named outstanding wrestler of the tournament!
---
Dec 21: Varsity Basketball BLUE OUT

Varsity basketball is off to a great start of the season! Keep supporting us and join our BLUE OUT when we take on the Wootton Patriots! Wear your Blue and show your Churchill Spirit!
Wednesday, December 21st:
Varsity Girls play at 5:30pm and Varsity Boys play at 7:15pm.
*Shirts on sale at the school store during lunch Monday 12/19, Tues 12/20 & Wed 12/21!
---
JV Wrestling Begins Season with First Place Duals Win!
JV Wrestling kicked-off the season at the Ken Berlett Sr. Fall Classic on December 10th where ten wrestlers placed! Ten wrestlers placed in their respective weight classes.
Placing 2nd were Carlos Villamar, Parker DeSalvio & Amir Kazemipour.
Placing 3rd were Oliver Yang, Merrick Willeford, Joe Raab & Nick Wagman.
Placing 4th were Anthony Slaughter, Michael Kalin & Jamil Sarr.
JV Wrestling also won the Jaguar Duals on December 17th!
---
Poms Fundraiser: Dec 20 at California Tortilla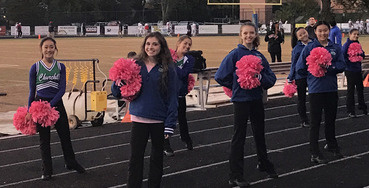 Take a day off from cooking dinner and support the Churchill Poms team fundraiser!! Poms is holding a fundraiser at California Tortilla at Cabin John Mall December 20 from 5 - 8PM! View the flyer
here
!
---
Important Dates

Dec 20: Poms fundraiser at California Tortilla in Cabin John; view flyer
Dec 21: Varsity Basketball BLUE OUT
Jan 31: Basketball Coaches vs. Cancer (Charity for Cancer, Wear Pink)
Feb 11: Annual Booster Club Gala; details here

---
Team Schedules

---
School Store - Spiritwear
Who can shop:
Montgomery County parents & students
Location:
On the first floor near the cafeteria
Store days & hours:
Tuesdays, Thursdays and Fridays between 11:10 – 11:50 a.m.
Where does the money go:
100% of profits go to the Booster Club
What if I want to shop online:
Go for it!
Click here
to shop online.
Parent Volunteers Needed
Support the Booster Club, meet new people, and get a glimpse of the students during the school day by working in the Churchill Fan Store.

New volunteers are always welcome! Volunteers are needed Tuesday, Thursday & Friday during school lunch from 11:10 to Noon. Or volunteer during evening school events.
Click here to sign up now!
---
Why join the Booster Club?


By joining Booster Club, you make the difference in providing the equipment and support needed by our Churchill student-athletes and teams! Your donation is needed in every aspect of Churchill athletics! To see where your money goes,
click here
. 100% Membership teams earn bonus money for their teams. Congratulations to following teams for reaching 100% membership this year:
Boys JV & V Soccer
,
Girls JV & Varsity Soccer
and
Girls JV Volleyball
!!
Sign up online now!Membership Levels & Gifts $40
– Friends of Bulldog Sports – Bulldog Car Magnet
$100
– Silver Bulldog – Bulldog Stadium Seat Cushion + Car Magnet
$200
– Gold Bulldog – Bulldog Umbrella + Seat Cushion + Car Magnet
$500 –
Platinum Bulldog – Pulls out all the stops including ALL the above gifts + an ALL SEASON PASS for all regular season home games + PREFERRED PARKING at home football games + a Bulldog Stadium Blanket! Also receive a free hot dog and drink at each home game where concessions are served!