Booster News, November 2013
The Churchill Booster Club and Athletic Department hosted the first Annual Fall Season Community Sports Night on Friday, Oct. 25, during the home football game vs. Springbrook. CHS invited all students in the pre-high school Churchill cluster to enjoy an exciting night of varsity football. It included free admission to students from Cabin John and Herbert Hoover middle schools as well as Bells Mill, Beverly Farms, Potomac, Seven Locks and Wayside elementary schools.
As seen above, many of our guests wore spirit wear from their home schools or from Churchill. The first 140 guests received free Bulldog baseball hats and a coupon to purchase a 1/2 price "Dawg Pound" t-shirt. The Churchill cheerleaders and Bulldog mascot were on hand to welcome our guests to the special event. At half time, the Booster Club honored our generous Varsity Level Sponsors with a special plaque presentation at halftime. Plans are already under way to offer a similar Winter Community Sports Night to the Churchill community.


Photo by Mary Ellen Mengucci
Click here for a Fall Community Night Slide Show!
Fall Sports Teams Wind Up Season in the Winners' Column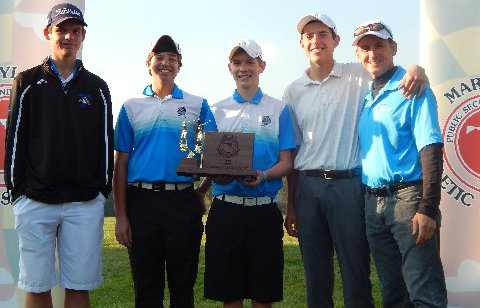 WCHS Golf

ended its season as the Maryland State Golf Championship runners up. The state finalist team included 3rd place Individual sophomore Luke Schaap, 6th place Individual sophomore Adam Gray, sophomore Blake Weltmann and freshman Oliver Whatley. After the first day of the tournament, played at the University of Maryland Golf Course, the team was 1st with a 318 total and followed that with a 320 and a 638 total, placing the four only five shots behind defending champion Wootton. Also representing Churchill at States were frosh Sheila Gaur, sophomore Rebecca Bartko and juniors Eunbbie Kim and Hanna Jia. The state championship team is shown above. From left are sophomores Luke Schaap and Blake Weltmann, freshman Oliver Whatley, sophomore Adam Gray, and Coach Michael Fisher.

Photo by Meg Schaap
---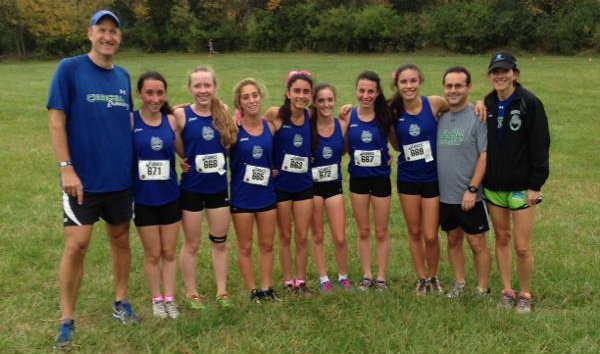 Cross Country Varsity Girls
extended a winning season with a third-place finish at the 4A West Cross Country Regional Championship held recently at High Point Farm in Clarksburg. Runners from left are: junior Paula Kleyman, sophomore Katie Wright, seniors Jessie Weinreich and Breanna Boggan, frosh Rebecca Clem and Julia Reicin and junior Lucy Srour. The girls are flanked by coaches Paul Jacobson, Scott Silverstein and Susan Pereles. These same runners came in fifth in the state championship, just four points from the number four spot. Top

Boys Cross Country

runner, junior David Fitzgerald, qualified for the state competition as an individual.
Photo by Laurie Weinreich
---
WCHS Girls Varsity Soccer

completed a highly successful 2013 season with a final record of 12-4-1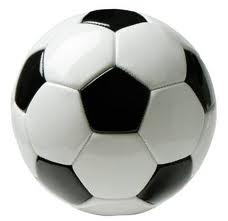 and a strong run in the playoffs. The team kicked off the playoff season with a 2-1 victory at Walter Johnson and followed it up with a signature 2-0 win at BCC, which has been the dominant program in the county for more than a decade. The Lady Bulldogs lost to Whitman after two overtimes and a penalty kick shootout in the Sectional Final. The Girls Soccer program looks forward to a strong 2014 campaign with nine of 11 starting players returning next Fall.

Girls Junior Varsity Soccer

ended the best season in the last five years with a remarkable 7-1 record. The match-ups this year included an impressive 26 goals in eight games and five shutouts. The Junior Varsity team is shown below with their coach, Ali Feldman.

Photo by
Christelle Breuer
.

Boys Varsity Soccer

Senior forward JJ van der Merwe, shown here at the Oct. 21 senior night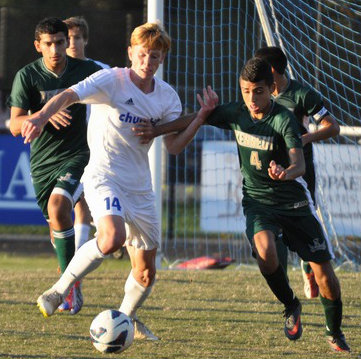 home game vs. Kennedy, led the Varsity Bulldogs in scoring this season, with 14 goals and 3 assists. He scored in 12 of the team's 15 games, contributing significantly to the Bulldog's strong 10-4-1 season. One of the top scorers in the county, van der Merwe, who has played on the Varsity team since his sophomore year, was recently named 2nd team All-State. The All-State game happens on Monday, Nov. 18 at 7 p.m. at Walter Johnson High School.
Photo by Mary Ellen Mengucci
In addition to doing well on the field, Boys Varsity Soccer hosted its first-ever "Thank You" Poms breakfast on Wednesday, Oct. 25, before school at 6:45 a.m. It was the soccer players' way of thanking the Poms team for all of the baked goods and support the Poms provided the soccer team throughout the season. Photo by Sandy Strawn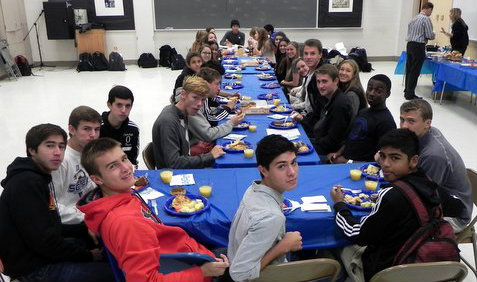 ---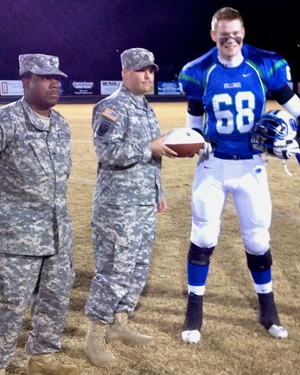 Football, Cheer and Poms

, along with CHS Bulldogs fans, shared a special evening at a pre-game Senior Night ceremony honoring the contributions of 22 senior football players, eight senior cheerleaders and four senior poms. One highlight of the celebration, held Friday, Nov. 8 prior to the game against Damascus, was the honor bestowed upon f

ootball captain senior AJ Coleman.

Coleman, shown at right with Army representatives, was singled out as the recipient of the Student-Athlete Special Recognition Award. That award is given to an athlete who embodies the seven core Army values of loyalty, duty, respect selfless service, honor, integrity and personal courage.

The Bulldogs faced crushing challenges this year ending with a losing record overall. Nonetheless, the team is eager to come back for the 2014 campaign with young varsity starters having gained valuable experience this season and a strong crop of junior varsity players poised to join the varsity Bulldog ranks. Photo by Sheila Coleman
---
Handball, CHS' newest team, had an impressive debut season finishing with a 5-1 record to clinch second place in the southern division. The corollary sport–aimed at including students with and without disabilities–joins bocce ball to provide an athletic team experience without the high competitiveness of other school team sports. The team graduated only one senior and has high hopes for continued success next year. At left, Churchill junior Max Alpert gears up to make a shot during a game played against Northwood. Photo by Churchill Observer
---
Churchill Crew raced for the first time at Boston's renowned Head of the Charles Regatta, which attracts hundreds of crews from all over the U.S. as well as Canada and the U.K. in the largest rowing event of the year. Churchill's Men completed the race in 19:14 minutes, while Churchill Women's team finished the course in 22:03 minutes. While competition was fierce, Churchill athletes and coaches agreed that entering the Head of the Charles provided a great learning experience for the 18 varsity rowers who participated. After winter conditioning, the Spring season begins in late February. The co-ed club team, which is self-funded and parent-run, is recruiting new members for the spring season. For more information, visit www.ChurchillCrew.org. Shown below, Women's 8+ (left to right): senior Julianna Lee (coxswain), sophomore Emily Snider, senior Isabella Bruno, juniors Jillian Goss-Holmes, Kathryn Fusco, Cossette Melcher, Abby Means and Michelle Dan and senior Abby McClive. Photo by Kimberly Means


---

Varsity Field Hockey had an excellent 9-3 record for the regular season to earn a playoff berth. The team then went on to shut out Richard Montgomery, 2-0, in their first playoff game before going down to defeat to Wootton in the second playoff outing. Their overall 10-4 record for the season reflected their status as both regional finalists and sectional finalists. Junior Varsity Field Hockey wound up with a tremendous 6-2-1 season.
Fall Sports Captains and Coaches Honored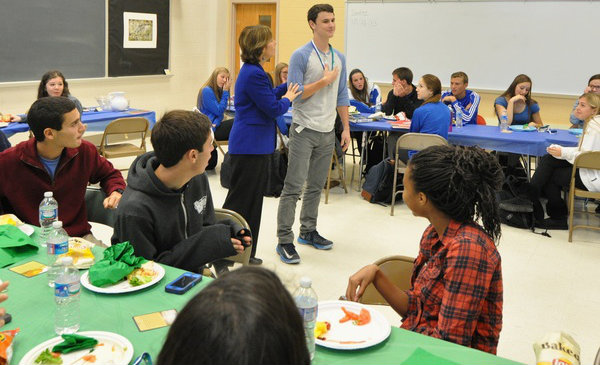 The

WCHS Booster Club treated more than 65 student captains and coaches to lunch on Monday, Oct. 21, as part of the Annual Fall Sport Captains and Coaches Luncheon. This event
–
one of three such seasonal luncheons hosted by the Booster Club each academic year–included a presentation by motivational speaker Dara Feldman, a past recipient of the Disney Elementary School Teacher of the Year award. Feldman, shown in this photo with volunteer sophomore

Elliott Sloate, a JV football captain,

discussed the power of language and its positive and negative physical and mental effects on athletes and student leaders.

Photo by Mary Ellen Mengucci
Winter Team Tryouts for Athletes; Sports Information Night for Parents
The winter sports season will soon be getting underway with tryouts for all teams scheduled to begin Friday, Nov. 15. Many teams have paperwork that must be

turned in prior to that date in order for athletes to try out, so please have your student check with the respective coaches for their sports and click here for the proper forms. Also after your student makes the team, be sure to put on your calendar the Winter Sports Night, Monday, Dec. 2 in the gymnasium. You'll be able to meet both Scott Rivinius, the new WCHS athletic director, and the winter sport your student's coaches to learn how you can help support a winning Bulldog season.
Homecoming 2013: Floats, Football, Food, Fun!
Despite inclement weather prior to the start of Churchill's October 11th Homecoming football game vs. Gaithersburg, Bulldog fans were nonetheless treated to the annual presentation of Homecoming class floats and musical/dance routines. The floats and performances—moved from the stadium to the auditorium
—
were each based on a different decade theme: seniors 50s, juniors 80s, sophomores 70s, and freshmen 60s. By kickoff, the weather had improved enough for the Homecoming football game to take place. Shown above are the seniors, who won the competition and bragging rights for their efforts. Below, students wave the rally flag at the start of the game in support of the Bulldogs. Please click here for more homecoming pictures.
Photos by Mary Ellen Mengucci


It's Almost Mid Year and Our Student Athletes Need You!
Click here to

Join the Club

! For ways to support the Bulldogs while investing in your business, click here.
Booster Club Membership Levels for 2013-2014:
$500
Platinum Bulldog
(LIMITED to 50 MEMBERS! See details below)
$200

Gold Bulldog

(Receive FREE WCHS Umbrella + Bulldog Magnet)
$100

Silver Bulldog

(Receive FREE WCHS DrawString Bag + Bulldog Magnet)
$40

Friends of Bulldog Sports

(Receive FREE WCHS Bulldog Magnet)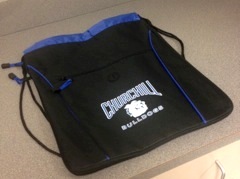 The PLATINUM BULLDOG pulls out all the stops! You'll be treated to ALL OF THE ABOVE GIFTS, a SEASON PASS for all games, 2 FREE Seat Cushions, PLUS PREFERRED PARKING at home football games! If that's not enough, how about a free hot dog and a beverage at each home game where concessions are served? Join the Club and make a difference for our Bulldog teams!
Seasonal and Annual Sport Passes For Sale Online NOW!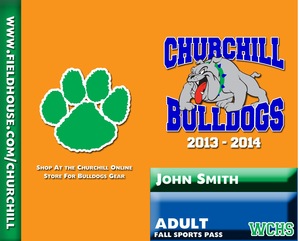 Save time and money! Buy seasonal or annual Churchill Bulldog sport passes for students and/or adults, sold only online.
Just follow the easy instructions at the

Booster Club's Online Spiritwear Store

. The passes will be mailed directly to your home. If you attend a game before your ordered pass arrives, bring your receipt or a driver's license to the game for verification. Click

here

to order passes and all your Winston Churchill High School Bulldog spiritwear!
Be a Bulldog
Volunteer;
Wear Your Spirit!
CHS invites you to buy
spiritwear at
the school store, located on the first
floor near the cafeteria, on Tuesdays, Thursdays and Fridays
at lunch between 1
0:40 - 11:45 am. L
og into

www.signupgenius.com

and select 'Find a Sign Up.' Enter
bergmanhome@verizon.net
in the email space and select 'School Store.'
Check out our complete online store by linking here.
Booster Club Calendar of Upcoming Events
November 13 (Wed.): Booster Club Meeting, 7 pm, WCHS room 126
December 2 (Mon.): Winter Sports Night, 7 pm, WCHS Gymnasium
December 5 (Thur.): Pampered Chef Fundraiser, 7 pm, home of Jim and Maria Edwards
Bulldog Team Competition This Week
For a list of future Bulldog matchups, please click here.
Then go out and cheer on our student athletes!
Booster Club Email Address, Website & Social Media
Please help us get Churchill Booster Club News out to all Bulldog supporters. Know a Booster fan who should be receiving our news? Need an email address added to our mailing list? Interested in sharing news about Churchill student-athletes and teams? Contact: info@churchillboosterclub.org
Bookmark the Booster website

www.churchillboosterclub.org

for helpful information, scores, membership registration, sponsors, directions to away-game locations, online spiritwear store & more!
The Booster Club proudly supports the Churchill PTSA. Our organizations work cooperatively on behalf of WCHS students, parents, staff and the greater Churchill community. Link to the

PTSA website

to receive important PTSA news & membership information.