The Churchill Swim and Dive teams rolled to victory over the Montgomery Blair Blazers on December 5 in the opening dual meet of the 2015-16 season. Click here for the full Swim and Dive report and photos.
Photo:: Senior Fiona Asbury swims backstroke in the 200 IM. Photo by Deb Lindsey. Reported by David Lindsey.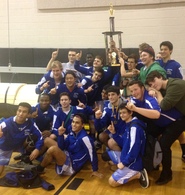 Varsity Wrestling captured first place in an exciting two-day tournament hosted by Richard Montgomery HS on Dec 11 and 12. They won 7 out of 8 matches to gain a place in the semi-finals, then went on to out-muscle Bullis and Sherwood to take the top trophy in a field of over ten top public and private high school wrestling teams. More information on individual and team results will be available this week on the Churchill Booster Club website. Photo: Varsity wrestlers celebrate with their first place trophy. Photo by Dan Farney. Reported by Gina Shultz Farney.
Basketball season has begun! Come out to support our teams. The boys basketball schedule prior to winter break can be found here at the Boys Basketball post. Photo: Boys Varsity Basketball ready to take on the competition. Photo by Karen Depirri. Reported by Judy Leventhal.

The 39th Annual CHS Soccer Turkey Bowl was held on Thanksgiving Day. The brave alumni and current players who continued the tradition are pictured in the Turkey Bowl post.
Commitment Day 2015! Find out where some of Churchill's outstanding athletes will be going to college. See the Commitment Day post! Photo: Coach Fritz, Christian Edwards and Coach Olan at the Syracuse signing. Photo by Jim Edwards.

The Winston Churchill Bulldog Varsity1 Ice Hockey team is off to an impressive start defending their State championship and Number One Washington Post ranking. Read more in the Ice Hockey Club post.
The Churchill JV Hockey Team is currently in second place in the North Division of the Maryland Student Hockey League with a record of 1-0-2 (wins-losses-ties). . The JV team has a special game scheduled on Sunday January 17th versus Richard Montgomery at the Verizon Center at 8pm. If you have tickets for the CAPS vs. Rangers game that day, plan to stay after that game and cheer for the JV Dawgs! Photo above: JV sophomore Cameron Miller and freshman Marcel Penzes fight for the puck against St. Johns. Photo by Paul Lai. Reported by Paige Taylor and Jody Miller.

We are thanking our local community by providing free admission to elementary and middle school students in the Churchill cluster. They get a free Bulldog souvenir and the opportunity to purchase $5 Dawg Pound Youth t-shirts. Invite your neighbors and friends to this action-packed evening. The concession stand will stock pizza and other refreshments. In this match-up against WJ, go to the 5:30 Boys game or the 7:15 Girls game or both! The
Community Night Flyer
has details.