Join us on Wednesday, February 6th at 7:00 pm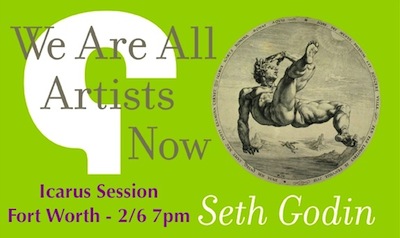 Icarus Sessions are a challenging new way to bring your art forward; not to make a sales pitch, not to get customers or patrons, but to find the courage to stand up and say, "here, I made this."


The assignment:

Tell the group about your art.
What have you created? What frightened you? What matters?
Icarus Session presentations are 140 seconds long.

You can go shorter, but not a second longer!
You can use slides, or handouts, or even better, just bring your enthusiasm. Videotape it if you like.
ARE YOU IN??
Next Steps:
2) Share your RSVP with your friends

3) Check out the 411 on Icarus Sessions before you come:
(the Rules Are Simple) http://www.squidoo.com/IcarusSession

4) Bring your 140 second long presentation.

BRING IT!