Library Board Trustee Marilyn Francis Drake Spotlights the Library District's Family Place Libraries

™
The La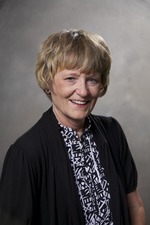 s Vegas-Clark County Library District was one of 28 in the nation selected to develop a program of early childhood and family services that has been successfully implemented in over 350 libraries in 24 states.

The Clark County, Las Vegas, Whitney and Windmill Libraries have all been designated a part of a national network of Family Place Libraries. These libraries offer an expanded play area with board books, picture books, toys, puzzles, blocks and drawing stations, creating opportunities for little ones to explore. Parents are a child's first and most important teacher, and activities enjoyed in the Family Place Libraries will help build children's literacy skills and ensure they enter school ready and able to learn.

A five-week Family Place Parent-Child Workshop Series for parents/caregivers and children ages one to three years will be offered at the Las Vegas, Windmill and Clark County Libraries. Spend time together, play, make friends and talk one-on-one with specialists in child development. Registration is required; contact the branch.
Week 1: Orientation/Early Literacy
Week 4: Nutrition

Week 2: Speech, Hearing, Language
Week 5: Music, Play and Health
Week 3: Child Development

Part of the network of Family Place Libraries™: Building Foundations for Early Learning
Made possible by a grant from the U.S. Institute of Museum and Library Services
---
eReader Update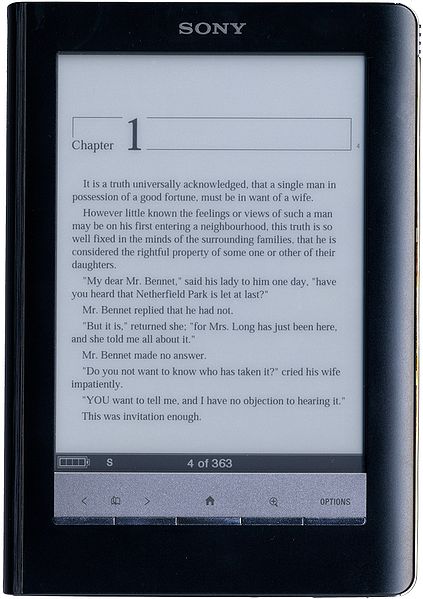 eReaders make popular and welcome gifts during the holiday season.

Here are some tips to consider before buying an eReader for someone special:


Will the recipient be reading books only, or do they want to download magazines, newspapers or browse the web?

Is weight or a larger screen more important?

Display technology – devices with an LCD screen allow for nighttime reading without an additional light, while eInk screens make for easier reading.

Connectivity – Wireless? USB connection? 3G and a data plan? Will the user be downloading Library eBooks?
The answers to these questions will help you decide which eReader to buy. For additional help selecting the right device, read Which eReader Should I Buy?
For a comparison of devices, check out our blog, eRead Me Vegas, and read the Best eReaders for 2013.
If you find yourself to be the lucky recipient of an eReader, be sure to browse the Library's collection of classic and bestselling eBooks for all ages to checkout, as well as 200 magazines from Zinio to download and keep forever, for free. Read your magazines on your computer or tablet using the Zinio app from your device's app store.

Remember that the Library also offers classes to teach you to download the Library's eMedia to your device. Call the Virtual Library at 702-507-6300, Monday – Friday from 8:30 a.m. – 5:00 p.m., or send an
email
.
---
A Student Success Story from CALL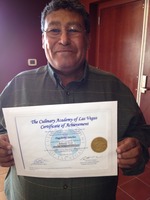 On October 17, former ESL student Dagoberto Sanchez graduated from the Houseperson/Utility Porter training program at the Culinary Academy of Las Vegas. Four days later, he began work at his new job at Caesars Palace where he works as a houseperson.

Before attending the Culinary Academy, Dagoberto was a student in the Computer Assisted Literacy in Libraries (CALL) program. As a CALL student, Dagoberto attended a free six-week ESL class at the Las Vegas Library, participated in a weekly English conversation group, and studied independently using the Library's online resources. He achieved an educational level gain in just a few weeks.

During his class at the Las Vegas Library, he also participated in the ESL Transitions Project. Through this project, advisors work with students to create individual action plans, identify relevant post-secondary education and training opportunities, and assist teachers in customizing vocabulary instruction to meet the work and life goals of individual students. Working with his advisor, Dagoberto identified the training program at the Culinary Academy as a step toward achieving his goal of being selected for a job at one of the hotels in Las Vegas.

Learn more about free CALL programs and classes for English language learning, adult literacy, citizenship classes and more. Volunteers are always needed!
---
The Virtual Library Has the Answers!



Have a question about downloads, reference or anything related to our electronic resources?

The Virtual Library is your one-stop place for answers.

Call 702-507-6300 from 8:30 a.m. to 5 p.m.,
Monday - Friday or send an email.


December 2013
Learn about events, new books and library news. Tell us what you think and
connect with us!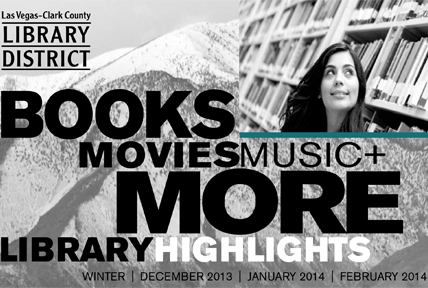 Read the
Dec./Jan./Feb.
issue of Highlights
online now or pick one up at your favorite branch.


Library Locations
& Hours



A Few Upcoming Events:




"Obamacare"
Information Sessions
Multiple Dates & Locations





18b Aerosol Paintings
of Las Vegas
by Steven Dansky
Dec. 5 - Feb. 9
Windmill Library





Mariachi Winter Festival
Dec. 6, 7 p.m.
Clark County Library




Teen Tuesday
Tuesdays at 3 p.m.
Windmill Library





19th Annual Shoes for Children Benefit Performance
Multiple Dates & Times
West Las Vegas Library





December to Remember:
Sat., Dec. 14 at 2 p.m.
Blues for the Holidays
Sat., Dec. 21 at 1 p.m.
Duo Mystique
Las Vegas Library





All Library District
programs are
free and
open to the public.


More Library Events


Las Vegas-Clark County Library District
Administrative Headquarters
7060 W. Windmill Ln.
Las Vegas, NV 89113
702.734.READ
www.lvccld.org