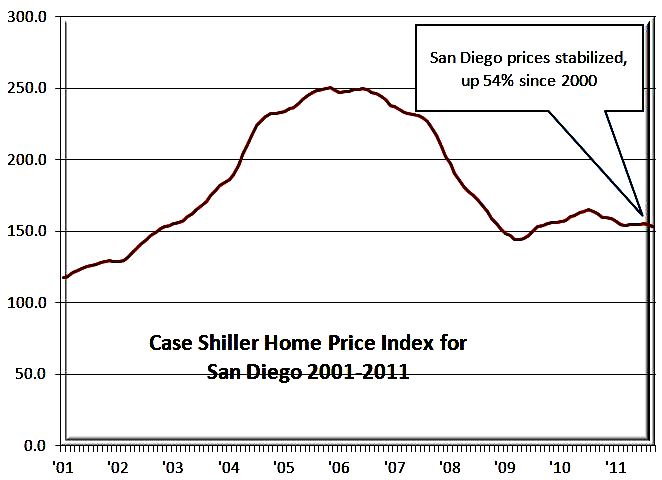 The Case Shiller Real Estate Price Index just released shows September home prices in San Diego were down 0.8% from August and 5% lower than this time last year. That's what I predicted in my last August newsletter:
"Although you may see one or two more monthly reports of modest price increases, they will report prices from escrows that opened in May and June. The summer selling season is over, and I'm not seeing prices on new escrows going up."
It may be Winter now, but there still are many good opportunities:
Most buyers believe that we've passed the bottom, and they're ready to act.

Real estate values are less volatile than stock prices, and houses are a hard asset (like gold) which will do well in the inflation years that are coming.

T

hey know interest rates will probably never be lower, so it's better to buy and lock in now.

Smart sellers can get multiple competing offers – if they price right.

I'm seeing an increasing number of houses selling for more than the asking price when buyers see it as "below market".

REO sales by banks are training buyers to be bidders, so sellers should see their asking price as a "suggested bid" rather than the most they could get.

Prices have recovered first in the areas where they went down first – homes below the $330K median price.

Prices in expensive areas held up through 2010, but demand is now very soft for homes priced over $2 million.

Overseas buyers are everywhere, and they're getting a lot more for their money now in Del Mar and Rancho Santa Fe.
The market may be slow, but my business is busy. I'm plugged into the local network of Realtors, where we trade the "inside scoop" on the best deals before they hit the market and buyers who can't find just what they want on public listings.
I've represented many sellers and buyers so far in 2011, all of whom have all given me "Five Star" reviews. Market conditions are only part of the story - what matters more is finding the right buyer (or property) and closing the purchase smoothly on good terms for my client.
I sometimes see investment properties that I wish I could buy - and they could be yours! Let me know if you are interested in a certain price range, and call me if you have any questions (and I appreciate your referrals)!
Click Here to visit my web site
Click Here to watch an example of my video marketing