New "Common Core" Test Results

The California Department of Education just announced the results of new standardized school testing - and the significant differences between districts could affect relative home pricing in the future. It has been two years since the old test results were published, and during that time the perception of differences in quality of school districts has faded.

But these new test results will bring the differences back into sharper focus, as most people with school aged kids want to live in school districts with high academic results. And even if you don't have school children, increased demand for homes in good school districts can only help home values appreciate.

Click Here to access the test scores on the CA Dept of Ed website where you'll see some big differences. To summarize, the percentage of students "exceeding" standards (averaging the language & math scores):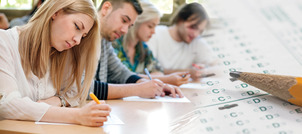 Elementary:

Del Mar 60%, Solana Beach 49%, RSF 45%, Encinitas 39%, Poway 37%, Escondido 7%
High School:

San Dieguito 40%, Poway 37%, San Diego 20%, Escondido 18%, Grossmont 15%, Sweetwater 12%, Oceanside 11%
To put that in context, the statewide average was 15% of students exceeding the targets, so our local schools are doing relatively well.

Questions about how best to achieve your housing goals? Feel free to give me a call at 858-735-0924 - or drop me an email at dmark@san.rr.com.
Debbie

P.S. I greatly appreciate your referrals, so please connect me with your friends who might appreciate my help! Click here to read new reviews from my many happy clients, with names, details, and "Five Star" ratings. Click Here to see an example of our premium property marketing methods.