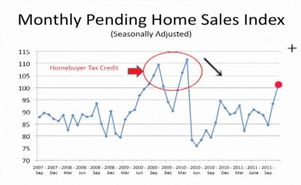 The NAR just announced that the pending home sales index in November 2011 is up again and now over 100, a positive leading indicator not seen since before the home price increases back in 2010 (you can read the NAR data by clicking here).
But also last week, S&P announced that their Case Shiller index shows same home prices down 5% from last year. How can that be?
Lag: Pending home sales index measures new escrows opened in November, while the home price data is from October sales, which come from escrows opened in August. So far, so good.
Fallout: More sales are falling out of escrow as buyers fail to qualify for loans or get cold feet. One home sale can take multiple new escrows. Hmmm, not so good.
Mix: The lower end of the market hit bottom and rebounded first. Knowing the rental market is strong, investors are snapping up many condos at bargain prices. Look closer, and you'll see that the number of homes sold for over $1 million was actually down in November. Ouch!
Fewer FSBO's: the NAR can only count the vast majority of homes listed for sale with Realtors. In this tough market, an even higher percentage of sellers are using Realtors, knowing we will help them realize the maximum net proceeds from their home sale. Smart.
My predictions 2012? The same - and more:
More owners will stop waiting for a return to the bubble and become sellers

More buyers will see this is the new normal and get off the fence

More opportunity to finance at record low interest rates (at least for a while)

M

ore clients will use experienced, skilled, and dedicated Realtors– like me!
Questions? Referrals? Call or Click and I'll get right back to you!