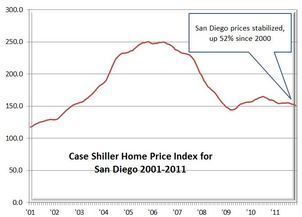 The headlines you'll read tomorrow will be from the
Case Shiller Index
showing November home prices in San Diego were down 0.9% from October and 5% lower than last year.
It's accurate, but very lagged data, based on sales negotiated in September of last year.
2012 started off fast, as if buyers (and sellers) were acting on their New Year's resolution to stop waiting, and move!
Click Here
to read my past newsletters, including the one I sent last September which said "don't believe the headlines" - but back then they were then reporting a positive outlook. In it, I reminded you that Summer was over, activity was weak, and predicted the declining price reports during the coming real estate Winter that we're seeing now.
This Thursday is Ground Hog Day, and he'll predict that Winter won't last much longer:
Most buyers believe that we've passed the bottom, and they're ready to act.

T

hey know interest rates will probably never be lower, and new homes construction also fell to a historical low last year. Reduced supply, deficit government spending, and improving economy combine to support their expectation of higher prices.

An increasing number of houses are selling for more than the asking price if it's seen as "below market".

Smart s

ellers now view their listing price as a "opening bid" rather than highest possible closing price.

Overseas buyers are shopping and they're getting a lot more for their money now in Del Mar and Rancho Santa Fe than they would in Asia, knowing that demand is soft for homes priced over $2 million (unless they are well priced).
You can enjoy the most current market info by working with a Realtor who's plugged into the local network, where we Realtors trade the "inside scoop" on the best deals before they hit the market, and buyers who can't find what they want on public listings.
What matters most is finding the right buyer (or property) and closing the purchase smoothly on good terms. Click here to read client reviews, with names, details, and "Five Star" ratings.
Click Here to watch an an example of how video marketing has built my Recently Sold list. Then give me a call if you have a friend to refer - or a real estate goal I can help you attain.