You may be reading home price news reports that say, "U.S. home prices rose steadily in May" or, "Home sales have jumped in recent months". But does that apply to us here in North County Coastal area? Only somewhat. Here's what I'm seeing in our local North County Coastal real estate market today.
With the exception of homes under $1.2m, new inventory recently being brought onto the market is more than keeping up with demand, especially in homes priced over $2m. Look at these inventory numbers: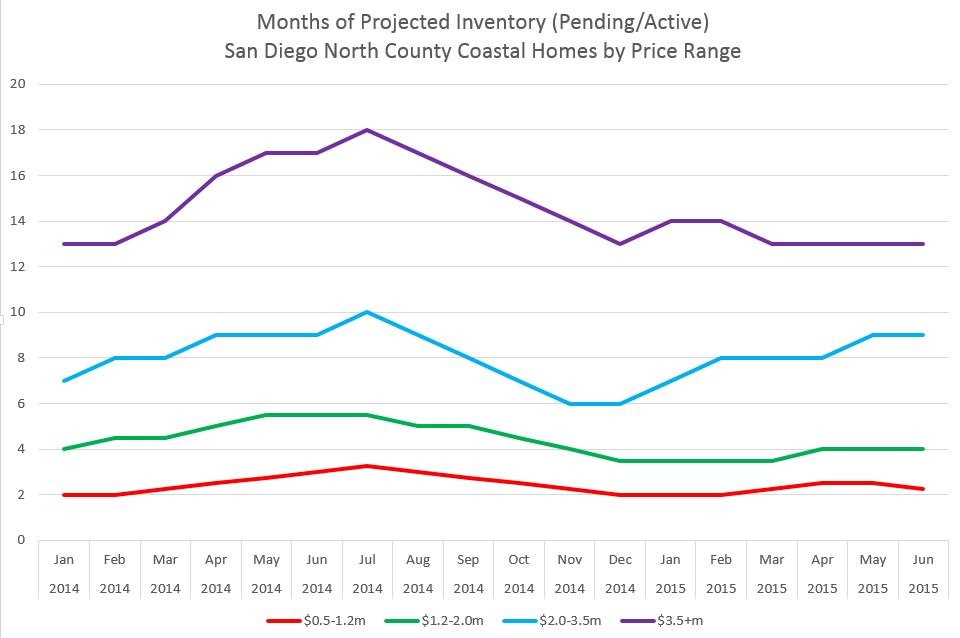 As you can see, market activity really depends on with price range. Homes under $1.2m are still going fast, while homes over $2m are taking an average of 9+ months to sell. The good news is that, overall, there's somewhat less inventory on today's market than there was last Summer (when price gains took a summer vacation). I expect prices to hold pretty steady – until early 2016, when I expect another "early Summer" selling season.




"Mind the Gap" when looking at home price data. There's an important difference between the median home sales data we read about in the paper (median home prices in San Diego are about $570K vs. $236K nationwide) and data for home price ranges that may be relevant to you. Median sales prices are increasing because there are fewer low priced homes being sold – not because home prices have increased that much. The Case Shiller Home Price Index does a good job of reporting actual price changes, but that data is terribly lagged. They just announced today that prices are up 5% from a year ago, but that's based on sales closed in May at prices negotiated back in March and April.




Homes that are well presented and realistically priced are moving fast. That's where a great Realtor can be of great value – helping sellers get their home ready to market, and choose the optimal listing price that can produce competing offers resulting in the highest net selling price.




Questions about how best to achieve your housing goals? Feel free to give me a call at 858-735-0924 - or drop me an email at dmark@san.rr.com.




P.S. I greatly appreciate your referrals, so please connect me with your friends who might appreciate my help! Click here to read new reviews from my many happy clients, with names, details, and "Five Star" ratings. Click Here to see an example of our premium property marketing methods.