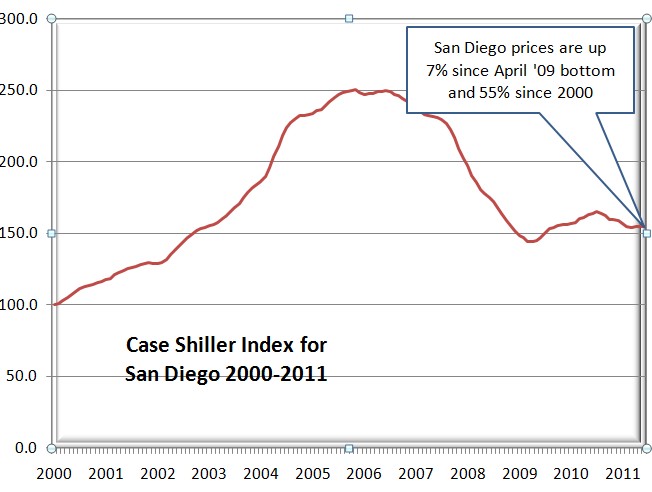 Is not as good - or as bad - as today's headlines read:
"Home Prices Make Small Gains in June . . . but drop from levels a year ago." Huh?
The Case Shiller Real Estate Price Index showed San Diego prices up 0.2% again this month after being up in May. While that sounds good, and we're up 7% from the low point in April 2009, we're still 5% behind this time last year.
As I predicted in my June 30 newsletter, demand continues to be soft, with the number of sales down from last year. And, although you may see one or two more monthlhy reports of modest price increases, they will report prices from escrows that opened in May and June.
The summer selling season is over, folks, and I'm not seeing prices on new escrows going up.
But there are still silver (or gold) linings. Most everyone agrees that we're bouncing along the bottom of an L-shaped recovery. So, if it makes sense for you to buy now for family (or investment) reasons, and you won't have to sell for at least a few years, go for it! Real estate values are much less volatile than stock prices, and houses are a hard asset (like gold) which give you a hedge against inflation years that are coming.
And, if you can qualify for a mortgage, you can enjoy historically low interest rates. When stagflation returns, your grandchildren will be amazed by your 4% 30-year fixed rate loan!
The market may be slow, but my business is busier than ever. I've represented many sellers and buyers so far in 2011 and they're all giving me "5 star" reviews. Market conditions are only part of the story - what matters more is finding the right buyer (or property) and closing the purchase smoothly.
That's where I can help - so call me if you have any questions (or referrals)!