NYC NFP's Brooklyn site, run under contract with the Health Department by SCO Family of Services, has two exemplary teams of nurses: Team 1, based in Bedford-Stuyvesant, and Team 2 in Brownsville. This summer, as always, they served their clients beyond their scheduled home visits by offering numerous "extra-curricular" opportunities for learning and engagement and—because being a first-time mom can be very isolating—to provide spaces where clients can connect with other mothers and expand their support systems.

As an NFP Brooklyn client, recent graduate Marva Elfise had been given the opportunity, funded by Healthy Start Brooklyn, to become Red Cross-certified as a CPR trainer. So this summer, when Team 2 was planning an infant safety/CPR class, it was only fitting to bring her back to teach it. Healthy Start made this possible by sponsoring the June 4th event, where Elfise taught infant CPR skills training to four current NFP clients and one client's partner. The group received the same two-hour training required for CPR certification and came away with life-saving information and skills—and the bonus of having learned them from a former NFP client.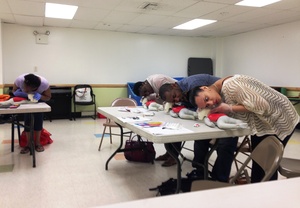 NFP Brooklyn grad Marva Elfise (left) instructs (right, front to back) Marlene Velazquez Murphy, her partner Rodney Murphy Sr., and Iyabode Adeosun in the fundamentals of infant CPR.
In July, Team 1 had a fantastic turnout at a picnic for clients and their families at the LeFrak Center at Lakeside in Prospect Park. Team 1 nurses, NFP Brooklyn staff and approximately 46 clients, children and family members were on hand to enjoy the beautiful weather, lovely lakeside views and afternoon of fun in the sun. There were arts and crafts, face painting for the kids and a PIPE (Partners in Parenting Education) lesson on emotional refueling for the parents. The event also featured a "spoon-walking" contest, in which six pregnant clients, along with some nurses, tried their hand at balancing a lemon on a spoon while walking. Much laughing ensued! The picnic was such a hit, says Team 1 Nurse Supervisor Magalie Joseph, that the plan is now to have one every summer.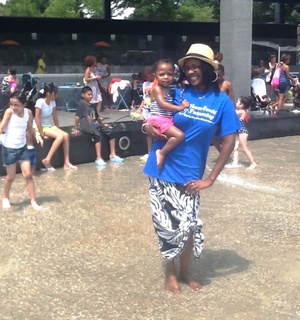 NFP Brooklyn client Anika Charles and daughter Amira enjoy a wade in the water at Team 1's July picnic in Prospect Park.
Both teams also organized trips to local farmers' markets, helping familiarize their clients with local, seasonal produce and how to prepare it. Team 1 began its July outing with lunch at the NFP office in Bedford-Stuyvesant, accompanied by a round of fruit-and-vegetable trivia. The group of seven nurses, six clients (five were pregnant, the sixth brought along her baby) and supervisor Joseph then walked to the Bushwick Farmers' Market at Halsey and Broadway, where they played farmers' market bingo and participated in a scavenger hunt (including questions such as "What is your favorite fruit or vegetable at the market today?"). A staff member from the Health Department's Stellar Farmers' Markets program then led them on a tour and a gave a food safety and preparation demonstration.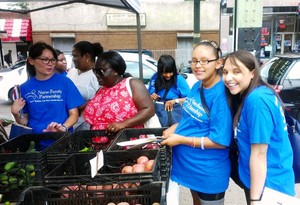 (L to R) Susan Rigby and her nurse, Kristen Misek, and Marisol Serrano with her nurse, Lauren Gershow, enjoy a tasty and educational afternoon at the Bushwick Farmers' Market.
Team 2's August market outing proved popular as well, drawing 10 clients, many of whom brought their children, partners or other family members. After lunch and a farmers' market orientation provided by Team 2's nurses and Nurse Supervisor Hillary Fairbanks at the Brownsville NFP office, the group walked to the Brownsville Rockaway Youthmarket, where the nurses guided their clients in selecting produce. The market, a collaboration between GrowNYC and Brownsville Partnership, trains young people to operate farm stands in their neighborhood, providing them with both seasonal employment and valuable job experience.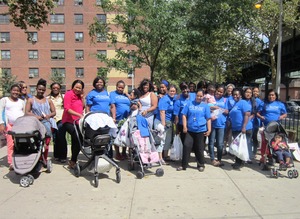 The NFP Brooklyn Team 2 flock departs the Brownsville Rockaway Youthmarket with their fresh, healthy produce purchases in tow.
During both tours, clients were given Health Bucks, $2 coupons that can be used to purchase fresh fruits and vegetables at farmers' markets. For every $5 spent on produce at farmers' markets using EBT, consumers receive $2 in Health Bucks, stretching the buying power of food stamps. According to both teams' supervisors, more clients have expressed interest in the tours, so they hope to be able to make "market day" a regular event.
Graduation Celebration
At the end of April, NFP Brooklyn held the first of its twice-yearly graduation ceremonies. A perennial highlight of the Brooklyn graduations is the sing-along led by Quincy Adams of SCO's Parent-Child Home Program (PCHP). In addition to being contagiously fun, this part of the afternoon serves as a way to introduce NFP clients to PCHP.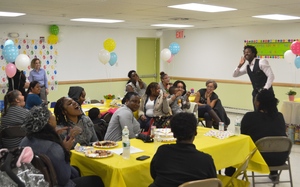 SCO Family of Services Parent-Child Home Program Coordinator Quincy Adams leads NFP Brooklyn graduates and their children in a sing-along at the site's April graduation celebration.
An evidence-based, two-year early childhood literacy, parenting and school readiness program, PCHP offers twice weekly home visits at which educational toys and books are provided. Since children between ages 18 months and two and a half years can enroll, the program is an ideal continuation of the lessons NFP clients have been learning as they and their children continue to grow together.
____________
IN THIS ISSUE

• An Eventful Brooklyn Summer

• Graduation Celebration

TWO FOND FAREWELLS

As the summer ended, NYC NFP said good-bye to two central office staff members as they moved on to new horizons.

For the last year, Sharon Ghuman graced NYC NFP with her outstanding research skills and quiet, capable presence. As Senior Research Analyst, she managed the program's substantial and ever-evolving data needs, as well as its ambitious research agenda. In particular, Sharon completed the challenging task of laying the groundwork for an upcoming study in partnership with Columbia University Medical Center, the findings of which will be used to form the basis of a new intervention strategy aimed at improving client retention.

We are thankful to Sharon for her contributions to NYC NFP, and wish her all the best as she shifts career gears to pursue teaching and consulting.

Libby Carter-Otuya has been with NYC NFP for six years. She was hired as Nurse Recruiter when the program started its major expansion into all five boroughs in 2008. Since then, she has served as an integral part of the NYC NFP team, bringing not just her skills but her collegial spirit and steadfast level-headedness to the central office.

Among her many accomplishments, Libby pioneered our long-running Clinical Rotation partnership with nursing schools across the city, and is responsible for introducing 27 New York City nursing students to NFP and the field of public health nursing. She also helped launch the Nurses' Heart's Desire Scholarship in 2011, and in 2012 was promoted to Nurse Initiatives Manager.

On September 8, Libby begins the next chapter of her career as Director of the Newborn Home Visiting Program (NHVP), a sister Bureau of Maternal, Infant and Reproductive Health (MIRH) program. NHVP home visitors support brand-new mothers in their decision or intention to breastfeed. The program is charged with reaching over 3,000 families in the coming year. Says Libby, "Client engagement will be a key to our success, and I look forward to sharing what I've learned during my tenure at NFP." Ever the poised professional, yet always retaining her sense of humor, Libby will be sorely missed by her colleagues. We are comforted, however, in knowing that she will remain part of the MIRH family. Please join us in congratulating her and wishing her well in her new position!

NYC NFP ON TWITTER



Follow us at @nycnfp, and tweet about us with hashtag #nycnfp!

NYC NFP ON FACEBOOK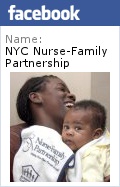 Have you visited NYC NFP
on Facebook lately? Click above or go to
www.facebook.com/nycnfp to interact with us, "like" us and help spread the word about NYC NFP!

ABOUT US
The Nurse-Family Partnership (NFP) is an evidence-based, nationwide nurse home visiting program committed to improving the health, well-being and self-sufficiency of low-income first-time mothers and their children (national NFP website). The program is voluntary and there is no cost to the client. NYC NFP is the largest urban program in the country, having served more than 11,000 clients since its inception in 2003 and currently serving more than 1,800 clients across all five boroughs.