When Monifa Spencer was 24, she'd had experience working with children in both day care and classroom settings, but she "had no experience being pregnant," she recalls. So she turned to NFP and Susanne Fischer, her nurse from its SCO Family of Services site in Brooklyn, for assistance. The program helped her become the proud and loving mother she is today. Monifa graduated NFP in January 2009 as part of SCO's very first group of graduates. When a position as a Home Visitor for SCO's Parent-Child Home Program (PCHP)—an evidence-based early childhood literacy and school readiness program for children under age 3—became available in 2010, Susanne immediately thought of Monifa and encouraged her to apply. Monifa ultimately decided to postpone employment until after she had completed her bachelor's degree. But she had so impressed the PCHP supervisor that they stayed in touch, and when another staff vacancy occurred, Monifa was hired to fill it.

Her two years at PCHP, says Monifa, made her "love field work," and helped prepare her for her current position as a Family Child Care Specialist in SCO's Jerome Hardeman Early Childhood Center in East Elmhurst, Queens, which opened its doors on October 1, 2012. In this role, she works with both day care providers (monitoring sites and conducting trainings) and the families who need them (assisting with applications for day care slots). "I have been a day care provider in the past so I identify with them, but with my history in NFP and PCHP I see it from both sides. I understand it as both a parent and provider," she says.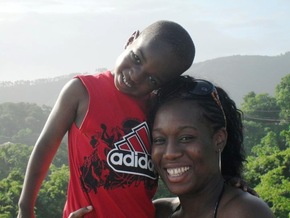 Monifa Spencer enjoying the great outdoors last summer
with her son, Zion, who just turned 6 this month.
The East Elmhurst center is part of SCO's new EarlyLearn initiative, which encompasses 3 such early childhood centers and 2 family child care provider networks. PCHP, Early Head Start and EarlyLearn are part of the full continuum of early childhood programs—which starts prenatally with NFP—offered by SCO to low-income families in Brooklyn and Queens. And Monifa is not the only NFP mom currently employed by them.

There is Alba Peña, 23, who is a PCHP Home Visitor. She started part-time in this position while still an NFP client and, when she graduated in 2010, became a full-time staff member. She says of her job, "They learn a lot from you and you learn from them as well." Working closely with other new moms, she says, has exposed her to various parenting approaches and even helped her see mistakes she, herself, was making. Then there are two current NFP clients currently working for SCO programs. Nyree Wright, whose daughter is now 19 months old, began as a full-time Assistant Head Start Teacher at SCO's Shirley Chisholm Early Childhood Center in Bedford-Stuyvesant last October, utilizing her past experience as Assistant Director of an after-school program. And Kadesha Weatherhead, whose daughter was born in July 2012, is employed as a part-time Teacher's Aide at SCO's Morris Koppelman Early Childhood Center, which straddles both the Bed-Stuy and Brownsville neighborhoods, and plans to pursue her teaching license in the future.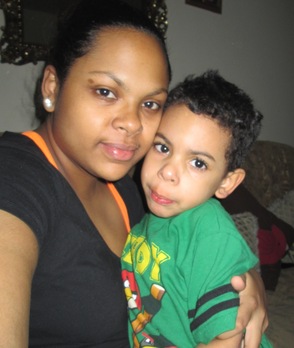 Alba Peña cuddles up with her son, Aaiden, 4.
We are proud of our NYC NFP clients' many and varied accomplishments during and after completion of the program, and this month we particularly want to thank our partner agency SCO Family of Services for taking such an active role in the professional development of its NFP clients!
____________
IN THIS ISSUE

• NYC NFP's Brooklyn Site Goes Above and Beyond for Its Clients

NFP IN THE NEWS

The New York Times' Nicholas Kristof, a longtime champion of NFP, and David Bornstein, a relatively new Times NFP cheerleader, just can't seem to get enough of NFP. Both have cited the program again and again as a cost-effective early childhood intervention that works. Please see below for links to their most recent such columns.

For Obama's New Term, Start Here

When Paying It Forward Pays Us Back

NEW NFP VIDEOS

When you have a few minutes (literally—they are under 3 minutes each), we hope you'll check out these two lovely videos.

Frances & Femida: A Baby Story, a video made by two students at the Columbia University Graduate School of Journalism

NFP National Service Office promotional video featuring NYC NFP Director Roberta Holder-Mosley and Staten Island NFP graduate Rashanda Moffitt

NYC NFP ON FACEBOOK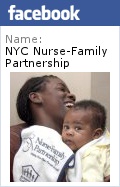 Have you visited NYC NFP
on Facebook yet? Click above or go to
www.facebook.com/nycnfp to interact with us, "like" us and help spread the word about NYC NFP!

ABOUT US
The Nurse-Family Partnership (NFP) is an evidence-based, nationwide nurse home visiting program committed to improving the health, well-being and self-sufficiency of low-income first-time mothers and their children (national NFP website). The program is voluntary and there is no cost to the client. NYC NFP is the largest urban program in the country, having served more than 9,500 clients since its inception in 2003 and currently serving approximately 2,000 clients across all five boroughs.